In a Nutshell:
While not the most attractive bench, the Step2 Outdoor Storage Bench is a decent looking, versatile outdoor seat with a generous storage compartment built-in. Recommended for anyone weighing up to 400 pounds who's in the market for a versatile piece of outdoor furniture.
* Brand Reliability is a measure of the strength and longevity of the brand, which by extension, is a measure of the level of support you can expect.
** While aesthetics is a matter of taste, Aesthetic Flexibility is a measure of how easily a given design would fit into a wide range of home or office décor schemes.
Do you do a lot of outdoor entertaining? Are you, or the guests you entertain heavier than average?
If you answered yes to both of those questions, then you know how difficult it can be to find furniture that supports more than 300-pounds of user weight.
The good news is that there are companies out there that make sturdy and robust furniture, and the Step2 outdoor storage bench is an excellent example of that very thing. While most people haven't heard of Step2, they make surprisingly good furniture.
We'll be quick to admit that this isn't a perfect product. It's got its share of limitations, and in the sections that follow, we'll give you full details, covering both the good and the bad, so you'll have all the information you need to decide if this is the bench you've been searching for. Even if it's not, we think you'll be impressed by what you read here. Let's take a closer look.
An Overview of the Step2 Outdoor Storage Patio Bench
The first thing you'll notice about the Step2 Outdoor Storage bench is that it's constructed of resin, where many of its peers are fashioned from wood of one species or another. The bench has a blocky, almost child-like look to it, which isn't necessarily a bad thing, but it does limit its appeal somewhat.
Even so, given that aesthetic, this bench could be used indoors in a game room or a child's bedroom as a bench/toy box, given that the seat flips up, revealing a generously sized storage compartment.
Chair Specifications
Before we go further, let's take a look at the core stats that define this model. Here they are: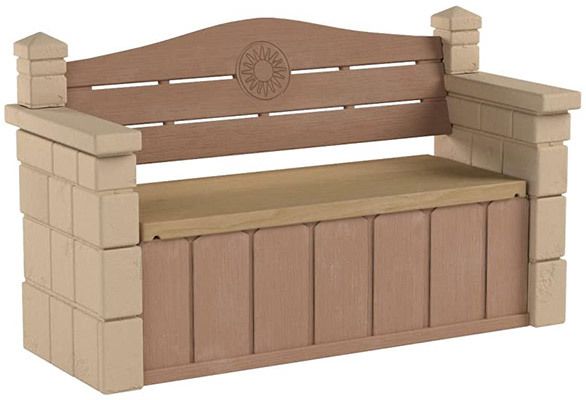 There are a few things worth mentioning about these numbers. First and foremost, the seat height marks this bench as a piece of furniture ideal for bigger and taller users. The big and tall seat height range starts at 18" and runs to 22" or higher, so this product is firmly in that territory.
That's great for outdoor seating, but it does limit its value as a toy box in a child's room because if you buy it for that purpose, your little ones will struggle to climb into the seat. Even so, most kids don't spend a ton of time sitting on their toy boxes, so this isn't usually a deal-breaker, even if you plan to use it for that purpose.
The seat is wide and roomy, with enough space for two average-sized adults, but of special interest, since it can support up to 400-pounds of user weight, it's robust enough to support a heavier adult sitting in it by him or herself.
The only limitation here is that it doesn't support enough weight to support a heavier adult and a second person, which again, isn't a deal-breaker, but is something to consider before committing to a purchase decision.
It's also heavy enough that if you're using it outdoors, it's not going to get blown over or pushed around by strong wind while remaining light enough that if you need to move it for one reason or another, you can do that without much difficulty.
Adjustability, Comfort & Extras
There's nothing adjustable about the Step2 Outdoor Storage Patio bench, so nothing to say on that front. Where comfort is concerned, it's about what you'd expect from a piece of resin furniture, which is to say that it's fine for shorter periods of sitting, but this isn't something you'd want to spend an entire afternoon lounging around in.
The good news is that it's easy to enhance the comfort of the bench if you want to. Just add a seat and/or seatback pad of whatever thickness you desire, and you're all set. Here, the bench's resin construction works in your favor since you're not covering up the natural beautify of the wood like you'd be doing in many other cases with seating of this type.
We mentioned the built-in storage compartment earlier, but it deserves a second look here. In our view, this is the main reason to consider buying this bench over some other option. More storage is almost always better than less, and if you're looking for a convenient place to stash firewood, outdoor entertaining supplies, tools, toys, or just about anything else, this is a good, versatile solution.
The storage compartment measures 46.5" W x 16.5" D x 11" H, which gives you about five cubic feet of storage space overall. That's plenty of space for a wide range of goodies you may be struggling to find a permanent home for right now.
Assembly is Required
The vast majority of the furniture you can buy online these days comes to your home unassembled, and Step2's bench is no exception. You'll need to do a bit of work before the bench is ready for first use.
The good news on that front is that Step2's production quality is good (though not best in class), and the included assembly instructions are clear and easy to follow. Expect to spend 30-45 minutes on the process, from unboxing to sorting to the assembly itself.
Note that there's no expert assembly option on offer here, so you'll either have to handle the assembly yourself or be sure you've got an assistant on standby when the bench arrives.
Pros & Cons of Step2 Outdoor Storage Bench
As we said at the start here in our Step2 Outdoor Storage Bench review, this isn't a perfect seating solution, but it is an interesting and versatile option. In no particular order, here are the things we think you'll like best about this bench:
On the other hand
Overall, we feel that the pros outweigh the cons here by a significant margin, and we think that most potential buyers would agree.
Step2 Outdoor Storage Bench Review Conclusion
The Step2 outdoor storage bench is a good indoor/outdoor seating option that falls short of greatness. We like it, but we don't love it. Depending on what your needs are, this one might be perfect for you, but it does have a couple of limitations that make it less appealing than some of the other options available. Given that, we provisionally recommend it.
---
REFERENCES & RESOURCES: