In a Nutshell:
The StrongLite Ergo Pro II is a robust, well-built chair that stands up well to daily use, offered at a price you'll love. Recommended for anyone with a strong back – it's a great chair, but heavier than most, and as such, not quite as portable.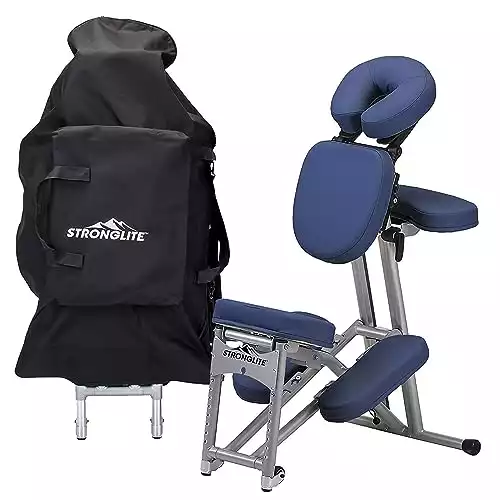 Are you a massage therapist, looking to upgrade your equipment? Are you interested in getting started in the business and looking for a reasonably priced portable massage chair to get you started?
If you answered yes to either of those questions, then you're going to love our in-depth review of the StrongLite Ergo Pro II portable massage chair.
Finding the "right" equipment can be tricky, especially when you're first starting out in the business. That's why we recently conducted an in-depth review of all the portable massage chairs on the market today and zeroed in on the best of the best. We figured that doing so would help narrow the field and make finding quality equipment easier for you.
The StrongLite Ergo Pro II massage chair won an honorable mention in that review, offering great value for the money and delivering a solid, high-quality product to professionals in the industry.
About StrongLite and Earthlite Brands

Fun story about StrongLite that you may not have known. The company was launched back in the late 80's by a husband and wife team who were passionate about the industry. Over the next two decades, their little company grew to become one of the most respected names in the business, and in 2007, they retired and sold their company to Earthlite.
Earthlite merged the two companies but treats the StrongLite brand as a subsidiary, which is why you still see both names today.
There are a lot of similarities between Earthlite and StrongLite chairs, and in fact, the Earthlite Vortex won top honors in the budget segment of our recent roundup review. Technically speaking then, Earthlite has two chairs featured in our roundup, even though the company treats the two lines as distinct entities.
In any event, they make great equipment, and in the sections that follow, we'll tell you why the StrongLite Ergo Pro II chair is well worth your consideration, and just as importantly, point out some of its limitations so you can decide for yourself if it's a good fit for your business. If that sounds good to you, then let's get right to it!
An Overview of the StrongLite Ergo Pro II Massage Chair
The StrongLite Ergo Pro II chair is built along conventional lines, so nothing is surprising in its appearance. Although in a bit of a departure from other manufacturers, it utilizes heat-treated T6 aluminum in the construction of the frame, which goes a long way toward explaining why the Ergo Pro II can support so much more weight than our top picks (an impressive 600 pounds vs. just 300 for our first and second place winners).
Size and Portability
Dimensionally the chair measures 32" x 19" x 45" and weighs in at a hefty 26 pounds, making it the heaviest portable massage chair in our roundup review.
While it's still certainly portable at that weight, how big a deal those extra pounds are to you is going to come down to how often you'll be moving it from one location to another. If you have your own office space, and clients come to you, it's not that big a deal, but if you're going out to area businesses, and have to be at three or four different venues over the course of a given day, by the time your work is done, you're bound to be fairly tired.
Features of the StrongLite Ergo Pro II
There are several things worth mentioning here where the StrongLite Ergo Pro II chair is concerned.
Adjustability
First and foremost, you'll find a wide range of motion when adjusting the position of the seat, face pillow, sternum pad, and armrest, allowing the chair to accommodate users as short as 4'6" and as tall as 6' 6". The face pillow is also articulated, allowing you to guide your clients into a variety of massage positions as you do your work.
Color Options
While this model doesn't have as many color options as some of the higher-ranked portable massage chairs on our list, you do have some options here and can order your chair in one of the following colors:
Comfortability
Regarding comfort, the Ergo Pro's face pillow utilizes padding known as Cloudfill, which isn't quite as good as memory foam, but it's close and exceptionally comfortable. The chair itself is upholstered in Nature's Touch PU upholstery, which is eco-friendly, durable, comfortable, and easy to clean. Moreover, all the cushions are well-padded, offering your clients a comfortable, ergonomic seating experience for the duration of their massage.
Extras
Where extras are concerned, there's only one thing to talk about, and that's the carrying case. This is actually one of the best, most rugged carrying cases we've seen, probably because the chair it's designed to carry is heavier.
It's fashioned of sturdy nylon, with a zipper, and has both a padded strap and a sundries bag (which can be detached) for carrying your massage supplies. Not that the bag itself is a reason to buy, but it's a very nice touch. Kudos to StrongLite for thinking of even the smallest of details.
Pros and Cons of the StrongLite Ergo Pro II Chair
As you can see at this point in our StrongLite Ergo Pro II review, the chair has a lot going for it. We'll summarize what we regard as its best features in no particular order:
On the flip side:
On the whole, we regard its best attributes as being very important, while viewing none of its negatives as deal breakers. If you are of a similar mind, it's easy to like this chair. A lot.
StrongLite Ergo Pro II Massage Chair Review Conclusion
We like almost everything about the StrongLite Ergo Pro II. While it's not quite as full-featured as some of its more expensive cousins, it's a solid piece of engineering and a durable chair that can stand up to just about anything you can throw at it. We recommend it to anyone interested in getting started in the business, although we do caution that thanks to its weight if you plan to visit several locations on any given day, prepare to get a workout.
---
REFERENCES & RESOURCES: