In a Nutshell:
The Sunfire General Electric Wheelchair is a versatile design by one of the best-known companies in the industry. Though its primary focus is on user comfort, it can handle a wide range of terrains reasonably well – just be mindful of its turning radius! Recommended for anyone who places a premium on comfort, and who wants a solid, reliable machine for use both indoors and out.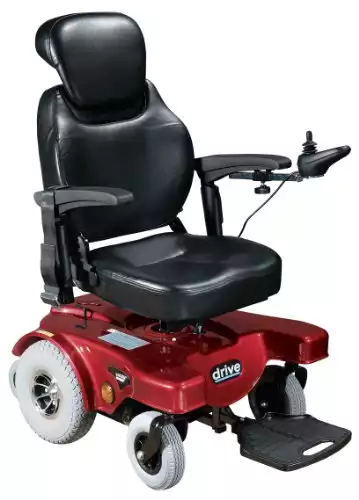 Do you sometimes get the feeling that your mobility issue is getting the better of you? Keeping you indoors when you'd much rather be out playing in the garden, puttering around the yard, or enjoying a day at the park among family and friends?
Are you interested in changing that? In conquering your mobility issue and regaining a sense of freedom and independence? If you answered yes to any of those questions, then you're going to love our review of the Sunfire General Electric Wheelchair, offered by Drive Medical.
Drive Medical is a significant force in the industry, well-known for their top-quality products. In fact, in our recent roundup review, two of the company's models, this and the Titan placed highly, with the Sunfire placing second, and the Titan placing third in the category of best indoor/outdoor powered wheelchair.
Any way you look at it, this is a well-designed mobility aid that will serve you well, but there are a couple of issues that might cause you to give this one a pass and look for something that's a better fit for you.
1. Controller
2. Armrest
3. Headrest
4. Seatback
5. Seat
6. Seatback
7. Drive Wheel
8. Caster Wheel
9. Footrest
10. Knob
11. Shroud
Not to worry, in the sections that follow, we'll tell you everything the Sunfire does well, and fill you in on its (few) shortcomings, so you'll have all the information you need to make an informed purchasing decision. If that sounds good to you, let's jump right in and see what this model can do!
An Overview of the Drive Medical Sunfire General Electric Wheelchair
Comfortable and capable. Those are the two words that spring to mind the first time you see the Drive Medical Sunfire General Electric Wheelchair. The swiveling Captain's chair immediately draws the eye, with the rest of the unit serving to support it. You can tell at a glance it's going to be a joy to sit and ride around in, and it doesn't disappoint.
Of course, it's a lot more than just a comfy chair on wheels. Here are the basic stats for the model:
A pretty solid piece of equipment, right? You'll especially love that this power wheelchair has you sitting high up off the ground, giving you a clear field of vision, whether you're indoors or out.
Highly Adjustable, Very Comfortable
The Sunfire General Power Wheelchair was designed with maximum user comfort in mind. As such, you'll find the Captain's chair to be delightfully cushioned. Even better, you have the following adjustment options available:
There are enough options here that you'll be able to make your Sunfire fit you like a glove, and that's a good thing. In fact, it's so comfortable, it might be difficult for people to get you out of it!
Storage, Customization Options, and Extras
We regard this section as an admitted weak spot in the Sunfire General Power Chair's design. The only extras on offer are these:
The first item on the list is quite good, both from a practical perspective, depending on the nature of your mobility issue, and from a comfort standpoint.
In our view, however, there are two things notably absent here:
Fortunately, both of these issues can be remedied easily enough, so we rate this as a disappointment, not a deal breaker. There are a whole host of third-party aftermarket upgrades you can buy, and most of these will fit on the Sunfire. Just be sure to take a few measurements depending on what you're planning to buy, and you'll be all set.
What About Portability?
This is another point of weakness in the model's design. It's a fantastic, versatile machine, but one thing it isn't is portable. It's heavy, it doesn't collapse, and it doesn't break apart into a few smaller pieces to make it easy to move from one place to another, so your options are:
You just won't be able to stow this in your trunk, hatchback, or SUV.
Easy (And Fun!) To Use
The Drive Sunfire General Electric Wheelchair's controls are intuitive and straightforward. If you've ever played a joystick-controlled video game, you'll pick it up in a matter of minutes.
The only challenge you'll have is learning to cope with its relatively poor turning radius (42"!), which will probably see you getting stuck on a frequent basis early on and having to back up or execute an awkward multi-point turn to get yourself sorted out.
Once you've gotten a feel for the handling though, it's smooth sailing, and given its relatively long battery life and fifteen-mile range, you'll be able to go just about any place you want or need to.
Note that this is a rear wheel drive machine, which means it's going to struggle on steep uphill slopes (especially if the ground is wet), and it will be slightly more prone to getting hung up on outdoor obstacles like large rocks and fallen limbs.
On most of the terrains you're likely to encounter in and around your property, at parks, or on well-marked nature trails, however, it should be just fine.
One more thing to mention where the turning radius is concerned: If you live in a smaller home or apartment, it's going to be a challenge to use the Sunfire indoors. It's not impossible, but it will take some practice to master.
The more spacious your home is, the easier you'll find indoor navigation, and of course, in most public indoor spaces like shopping malls, you won't encounter any significant issues, although in some stores, if the aisles are tightly spaced, things could get a bit tricky. It's not necessarily a deal breaker but is something to keep in mind.
Pros & Cons of Sunfire General Power Wheelchair
Here are the things we think you'll like best about the Sunfire:
There are, however, a few things that may prompt you to continue your search. In no particular order, these are:
We don't regard any of these as deal breakers, but each person's needs and preferences will be different so your mileage may vary.
Beach Powered Mobility Wheelchair Conclusion
So where does that leave us?
On the whole, we like the Sunfire General Electric Wheelchair very much, although we'll be quick to admit that it's not a perfect machine and it left us wanting in at least a couple of areas.
If we could make a wish and get the company to make any changes we wanted to the design, here's what we'd wish for:
Even in the absence of these things, however, we recommend this machine. It's a joy to use, incredibly comfortable and versatile enough to handle the terrains you're likely to find in and around your home. If that's mostly where you plan to use it, this one belongs on your short list.
---
References & Resources