In a Nutshell:
The Tangkula Rattan Outdoor Lounger is a sleek and stylish lounger, capable of supporting a generous amount of weight that looks great in almost any setting. Recommended for anyone weighing up to 440 pounds.
* Brand Reliability is a measure of the strength and longevity of the brand, which by extension, is a measure of the level of support you can expect.
** While aesthetics is a matter of taste, Aesthetic Flexibility is a measure of how easily a given design would fit into a wide range of home or office décor schemes.
Do you enjoy outdoor entertaining? Are you, or some of the guests you entertain on a regular basis a bit heavier than average? If you answered yes to both of those questions, then you've probably run into a frustrating problem.
Most of the furniture on the market today isn't made for heavier people. If you weigh 300 pounds or less, you'll find yourself swimming in options. More than that, though, and the number of choices available to you drops to a mere handful.
The good news is that there are companies out there that make and sell furniture sturdy enough to properly support heavier users, and Tangkula is one of them. The Tangkula Rattan Outdoor Lounger is an excellent example of their work. It's a fabulous piece of furniture that looks great just about anywhere.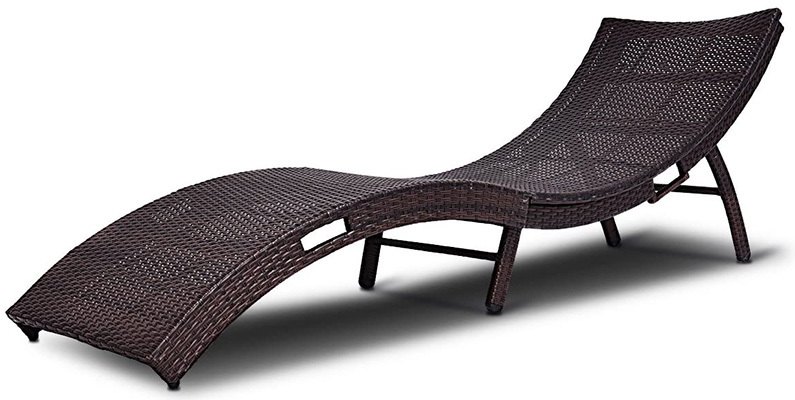 In this review, we'll tell you everything it has to offer and why it deserves a spot on your deck, patio, or beside your swimming pool if you have one. We also won't pull any punches when it comes to describing this lounger's shortcomings and limitations, so you'll have all the information you need to decide if this is the lounger you've been searching for.
Even if you ultimately decide to go in some other direction, we think you'll be impressed. Let's jump in and take a closer look.
An Overview of the Tangkula Rattan Outdoor Lounger Chair
The Tangkula Rattan Outdoor Lounger is a surprisingly attractive piece of outdoor furniture. That's the first impression most people are left with when they see this chair for the first time, and it really is a good-looking chair.
Rattan tends to get discounted, both as a stylish furniture option and as something capable of supporting a lot of user weight. Still, this chair blows both of those assumptions out of the water. Its graceful lines offer a stark contrast to just about every other lounger on the market today. Before we say more, let's take a look at some numbers:
We're actually thrilled with every one of these. At almost 78" long, this lounger is capable of supporting taller folk as well as heavier people, courtesy of its 440-pound maximum supported weight limit. It's also generously wide, and its sleek curves give it a fun, modern look that, when combined with its rich brown color makes it an easy fit into almost any outdoor color or décor scheme.
The seat is low, but that's true of all loungers and is certainly something we can't hold against this model in particular.
It's also a rather heavy chair, which is a good thing because if you opt to leave it set up all the time, it's heavy enough that it won't get blown around by even a strong wind. Interestingly though, the chair is also collapsible, so if you want to store it out of the elements when it's not in use, you can absolutely do that. In fact, its delightfully small folded footprint makes storage a snap.
One thing to be aware of, however, is that although this chair can be collapsed, this is not a lounger you'll want to pack up and take with you to the beach. Carting it off to the garage when you're not using it is one thing, but it's heavy enough that taking it with you to the beach would probably be a daunting task.
Adjustability and Comfort
Most lounge chairs feature an adjustable back, allowing you to set the angle of recline precisely. That's not the case here. You get what you get. The Tangkula Rattan Outdoor Lounger chair isn't adjustable in any way. On the flip side, its curved structure makes it delightfully comfortable, and the rattan weave is breathable, which will keep you cool.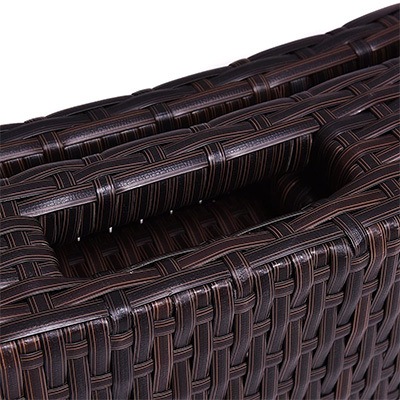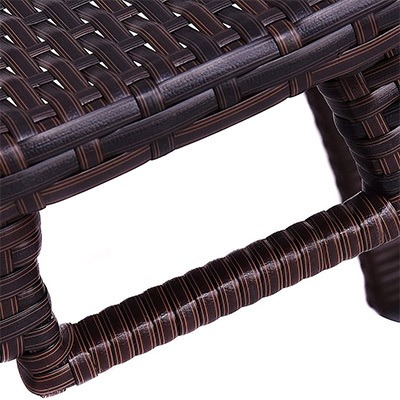 If you'd like to enhance the comfort further, it's easy enough to toss a full-length seat pad atop it of whatever thickness you desire. But in doing so, you're certain to make the chair less breathable. Ultimately then, it's a tradeoff that depends on which dimension of comfort you value more.
No Assembly is Required
There's some confusion on this point. Some of the company's information indicates that minimal assembly is required, which other portions of their sales literature indicate that no assembly is required. We can confirm that no assembly is needed here. If you decide you want one of these, it will arrive collapsed in a box, but all you'll have to do in order to start enjoying it is carrying it to where you want it, unfold it, and stretch out.
Pros and Cons of Tangkula Rattan Outdoor Lounger Chair
We love the Tangkula Rattan Foldable Chaise lounge. It looks great and is more comfortable than you might expect from a piece of rattan furniture. It also supports a lot more user weight than most people expect from rattan furniture. However, there are a couple of downsides. The two most significant are:
Tangkula Rattan Outdoor Lounger Review Conclusion
The Tangkula Rattan Outdoor Lounger is one of the best-looking loungers on the market today. In our view, its many positives overwhelm its few potential negatives.
If you decide to buy one of these, we think you'll be impressed. Sure, it's more expensive than many of the other options available, but this is definitely a case of getting what you pay for. Tangkula is an excellent company that takes support seriously, and they've got a fantastic product here. We recommend it.
---
References & Resources