In a Nutshell:
The Tempur Pedic TP9000 Ergonomic Executive Chair is a masterwork chair that focuses on a few key features and does them really well. Recommended for power users, provided you're under the chair's modest weight limit.
* Brand Reliability is a measure of the strength and longevity of the brand, which by extension, is a measure of the level of support you can expect.
** While aesthetics is a matter of taste, Aesthetic Flexibility is a measure of how easily a given design would fit into a wide range of home or office décor schemes.
Are you in the market for a great new chair for your home or office with powerful ergonomic features?
Are you a power user?
​Do you have some money to spend but want to make your dollars stretch as far as possible?
If you answered yes to any of those questions, then you're going to flat-out love reading our Tempur-Pedic TP9000 chair review.
About Tempur-Pedic Brand

Tempur-Pedic is best known for their presence in the bedding market where they make unbelievably good mattresses. In recent years, however, they've been applying their expertise to the office furniture market, and the Tempur-Pedic TP9000 is just one of the truly fantastic chairs the company makes.
In the world of office furniture, companies tend to take one of two approaches. They'll either throw as many features as they can into their designs, hoping that some of them are good enough, or in a combination that buyers are interested enough in to prompt a purchase, or they'll focus on a handful of features and implement them exceptionally well.
Tempur-Pedic has opted for this second approach, and we heartily approve of the results. Even if you ultimately decide that this model isn't for you, we think you'll agree. This chair belongs on your short list of models to consider.
In the sections that follow, we'll tell you everything the TP9000 gets right and let you know about its limitations so you'll have all the information you need at your fingertips to make an informed purchasing decision. If that sounds good to you, let's jump right in and see what this chair can do!
​Tempur-Pedic TP9000 ​Ergonomic Executive ​Chair Overview
At first glance, this executive chair might underwhelm you. It looks almost generic. The designers took a totally conventional approach. They didn't do anything flashy or interesting with the design, except for making their chair available in a modest selection of colors.
That's not a bad thing at all. It makes it incredibly easy for this chair to blend seamlessly into whatever room you have it in. As to those colors we mentioned, you can order yours in any of the following hues: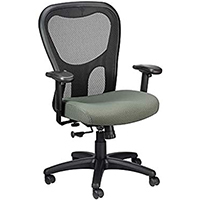 Most mesh chairs tend to suffer from a disadvantage where aesthetics is concerned. ​But again, this one has such an ordinary appearance that it just blends seamlessly to the background, a job made even easier by the selection of colors on offer. Note that the color choices only impact the color of the fabric covering the seat. The rest of the chair is black.
Chair Specifications
In terms of the basic statistics that define the Tempur Pedic TP9000 chair, here's what you'll find:
This is an interesting mix of statistics. The height adjustment range extends to the point that the chair could be of value to taller users, but the maximum supported weight of just 250 pounds means that it will only be a good option for taller people with lighter builds. Heavier users will almost certainly not find this chair up to the task of properly supporting them.
Also, note that the height adjustment range extends low enough to make it a good option for shorter people, so basically the only people not served by this chair are both taller and heavier. For everyone else, this is a great choice.
​Comfort
Tempur-Pedic mattresses are known for being exquisitely comfortable, and the company has brought their proprietary comfort technology to the seat of this office chair. Sitting in it is like sitting on a cloud that offers excellent lumbar support. Functionally, it's similar to memory foam padding but taken to the next level. You'll love it, even if you spend a full day sitting in it.
​Upholstery
The TP9000 is a hybrid design, mixing mesh in the seat back with fabric upholstery covering the seat itself. This is a good approach that gives you the best of both worlds, maximizing comfort in the seat and maximizing breathability in the seat back where you need it most.
Ergonomic Features
There are three ergonomic features to talk about here in our Tempur-Pedic TP9000 review:
Lumbar Support
The lumbar support is extremely well-implemented, although entirely stationary, and the seat is also outstanding. We personally prefer the waterfall-edge style seat, but Tempur-Pedic's molded approach makes sense given the type of padding they're using and provides the same basic ergonomic benefits.
Armrests
The real stars of the show though, are the armrests. Not only are they ergonomically sculpted, but they're also padded sufficiently that they'll keep your arms and elbows comfortable even after several straight hours of working in the chair.
In addition to that, the arms can be flipped up and out of the way if you don't want or need them, or if you have a low desk and storing the chair beneath it would be impossible with the arms in the down and locked position. If you prefer, you can even remove the arms entirely. Since they're not connected to the seat back, they're not needed to maintain the structural integrity of the chair.
Swivel, Tilt, Recline
Finally, the Tempur Pedic P9000 offers all the usual office chair features you'd expect to see: 360-degree swivel, tilt and lock function and recline to a maximum of 135 degrees.
Assembly Required, of Course
As with most of the office furniture sold today, if you buy one of these chairs, it will not arrive at your door assembled. You'll get a large box filled with a few pieces. Fortunately, everything about the assembly process is a breeze.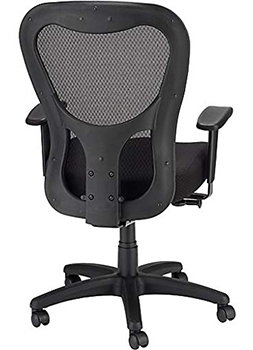 The quality of the materials is excellent, the production quality is high, and the instructions are clear and easy to understand. You can easily assemble this chair by yourself in about fifteen minutes, though if you have an assistant handy, you can probably shave another five minutes off of that.
Quality & Support
We found the quality of the welds to be of consistently high quality and were impressed by the quality of the gas lift mechanism. Although we found the maximum supported weight of the chair to be a bit disappointing, as long as you're careful not to exceed it, there's no reason this chair shouldn't provide you with years of reliable service, and even if there's a problem, Tempur-Pedic has legendary customer service and support. That's the best of all worlds.​
Pros & Cons of the ​Tempur Pedic TP9000 Chair
There are only two negative things we can think to draw your attention to about this chair.
​First, the weight limit. It's on the low side which is a little disappointing, and that will no doubt wind up being a deal breaker for some segments of the market.
Second, the armrests. While we love them and their versatility, there are two things to call your attention to. They're stubby. If you're accustomed to supporting your entire forearm on the arms of your office chair, you'll have to get used to adjusting your sitting position.
Additionally, although they are well padded and comfortable, we would love to have seen slightly more padding in them. They're fine if you're wearing a long-sleeved shirt, but if you're a power user spending all day in the chair and wearing short sleeves, your elbows might get a little sore by the end of the day until you acclimate yourself to the chair.
​Neither of these are deal breakers by any means, but they are things to bear in mind. In every other way, the Tempur-Pedic is amazing. We think you'll love it.
Tempur Pedic TP9000 Chair Review – Final Thoughts
This is a great chair, offered by a legendary company. It's not flashy or showy and in a crowded market that can make it easy to overlook. Assuming you're okay with the TP9000's maximum supported weight limit, you'll be thrilled to own this one, and it will provide you with years of reliable service.
We highly recommend the Tempur-Pedic TP9000 ergonomic mesh mid-back executive chair for anyone, but it's an especially attractive option for power users, who will find the well-implemented ergonomic features and the incredible comfort of the seat to enable them to work productively and comfortably all day long.
---
REFERENCES & RESOURCES