In a Nutshell:
The Titan Hummer XL scooter has a very good leisure design. Not as capable of handling extreme terrains as others in its class, but fun to drive and offers some unexpected surprises. It is recommended for anyone interested in a (relatively) low-cost outdoor mobility aid for light to moderate duty.
Do you suffer from mobility issues and miss the great outdoors?
Do you consider yourself an "extreme outdoorsman," or are you looking for a go-anywhere chair that can handle the most rugged and challenging terrains?
If you answered yes to those last two questions, then the Tzora Titan 4, more commonly known as Titan Hummer XL mobility scooter isn't for you, sorry. It's a great design, but it is designed more for leisure use than handling the most extreme terrains.
Having said that, if you answered yes to the first question and are looking for a reliable, well-designed general-purpose outdoor mobility aid that stands up well to lightly and moderately challenging outdoor terrains, then this model is going to excite you!
In our recent roundup review of the best all-terrain wheelchairs, the Titan got a well-deserved honorable mention in its class, and there's a lot to like about the design. Depending on what you want and need your mobility aid to do, and how you plan on using it, it might be exactly what you've been searching for.
In the sections that follow, we're going to take a deep dive and look at everything this fun outdoor mobility aid is capable of, and let you know about the things it's not so good at too, so you'll have all the information you need to make an informed purchasing decision. If that sounds good to you, then let's jump right in!
An Overview of the Tzora Titan Mobility Scooter
Some outdoor wheelchairs and scooters have a rough-and-tumble look. Many models resemble ATVs, and others (the tracked models) look more like convertible tanks. One glance at these models, and you know they're capable of taking you just about anywhere you want to know.
We would like to note here that the Tzora Titan Hummer XL Mobility Scooter, despite having a tough-sounding name, isn't one of those. Actually, it looks a bit like a stripped-down golf cart.
That's not necessarily a bad thing, but aesthetically, if you have your heart set on something that looks like an off-road monster, the look, and feel of this model is going to leave you feeling a bit underwhelmed.
Looks, however, can be deceiving, and if you're okay with the aesthetic, you'll find that the design has a lot to offer.
Regarding basic stats, here's an overview of the Tzora Titan mobility scooter:
Adjustability
We regard this as a weakness of the design because there's just not much to talk about here. The specs are what they are, and the company doesn't give you much to work with in terms of adjustability.
Several Tzora Titan scooter reviews claim that the biggest and most important thing you can adjust is the angle of the tiller. This is the piece on the front where your control panel and steering mechanism are placed. You can adjust the angle of the tiller forward or backward and lock it into place when you've got it adjusted to your preference.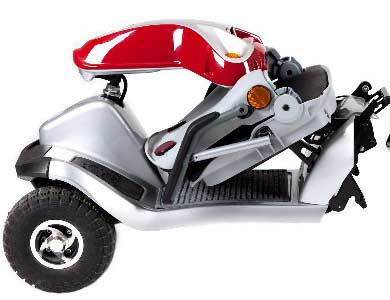 The company claims that the armrests are adjustable, but what they really mean is that they move. You can swing them up and out of the way for easier and more convenient transfer into and out of the chair. You cannot, however, height adjust them. What you get is what you get.
And that's it. If you're looking for a mobility device that allows you to tweak and customize for maximum comfort, this isn't the model you want.
Comfort
Having said that, if you're okay with the stock dimensions, you'll find the Titan scooter to be a pretty comfortable ride. The seat and the seat back are both padded with memory foam, which makes for a comfortable ride, and the seat is designed such that it rests on four posts, rather than just one (which is common on many designs).
Not only does that give you more stability, but it also adds to the overall comfort. Note, however, that the seat itself is designed a bit like a simple folding chair. The seat back isn't high enough (and has no headrest) to make it ideal for long-term sitting and napping in the thing is entirely out of the question.
Then again, it's designed mostly for outdoor use, so you'll probably be actively doing something most of the time you're in the Titan anyway.
On-Board Storage & Extras
We also would like to point out here in our Hummer XL Titan Scooter review that it offers a surprising number of extras and a generous amount of storage. Even better, most of the extras offered are free!
This is a somewhat curious approach, in our view. On the one hand, when you're placing your order, the ability to add tons of extras gives you the feeling that you're customizing the machine to taste. On the other, since so many of the extras are free, there's literally no downside to just taking them all.
After all, it's not like you're saving money by taking a pass. And since most people don't know for sure if or whether they need this or that feature, if you take a pass on a free upgrade and wind up needing it later, you'll be kicking yourself.
Here are the extras that are available:
As you can see, just about every option you can add is offered freely, except for the battery upgrade and the pull-behind coach.
Battery Upgrade
We highly recommend the battery upgrade if you can afford it for two reasons. First, it cuts down on the total weight of the unit quite considerably. Two batteries power the chair, and each of the lead-acid batteries weighs a hefty 21 pounds. Each of the Li-ion batteries weighs just seven pounds and has the added benefit of a much faster recharge. Well worth spending the extra money on, in our view.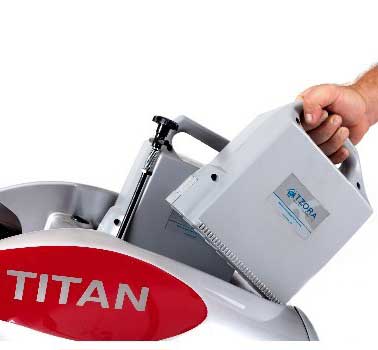 Pull-Behind Coach Upgrade
As for the pull-behind coach…not everyone is going to want or need it, but in our view, this is another must-have because it adds tremendously to the versatility of the device.
Granted, the addition of the coach makes it somewhat less capable of handling outdoor terrains, so if and when you're using it, you'll have to be a bit more careful about where you take it. Having said that, the ability to tow in up to five hundred pounds of gear is a beautiful thing. You could literally make a full-blown shopping trip in the Titan Hummer XL scooter, stash all your groceries in the coach and take it back home.
If you're camping, you can toss everything from a tent to food, a few electronics, and solar panels for recharging and still have room to spare.
If you're working in the garden or doing something around your property, the coach gives you plenty of space for any type of tool you might need for whatever it is you're doing. We think it's fabulous and well worth the modest increase in price. Again though, it comes down to what you plan to do with the scooter and how you'll be using it.
Free Storage Basket
Note that even if you take a pass on the pull-behind coach, you should definitely grab the free storage basket. It obviously only gives you a fraction of the storage potential, but it is just too useful an addition not to get, especially when it's free!
Personalized Scooter For Free
The customization option is the last thing we'll discuss here in our Titan 4 review. It's a small thing but a super nice touch, allowing you to truly personalize the device with your name or a short phrase. It's that kind of attention to detail that makes it easy to fall in love with the Titan!
What About Portability?
In our view, this is another strength of the design. The Titan is a fairly light machine, and it breaks down into two parts (front and rear) of approximately equal weight.
While it would be a challenge to fit it into the trunk of a full-sized sedan, if you have a roomy hatchback or an SUV, you won't have any difficulties at all in terms of transport. Unfortunately, the same cannot be said of the coach, so if you're planning a camping trip, you'll almost certainly need a truck to stash the pull-behind in.
Even better, breaking the Titan Hummer scooter down isn't a complex or time-consuming process, so you'll be able to unpack it and get it ready for use in a matter of minutes. Kudos to Tzora for a job well done on that front!
A Moderate, But Not Excessive Learning Curve
Now, let's talk about the learning curve because some mobility aids can be tricky to learn.
No doubt, there is a bit of a learning curve here, but if you're at all familiar with electronic gadgets and gizmos, you should have a pretty easy time mastering the Titan's use.
At first glance, the control panel looks bewildering, but there are really only a handful of gauges and controls to concern yourself with. Here's a quick overview:
Mastering these controls will probably take you less than ten minutes, so it's not nearly as daunting as it appears at first glance! Learning to steer around obstacles, given its relatively poor turning radius will, however, take a bit of practice.
Versatile Outdoor Chair Not Recommended for Most Indoor Use
The design of this chair/scooter lends itself well to a variety of outdoor uses. If you love gardening, and you get the pull-behind coach, you'll be able to take all your plants, potting soil, and tools with you to any part of your property and garden to your heart's content.
If you want to go camping with the family, the Tzora Titan Hummer XL 4-wheel scooter can get you into and out of most places, and there's plenty of room in the coach to bring along a few solar panels to facilitate a remote charge if and as needed. Plus, you'll be able to pack in a wide variety of gear, which makes this a splendid camp vehicle, again, provided that you don't try to tackle terrain that's too extreme.
Indoors, however, the scooter doesn't fare so well, mostly on account of its 42" turning radius, which makes it a non-starter for use in most homes.
Still, it is possible to use in some indoor spaces, although your best bet is to stick to shopping mall corridors, grocery stores, and office buildings with wide hallways.
If you venture too deeply into a retail store, that turning radius is likely to give you no end of trouble, so be aware of its limitations, and if you do drive into the depths of a retail store, be prepared to do a lot of backing up and multi-point turns.
Pros & Cons of the Tzora Titan Scooter
So where does that leave us?
The Hummer XL folding 4-wheel electric mobility scooter Tzora isn't a perfect outdoor mobility aid, but it does have a lot going for it. In our view, here are the things you'll like best about it:
Despite its many positive attributes though, we can think of four reasons you might decide to take a pass on this model.
First, its aesthetic. Looks aren't everything, but they do matter, and if you don't want to ride around in what looks like a minimalist golf cart, you're not going to be happy with the Titan.
Second, while it's great at handling lightly to moderately challenging outdoor terrains, if you're an outdoor adventurer looking for a mobility scooter to take you deep into the trackless wilds, this isn't the model you want. It's more designed for puttering around your property, tooling around the park, or camping with the family in areas with well-defined trails and relatively easy access.
Third, it's not all that adjustable. If the stock dimensions seem like they'd be a good overall "fit" for you, fantastic! If not, be aware that there aren't many ways of tweaking or adjusting the chair.
Finally, be aware that this is an Israeli company and that the Titan is of Israeli manufacture. That's a mixed blessing. Israel's high-tech sector is thriving, and its products are almost on par with equipment made in the EU and the US. But it's still a step down.
The benefit of that is that the Tzora Titan Hummer Mobility Scooter is less expensive than mobility aids made in Europe or America, but the tradeoff is that it just isn't as durable or long-lasting.
The other potential issue is post-sales service and support. As with most equipment you buy from overseas, if something goes wrong with it (and sooner or later, that's going to happen), you're going to have to jump through more than a few hoops to get a live human being on the phone, and probably struggle to make yourself and your request understood. That's not the kiss of death, but it is something to be mindful of.
Our Verdict: Titan Hummer XL Mobility Scooter
We like the Titan Hummer XL mobility scooter more than its four-star rating would indicate. It's a great, versatile, fairly robust mobility aid that will serve huge swaths of the market very well.
Granted, it's not as fun to look at as some of the other models that graced our recent roundup review, but in our view, aesthetics isn't nearly as important as performance, and where performance is concerned, the Hummer XL delivers.
We highly recommend it to anyone but the most adventurous spirits, who would no doubt be happier with a go-anywhere machine. While the Titan can handle a fairly broad range of terrains, it's not the device you want for "in the mud," middle-of-nowhere adventures.
Still, we feel that the vast majority of consumers will be quite pleased with this one.
---
REFERENCES & RESOURCES