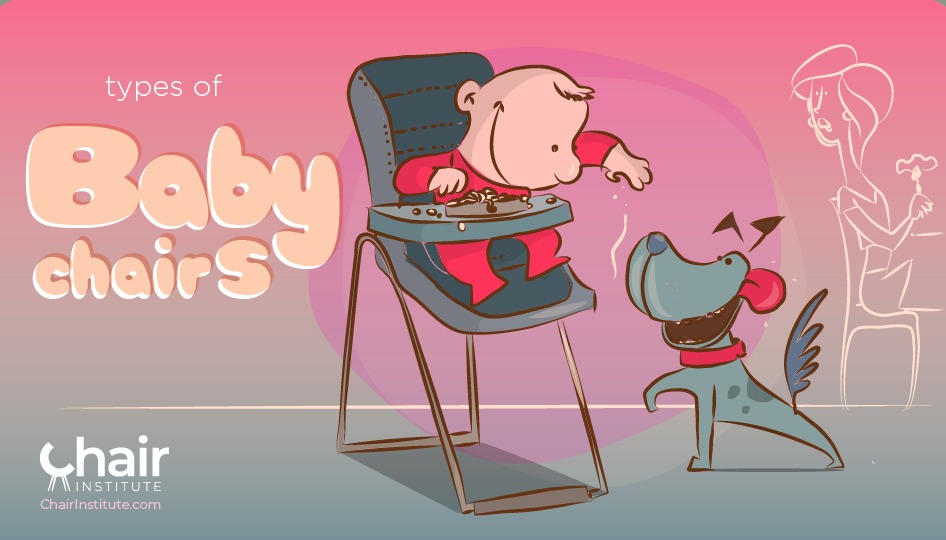 If you've got a little one on the way, you're probably in full-on "nesting mode," making preparations at a feverish pace for the arrival of the newest member of your family.
There's a lot to consider, not the least of which is seating. Let's face it, babies have specialized needs where that's concerned, and there are a truly mind-boggling number of different types of baby chairs on the market today. So many, in fact, that sorting out which ones you need and what to get can lead to a bit of analysis paralysis.
This article was written to help you cut through the clutter and noise and zero in on exactly what you want and need. Ultimately, you may decide you don't want or need every type of baby chair listed here, and that's fine. At the very least, though, you'll have all the information in one place and at your fingertips, and that's bound to make the decision process a bit easier.
Let's start then, by breaking the various types of baby chairs into eight broad categories.
List of Chairs for Babies
We'll talk about each of these in turn, in the sections that follow.
Baby Bath Seats
This one's super important because obviously, you can't just stick a baby in the tub without some kind of support.
Fortunately, there are lots of different types of baby shower chairs (and bath chairs) to choose from, so you can get the one that makes the most sense for your home, and if you've got more than one bathroom, for whichever bathroom you plan on bathing your baby in.
You'll find quite a variety of options here. Some fold up when not in use, so you can keep them out of the way and to make storage easier. Most have some "activity features" built into them to give your little one something to play with while you're doing the actual bathing, and they come in a variety of shapes and sizes to accommodate children of varying weights, sizes, and ages.
Regardless of which particular type you settle on, all of these types of chairs have several things in common. They're all designed to be highly portable, so you can store them when they're not in use, and all are designed to not only support your baby's back but to keep him or her from slipping beneath the water.
Finally, all of them employ some kind of technology (usually, but not always in the form of suction cups) to keep them from sliding around the tub or shower when in use.
Baby Car Seats
This is another one that's probably on the "must have" list. Even if you don't plan on taking your baby out much, you're going to need one of these to get from the hospital back home. So what types of baby car seats are there?
You'll be both surprised and perhaps even dismayed at the staggering number of choices, but broadly speaking, baby car seats fall into the following subcategories:
Rearward facing car seats are designed primarily for use when your baby is quite young (newborn to, say, fifteen months of age). The combination and forward-facing seats come in various categories, with some being rated for newborns to babies up to about fifteen months of age, and others being rated for use with children up to four years old.
Obviously, you should buy for the long term and get a child car seat that your baby can continue to use as he or she grows, but these tend to be more expensive and your budget may not allow for it. If not, get the best chair you can afford and plan to upgrade later, as your child gets older and starts to outgrow it.
High-backed booster seats are designed for children ages 4-11, and booster cushions are designed for kids aged 6-12, so even if you get a combination or forward-facing seat your child can grow into, eventually you'll find yourself replacing it with a booster seat or cushion of some kind.
Baby Bike Seats
Obviously, this one's not for everyone. If you don't ride a bicycle on a regular basis, you're probably not going to need one of these at all.
As the name suggests, this type of seating allows your baby to accompany you on those long, glorious rides and enjoy them with you, safely and securely. Here, your comfort is as important as your baby's, so just be sure you get something that your little one can grow into, and that won't unbalance you and increase your risk of a spill.
Baby High Chairs
This is another one that should be high on your list of "must haves." There are many different types of baby high chairs, but whatever type you settle on, the goal is the same. To give your baby a seat at the dinner table with the rest of the family.
Most fold up for easy storage when not in use, and all are built with a sturdy plastic tray to give your baby his or her own eating surface, which is designed to make cleaning up the numerous, inevitable spills easier, and maybe help save your expensive dining room table, to boot!
Some chairs have a few "activity features" built into them as well, to give your baby something to play with or focus on in-between bites, or while the family is eating their meal.
Booster seats are a subcategory of the standard high chair. Designed with slightly older children in mind, they simply give your toddler a little extra height so he can eat at the table with the rest of the family.
Types of Highchairs
So what types of highchairs for babies are there? You'd be surprised at the amount of variation to be found here. The list includes:
Baby Activity Chairs
This is an exceptionally broad category that covers lots of ground, ranging from floor seats, to baby bouncers to walkers, but whatever form they take, the overarching purpose is the same: to give your baby something fun and challenging to play with and keep him (or her) occupied, so you can get a few things done around the house.
Many of the other types of chairs we've talked about so far are designed with a few "activity features" built into them, but these chairs take it to a whole different level, and are typically loaded with noisemakers, puzzles, spinning things, and of course, plenty of bright colors designed to keep your baby's attention.
All baby activity chairs come with recommended age ranges, which you should probably pay close attention to, because as your child gets older, it's going to take more and more to keep them mentally challenged, and let's face it, there's no point in getting one of these if it's going to leave your child bored out of his mind!
Unfortunately, that also means that you'll probably be buying several of these as your child continues to develop mentally, but the good news there is that they tend to be fairly modestly priced.
Baby Swings
In a perfect world, one parent could stay home twenty-four hours a day, seven days a week with your newborn baby, and your baby would be perfectly content if you could spend every waking moment rocking him or her.
There's compelling evidence to suggest that the reason babies enjoy rocking so much is the fact that rocking emulates the sensation the baby enjoyed for nine months in his mother's womb, anytime she walked.
Ultimately, it doesn't matter whether that's true or not, because the bottom line is, babies flat-out love to be rocked. It soothes them and helps them sleep, which means parents should love it too, because the house rule is if baby can't sleep, then nobody's sleeping!
All that to say, you're going to want to invest in a rocking chair for mom, for sure, and some type of baby swing, because mom isn't going to be able to sit there and rock all day long. Sadly, the realities of modern life simply won't allow it, and there are a million details that need to be attended to over the course of a typical day.
As with the other types of baby chairs we've talked about, baby swings come in all shapes and sizes, with some having built-in activity features, and others being simple swings. All are designed to be highly portable, so you can move them from room to room so your baby can keep you in sight as you do the things you need to do.
Simply wind the chair up, place your bundle of joy in the seat, and it'll swing by itself (enhanced slightly by your baby's body movements, just like what happens in a child's swing set), which comes close enough to replicating the rocking motion that it gets the job done.
End result: Baby's happy, and you're free to get up, move around, and get a few things done. That's' win-win!
Baby Strollers
This one's as much for the parents as it is for the baby, and these and high chairs are usually the first two things people think of when someone mentions baby chairs in general.
Their function is entirely self-explanatory. Mom and dad can get out of the house, go for a walk, and go to the store, bringing baby along for the ride.
Strollers come in so many shapes and sizes it can feel like the options are unlimited, but at the end of the day, the most important considerations to keep in mind are these:
Different Types of Pushchairs (Strollers, and Buggies, and Prams, Oh My!)
The term "pushchair" comes to us from England, and describe the various types of devices (strollers) used to convey your infant from Point A to Point B. These are all broadly similar, but you may see various terms used in different places. If you do, the list below will help you make sense of it.
Here are the terms you're most likely to see:
Baby Toilet Training Seats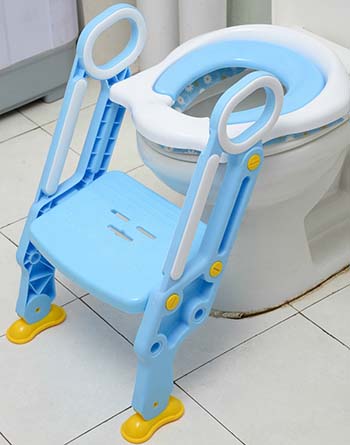 Last but not least are toilet training seats, and again, this is a critical type of baby chair, designed to help your little one master the fine art of using the "grown-up potty."
These come in two basic varieties: Standalone seats, which are entirely self-contained and designed to sit next to the full-sized toilet in the family bathroom. Baby can watch what the adults do, and with a bit of encouragement, emulate the process on a seat designed with their size in mind.
As your baby gets a little older, you can graduate to what is essentially a toilet booster seat. These attach to your full-sized toilet, and usually come with a footstool and handles that allow your child to easily climb up and sit on it. Since a toddler's bottom isn't as big as an adult's, the opening in the middle of the seat is designed with this in mind so your little one doesn't fall in.
While there are a number of companies that make both types, they're all fairly similar, so it ultimately comes down to brand preference, comfort, and what your budget will allow.
Final Thoughts on Types of Baby Chairs
As you can see, there are probably more different types of chairs for babies than you first realized, but again, you don't absolutely need all of them. Pick and choose, depending on what makes the most for your family, household, and lifestyle.
Remember too that you won't need all of these from day one, so start with the basics (a car seat to get your newborn from the hospital to your home, and maybe some type of swing to accompany the rocking chair), and build slowly from there as your baby's needs change.