We all have that friend or relative who loves antique furniture. Even modern manufacturers will often produce new chairs based on classic styles. A very popular type of early upholstered armchair was the Bergère chair.
Join us as we take a look at the different types of Bergère chairs and what makes this design so unique from the rest of the antique chair designs.​
What Is a Bergère Chair?
A Bergère chair (pronounced like bair-jair), is a type of upholstered armchair that originates from early designs of the 18th century. It has closed sides, as compared to open armrests seen in other types of early chairs.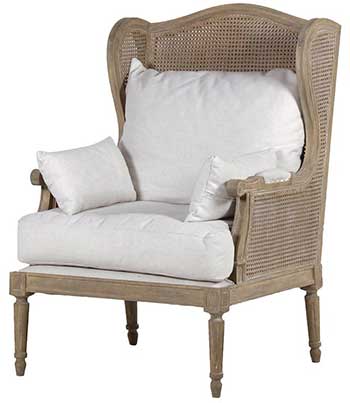 It was the first type of chair to focus on comfort and relaxation. Prior chair designs were often rigid and uncomfortable. The sides of the chair are usually upholstered but can be made of cane depending on the design.
Padded elbow rests are often found on the armrests. The seat is fitted with a loose cushion. The design is meant to be used for extended lounging. A deeper and wider design is present here, as compared to that of a fauteuil chair.
An exception would be the bergères by Bellangé that are in the United States White House. These are designed with a more formal appearance.
In the spirit of comfort, the Bergère chair was designed with a long and wide seat that includes a thick cushion. Depending on the type, the back can be high or low. It can also be shaped to be curved, rounded, or conical.
The wood used in the arms and back trimming is painted, gilded, or even natural depending on the specific design approach. The frame can be moulded or carved. It is made from beech or fruitwood, walnut or mahogany. The frame has a waxed finish.
While it was originally found in homes of the 18th and 19th centuries, it is a style still used today in many homes.
The 3 Types of Bergère Chairs
To qualify as a Bergère chair, it must have an upholstered back, seat frame, armrests, a loose cushion, and exposed frames. There are three major variations of this design: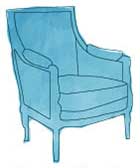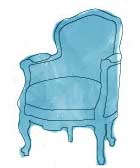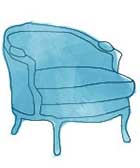 Bergère à la Reine
This first type has high armrests and a flat back. The back is high with a straight top and a sloped shape down to the arms.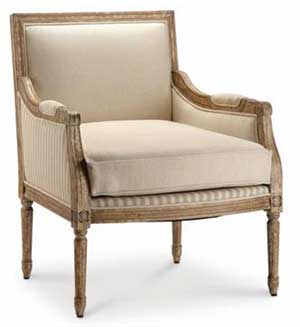 Bergère en cabriolet
Our second type of Bergère chair has a rounded back. It is often lower than the first type, coming up to the middle of your back or so depending on height. The armrests are lower as well to match the relative height of the back.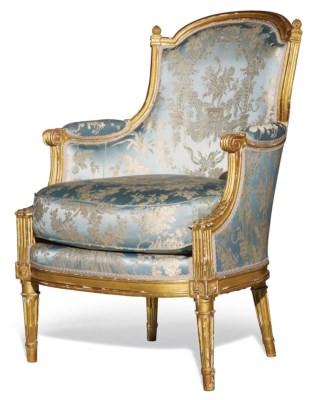 Bergère marquise
Our final style has a low and curved back that seamlessly connects to the arms. This is a thinner back design that is higher than the second type. There's a distinct difference between the height of the back and the arms in this variation.
The History of Bergère Chairs
The Bergère chair is part of a larger category of chairs inspired by Kings Louis XIV, Louis XV, and Louis XVI. Known as the chair of kings, these chairs were referred to as "Fauteuil" which means "armchair" in French.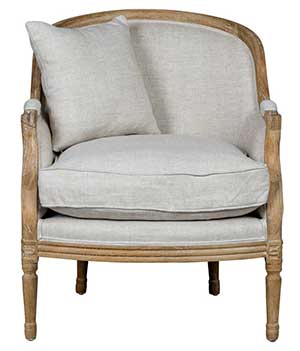 The Bergère chair specifically has a wider and deeper seat than any other chair in this category. This design has inspired countless variations in terms of color and patterns.
The first of these King Louis chairs emerged in the 1600's near the end of Louis XIV's reign in France. These first Baroque styled chairs were extremely popular during that time. As the design evolved, we began to see lighter and more refined designs.
By the 1800's, a common French salon would have a sofa, a chaise lounge, and an armchair, possibly even a Bergère chair. During this time, many chairs were ordered as part of a larger suite.
These sets would include side chairs, armchairs, settees, stools, fire screens, folding screens, and a daybed. All of these would have matching upholstery. During the late Baroque period, chairs were formal with stiff and rectangular backs.
As time went on, the designs shifted to become more comfortable. The arrival of the Régence era (1710-35), brought the inclusion of symmetrical curves. The overall decoration also became freer and allowed for additional carvings and accents.
It is not uncommon to see these types of chairs in modern households. One thing that all chairs of this time have in common, is a sense of timelessness. They have evolved and remained a staple of luxury furniture over the years.
A Classic Design for Modern Luxury
The Bergère chair is a design that has stood the test of time. These chairs combine a comfortable feel with a classic design. You can find antique specimens, but many modern manufacturers will make them as well.
All three types of Bergère chairs include armrests and a comfortable cushion. Regardless of which one you choose, you'll find a chair that can really add to the appeal of a room and function as a comfortable seat for any of your guests.
---