We all love a futuristic design, and in today's world, that type of design is synonymous with minimalism. In the spirit of both these things, the bubble chair fits the profile. When looking at the different types of bubble chairs, it's easy to see why these unique pieces of furniture have such a wide appeal.
In this article, we look at the origins of this design, the types of options available, and ultimately, how it can be incorporated into your home's interior design.
An Overview and Origins of the Bubble Chair
If you look at any given bubble chair design, you would probably assume that it is something that just recently came about. After all, they seem futuristic with their translucent exteriors and hanging design.
The truth, however, is different than you would think. The bubble chair actually originates from the 1960s. It was first conceived by Eero Aarnio, a Finnish designer. The design is made of acrylic plastic, supported by a steel frame.
For user comfort, the interior is usually lined with a cushion that can be upholstered with authentic leather, or a polyurethane material. The chair represents one of the most innovative uses of plastic in furniture design.
It comes across as futuristic because of the influence that the 1960's had on its design. With the neo-retro space age trends of that time period, the bubble chair was able to fit right in with a groovy addition to any psychedelic living room.
The most common type of bubble chair hangs from the ceiling to give the user a sensation of floating in a bubble, hence the name. Another comparison would be to look at this chair as a type of indoor hammock.
​When you look at the design of a bubble chair, you would be forgiven for thinking that the hanging aspect was intentional, but it was actually added by accident. When Eero Aarnio was designing it, he knew he wanted it to be transparent.
He wasn't able to find any material suitable for a transparent pedestal, so he resorted to hanging it from the ceiling. The bubble chair was only one of many innovations from this designer.
He was often experimenting with colors, plastics, and curved designs, which is how the bubble chair came to be.
The origins of this chair design came to Aarnio when he moved into his first home:
"We had moved into our first home and I had started my freelance career in 1962. We had a home but no proper big chair, so I decided to make one, but in some way a really new one."
He went to work coming up with ideas and soon realized that the shape he was looking for was, in fact, a circle. He conceived a prototype and showed it off to some managers from a Scandinavian company named Asko.
The representatives from the company were extremely impressed with the concept. The original idea was a room within a room. A clear chair on a pedestal with its own light source inside. He chose acrylic because it is easy to heat up and mold into the shape of a bubble.
The closest model to this original concept costs thousands of dollars, but thankfully there have been plenty of variations which are far less expensive.
​The Types of Bubble Chairs for Sale
In your search for one of these futuristic chairs, you'll come across three distinctive types. Let's take a look at each one:
​Classic Hanging Chair
The first type of bubble chair is the classic design. The chair hangs from the ceiling, giving the user a floating sensation as they relax in a relatively enclosed space.​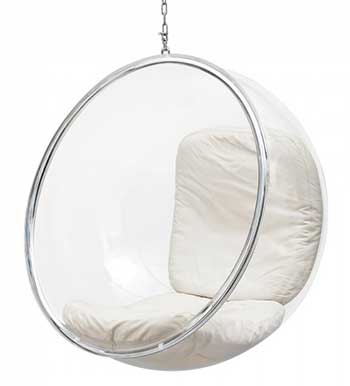 ​Bubble Chair with Pedestal
The second variation of this chair is one that includes a stand. This is better for those who want to try out a bubble chair, but don't want to mount it from the ceiling.
Hanging Chair ​with a Stand
Our final type of bubble chair combines the best of both worlds. You still get the hanging effect here, but it is attached to a stand that sits on the ground.
This way you can have the original design, but you won't be required to install it to the ceiling.
​How to Design a Room to Fit a Bubble Chair
Bubble chairs have evolved to offer a wide range of design variations, colors, and even outdoor options. Their primarily plastic construction allows them to be placed in just about any environment.
Many people like to place these chairs in the living room, office, or bedroom of the house. Depending on the type of chair, you can also place them out back or by the pool.
If you decide to go with a hanging bubble chair, keep in mind that it will need a strong place in the ceiling to mount to. Since it is likely to swing, don't forget to also leave room for it to move without hitting anything else. Usually, three feet in any direction is enough space.
It can be featured prominently in the center of the room, or placed in a corner as an accent to the rest of the room's design. It's very versatile in that way. If you decide to do a hanging chair, you will also need the proper tools.
These include a ladder, tape measure, drill, stud finder, S-hook, screwdriver, and a second person, among other tools that may be needed depending on the type of ceiling your hanging it to.
If you would rather just have the chair set up and ready to go, the variation with a stand may be the best decision.
​Bubble Chairs are Future-Proof
Since the bubble chair was originally designed in the late 1960's, it already has a futuristic look. As we move into the future, it wouldn't be surprising to see more of these chairs in mainstream living rooms.
With options for the traditional hanging chair, or something less complicated with a stand, there's no reason why it can't be incorporated into a room's design.
---