While there aren't really any specific "types" of camping chairs, over the years, a number of distinct design philosophies have developed, so we'll use these in the place of more formalized distinctions.
Here are some broad categories that may be of interest to specific groups of campers and outdoorsmen:
Backpack Cooler Chairs
This unique type of chair combines several functions into one. The best backpack cooler chairs are relatively lightweight and fold into a backpack shape for easy portability. When deployed, they have soft coolers attached to the sides or back.
These coolers are lined with foil for insulation, keeping the items inside cold for hours. Depending on the size of the cooler, you'll have room for drinks and food. This unique combination of lightweight materials, design, and insulation makes for something you can take anywhere.
Backpack cooler chairs can be used for tailgating, hiking, camping, or even at the beach. The sheer versatility on display here makes this a remarkably unique chair. Let's find out what types you'll encounter.
Types of Backpack Cooler Chairs
The concept of a backpack cooler chair remains the same across all the different versions. There are moderate changes to the size and shape of the cooler or coolers that come with them.
If you want something high-end, consider our second option. If you're trying to go for something more simple, the backpack cooler stool is a great choice. Let's take a look at the variations you'll come across:
Built-In Single Cooler Chair
Our first type is a simple and functional version of this concept. The cooler is attached to the seat of a small folding chair and occupies the space between the ground and the frame.
The chair itself has a back and seat canvas but does not include any armrests or extra padding of any kind. You can't beat the prices on these chairs; they are perhaps the least expensive version of a 3-in-1 backpack.
High-End Cooler Chair
This is the most versatile type of backpack cooler chair. It only weighs thirteen pounds and folds out to 20-inches in width. When folded, it becomes a backpack with adjustable straps that you can carry without any effort.
The cooler is attached to the left arm and uses a cell foam insulation. It can hold up to 35 pounds of food or 24 12-ounce cans. The exterior of the cooler also has four smaller pockets for utensils or other items you need.
On the opposite side of the chair, a fold out table extends out with a cupholder. Beneath this hands a two-tiered canvas shelf that can hold more items comfortably. Even though the chair doesn't weigh much at all, it can support up to 350 pounds.
Folding Chair Backpack
At first glance, you could easily mistake one of these for a normal backpack. This type of folding chair backpack cleverly conceals the chair portion into the back of the design. The backpack itself is large enough to hold plenty of items, even a laptop if needed.
You can set the backpack down on the ground and pull out the chair. A few simple legs prop it up and allow you to sit at a moment's notice.
Backpack Cooler Stool
Backpack coolers can also double as a simple stool if they have a rounded top and a reinforced exterior. Many hunters use these kinds of backpack coolers because of their rugged design and camo exterior.
The rounded top of the cooler makes for a perfect stool when you need to take a break for a quick drink or eat a snack.
Camping Chair with Cooler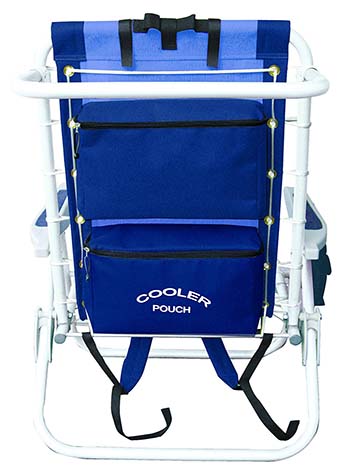 Camping chairs need to be sturdy to withstand the elements, which is why you need something comfortable and strong. The best types of camping cooler chairs use an aluminum base with a mesh design for the seat and back.
While you may not find a lot of features on these types of chairs, they will have a strong resistance to sunlight, freshwater, and saltwater. You're paying for durability with this design.
The cooler is attached to the back of the chair and hangs freely. It's a simple, but effective design ideal for campers and lovers of the outdoors.
Features to Look for in a Backpack Cooler Chair
A backpack cooler chair packs in a lot of features, but if you're looking for a mixture of benefits and value, you'll need to prioritize what you need in your chair of choice. Consider some of these options:
Big & Tall Camping Chairs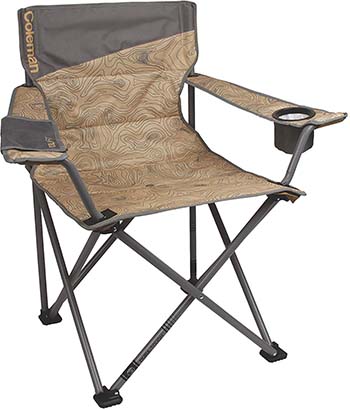 If you're a bigger, taller person, then you've probably already run into the problem that "regular sized" furniture of any kind is a struggle to fit into.
Just as most other types of furniture have models built with plus-sized people in mind, the same is true of camping chairs. These tend to be more solidly built (and correspondingly heavier) than their standard-sized counterparts, so you do sacrifice something where portability is concerned.
On the other hand, having a chair that fits you like a glove on your next camping trip is worth a bit of added weight.
Camping Loveseats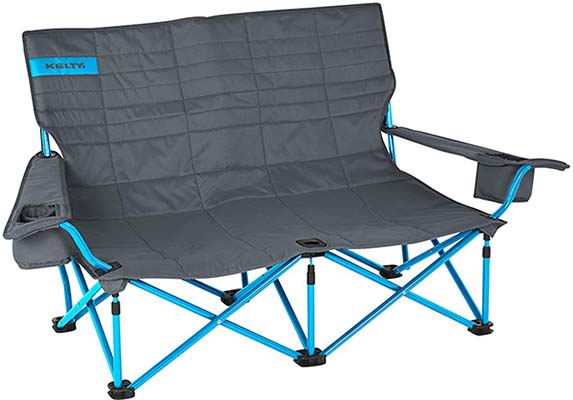 Of the different types of camping chairs on the market, the one thing most of them have in common is the fact that they're designed for a single occupant. That's what makes camping loveseats unique.
If you're fond of camping with your significant other, then a camping loveseat is a superb addition to your kit. It will make your next camping expedition immensely more intimate.
Note that if the largest of the "Big and Tall" chairs mentioned above still isn't quite big enough for you, then this is a good possible alternative.
Camping Chairs with Canopies
Taking a page from Beach Chair design, some camping chairs come with built-in canopies. That's useful not just in terms of keeping the sun's rays off of you but can make your camping expedition a whole lot more comfortable if you get caught in the rain (which, let's face it, is bound to happen at some point).
These chairs do tend to be a bit more expensive than their non-canopied counterparts, but only moderately so.
Ergonomic Camping Chairs
These chairs tend to be significantly more expensive than most other camping chairs, but they're well worth the added cost, especially if you suffer from chronic back pain.
Camping can be brutal on your back, and most camping chairs offer nothing in the way of ergonomic support. Finding a chair that offers lumbar support and Zero-G seating then, seems almost magical. They do exist though and are the ultimate expressions of camping comfort.
Hanging Chairs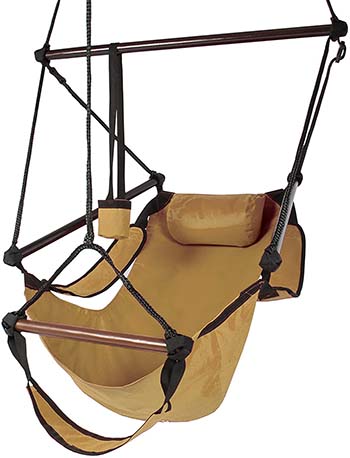 There aren't many companies that make these, but you will find a few available. They're a lot like hammocks but in the shape of a chair.
Designed to be hung from a sturdy tree branch, they provide a surprisingly comfortable swinging seating experience. Be warned, however, that they're not as convenient to pack in as standard camping chairs, and it may be the case that you won't be able to find a suitable place to hang your chair.
If you do though, you'll find these to be among the most comfortable camping chairs available.
Kid-Sized Camping Chairs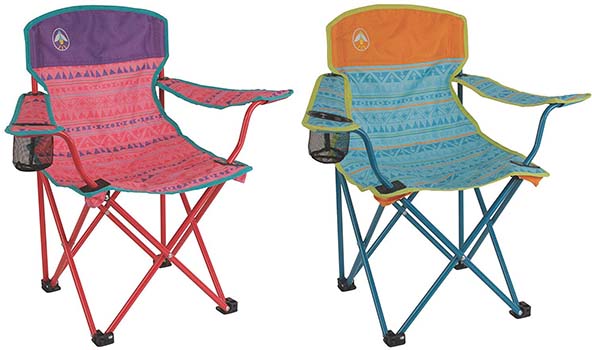 Nearly all the different types of camping chairs you can buy also come in "kid-friendly" sizes. These are functionally identical to their full-sized counterparts, just designed for younger folks with smaller bodies. If you like taking your kids with you when you go camping, these are must-haves.
Swiveling Camping Chairs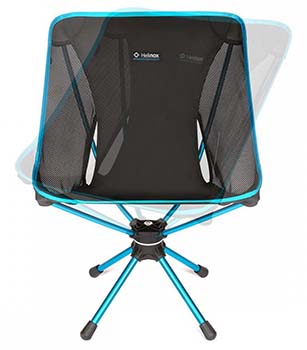 Thomas Jefferson is widely credited with the invention of the swivel chair, and since that time, it has become a staple of office workers around the world. It's not hard to understand why. A chair that swivels puts a lot more "stuff" within easy reach.
That same feature is valuable in a camp setting, which is why some camping chairs now come with a swivel feature. If you design the layout of your camp with this feature in mind, you'll be able to reach almost everything you need with a simple twist of your chair. Even better, the addition of this feature doesn't (at least in most cases) add significantly to the total cost.
Ultra-Light Camping Chairs
While all camping chairs are designed to be portable, some variants (loveseats and ergonomic designs in particular) sacrifice at least something concerning portability to increase comfort. Ultra-light camping chairs move in the opposite direction.
These types of camping chairs don't win high marks for comfort, but they make up for that where sheer convenience and ease of transport are concerned. You can even find tripod-style chairs that closely resemble barstools, although again, these aren't chairs you'll want to spend all afternoon lounging in.
Still, if you're looking for something you can pack into and out of a remote area that will keep you from having to sit on the ground, a fallen tree, or a large rock, these will get the job done.
So, What Is the Best Type of Camping Chair?
Ultimately, there's no one "right" answer to that question. It comes down to what your specific needs are as an individual, and how you plan on using the chair. The better question then, is what's the best type of camping chair for you?
---