Everyone can enjoy a little elegance in their daily lives. Whether it's in the food you eat, the places you go, or the furniture you buy. When it comes to chairs, the types of Chesterfield chairs and sofas out there can easily provide the luxury you're looking for.
Join us as we look at a breakdown of this affluent styles of furniture, the types it comes in, and the history behind it all.
What Defines a Chesterfield Sofa?
Chesterfield chairs and sofas have a very distinctive and vintage look to them. They can add a splash of luxury to many rooms in your home.
You may not see them in lounges or living rooms because of their high-end appearance, but they appear often in drawing rooms.
Today's options come in a huge variety of colors. They also have varying styles and shapes for you to choose from, allowing you to customize them to your heart's content.
The most famous type of Chesterfield sofa is the straight and crested back types. While they look different in their design, the crested back actually offers better lateral back support.
Another characteristic is the length of the legs. Some Chesterfields have high or low legs. This type of chair and sofa is a British classic and holds a high reputation for quality.
The best Chesterfield sofas are made from wood leather, and fabric. As the market has grown over the years, some companies are selling cheaper options that have similar looks but fall below the high standards set by the original design.
Cheaper Chesterfields are appealing for their price point, but they lack the durability and comfort you would expect from the name. This is due to less than ideal manufacturing and poor quality materials used in the less authentic options.
On the other hand, if you're looking for a high-quality Chesterfield, you should look for seasoned beech hardwood and thick rails. Screw-fixed corner blocks should be used to maintain the frame.
The other aspects of a quality Chesterfield chair should be real materials (not synthetic), ample padding, and strong suspension. If you inspect your options carefully, it will become clear which ones are authentic because of their superior design and manufacturing.
The 5 Types of Chesterfield Chairs and Sofas
Chesterfields are deep-buttoned sofas known for their quality and robust historical significance. They come in five various designs:
Two Seater Leather Sofa
This is a smaller design meant for two people, and if often hand-coated in authentic leather. Intricate details and superb craftsmanship will make this type stand out every time.
Three Seater Leather Sofas
Chesterfield sofas also come in larger sizes meant for three people. These types come in various colors such as black, brown, red, green, and blue.
Leather Club Chair
The club chair takes the same buttoned design of the sofa and puts it into a high-backed chair that can easily fit into the corner of any room. The same principles are applied here, with high legs and ample armrests.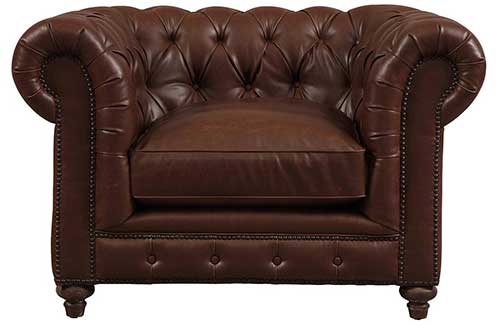 Leather Sofa Bed
You will also find options for both two seater and three seater sofa beds. These have the same design as the standard sofas, with a fold-out bed for guests.
Queen Anne Armchair
This variation of a Chesterfield chair employs the iconic buttoned material with thick armrests and a high back. The Queen Anne style combines with Chesterfield here to make a prominent and very noticeable armchair.
The Iconic History of Chesterfield Chairs and Sofas
The use of the term "Chesterfield" to describe a leather couch, dates back to the 1800's. Historians believe that Lord Philip Stanhope, the 4 Earl of Chesterfield, commissioned the first leather chesterfield settee.
This was when the unique and deep-buttoned design first emerged. This was combined with a quilted leather upholstery and a low base for the seat. The Earl was known during this time as a major trendsetter.
When he commissioned the chair, he asked for a piece of furniture that could allow him to sit upright in comfort without wrinkling his clothes. This was where the inspiration for the chesterfield's rolled arms, deep buttoning, and back length came from.
While there is no specific evidence of this origin story, it is widely believed to be the first instance of this design. Over the years, this design became the premiere choice of Gentlemen's Clubs in London.
The chairs were exported to the British colonies by the officials of the Royal Army. They soon became a symbol of British style and luxury. They were especially popular during the Victorian era, where they became the centerpiece of living rooms.
The design has also been associated with psychoanalysts, as Sigmund Freud originally used a sofa during sessions with patients. In the modern world, chesterfield sofas are used in businesses, offices hotels, and private homes.
It is a timeless design that has endured through hundreds of years to stand as one of the most historically significant pieces of furniture ever made. For some, it is an antique style that symbolizes luxury.
Others have adapted the concept into more modern designs, showing that this style will endure well into the future.
Fine Furniture for Any Setting
Any types of chesterfield chair or sofas offer an equal level of luxury and quality. While you can find cheaper options, the authentic design wins out in terms of durability and comfort.
With a rich history stretching back hundreds of years, it's truly an iconic piece of furniture. The deep-buttoned and quilted design with authentic leather and wood defines this type of chair and sofa.
Next time you need a splash of luxury in your room, consider this classic and endearing design.