Artists and designers require specific tools for their trade, two of which are a reliable drafting table and a comfortable chair. There are different types of drafting chairs to suit various needs, but the best ones give you plenty of flexibility in how you sit during your creative sessions.
In this article, we'll examine the concept of a drafting chair, what types you'll come across, and how to find the best one for you.
What are Drafting Tables and Chairs?
If you're an architect, designer, or cartographer, you'll spend a lot of time drawing. People in these professions typically own a drafting table and a chair. Drafting tables allow you to adjust the angle for the most comfortable position.
Drafting chairs are a modified version of a traditional office chair with some major differences.
Most office chairs only go up to 22-inches in height. However, the cylinder that supports a drafting chair is longer than normal, which allows the user to adjust the height to a maximum of 30 inches. Since these chairs are much taller, they also include a footrest, so that the legs don't dangle.
A drafting chair offers a similar level of flexibility by giving the user the option to adjust the height to meet the angle of the table. Drafting tables are often very tall, so these chairs can specifically adjust their height to match.
These chairs include a backrest and armrests as well, to give the user support for long periods of drawing.
Drafting chairs are ideal for long-term back and neck health. They give the user the option to work at varying angles, so they're not slouched over with their head down.
Read on and find out what types of drafting chairs are available.
The Different Types of Drafting Chairs
Drafting chairs offer a lot of options for different needs. You can find a mixture of value and features in each of these different options.
Armrests and a Padded Back
The standard option for a chair to use with your table is one that includes a padded backrest and padded armrests for comfort. The most common height options range between twenty-four and twenty-eight inches.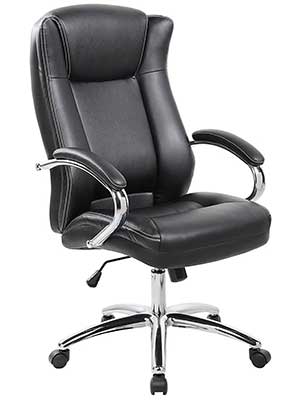 The base includes a footrest, along with a five-wheel base.
Mesh Back With No Armrests
If you find the armrests constraining, there is another type of drafting chair that removes them in favor of a more open design. The backrest is also more open and breathable with a mesh design and a thin width.
This is the ideal type of chair for those who want something less cumbersome and less expensive as well.
Drafting Stools
For those who want ultimate mobility, a drafting stool gives you a wider range of motion and several options. From the cushion down they are the same as other drafting chairs but swap out the seat design for a stool with a small backrest.
Other designs opt for a saddle seat and no backrest at all.
Leather Drafting Chairs
This type combines the look and feel of a luxury office chair with the height of a drafting seat. The chair has a wide design with armrests and offers options for both authentic and synthetic leather upholstery.
The backrest and seat pad are thicker than other designs, focusing on comfort above all else. A pneumatic system gives you the opportunity to change the height as needed.
Leaning Drafting Stools
If you don't plan on moving the chair very often, a leaning stool is an excellent option. This new model of drafting chair has a stationary base as a flexible support that allows you to lean towards your table effortlessly.
This position is ideal for your spine and posture. Since you'll be leaning forward, several groups of muscles will be engaged throughout the day, which keeps your body more active than standard chair designs.
How to Choose the Perfect Drafting Chair
Choosing a drafting chair ultimately comes down to two major factors: height and features. The allure of these chairs originates from their ability to meet a much wider range of height demands than a standard office chair.
You should start by finding out your height requirements. The most common height for drafting desks is 37 inches, while a standard office desk is about 30 inches high. Your drafting table of choice should adjust to these heights, but you'll need the proper chair to match.
The second thing to consider is the features. Here are some common things to look for in a drafting chair:
You should look for chairs that incorporate a range of these features while also sticking to your budget. In terms of the chair type, consider your needs in regards to mobility, height, and angle.
If you move around a lot, consider a stool or a chair without arms to give you flexibility. The leaning stool is a great design for those who want to focus on posture and more active sitting positions.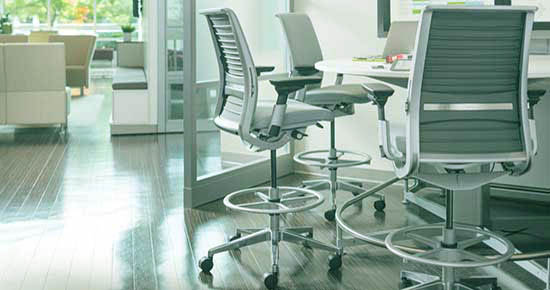 Remember that these chairs are not ideal for standard office settings. Many people flock to these chairs for their unique and ergonomic design, but their extended heights are not suited to standard office desks.
While the extended height could give you a better angle on your desk, it's likely that your knees won't fit underneath since these desks aren't designed for drafting chairs.
The Artist's Ideal Chair
When you're looking at the types of drafting chairs, you'll find a lot of options that fit a variety of heights and styles. These chairs offer a wide range of height choices and a footrest to keep your legs comfortable at an extended height.
Whether you're in need of a luxury chair, standard design, or a stool, these chairs pair perfectly with any artist's drafting table to provide a comfortable sitting position when you're finishing that next big project.