When it comes to furniture, comfort is a significant factor in any purchasing decision. While some types of chairs offer luxury or high-end design, they don't always provide the comfort most people are looking for. Good thing, there are types of easy chairs that focus on comfort above all else.
Easy chair is a title that covers a wide variety of relaxing and reading chairs. In this article, we look at the different types you'll come across and the origins of this classic design.
An Overview of Easy Chairs
The exact definition of an easy chair refers to any chair created for sitting or half-reclining in an easy posture. This is a pretty vague description, which leaves the exact nature of this concept open to interpretation.
Essentially, any chair that allows you to recline or relax comfortably is considered an easy chair. This can refer to armchairs, club chairs, wingback chairs, and plenty of other designs.
Easy chairs can come in classic, luxurious, or modern designs depending on your needs. If you want something that conveys luxury, the wingback chair is a great option. For those who want a modern touch, there are club chairs.
Finally, for those who want something infinitely comfortable, a recliner could be the perfect solution. Read on to learn more about the designs that fall into the category of an easy chair.
Various Designs and Types of Easy Chairs
Since the definition of an easy chair is murky, several different types of designs can be included in this concept. Here are some examples that can be considered easy chairs:
​Club Chairs
Club Chairs originate from France where they were first named "comfortable armchair" which in French translates to "fauteuil comfortable." While the name club chair has unknown origins, the theory is that it refers to gentlemen's clubs.
Club chairs have evolved dramatically since their first inception. They have been modified and changed as different styles came into power. While there are many different variations to choose from, the most iconic one is the shape with a rounded back and high arms.
​Tub Chairs
The tub chair is a variation on the club chair design. The name comes from the shape, which resembles an open tub. Sitting on one of these chairs allows you to relax your back and spine. The large cushions surround you and provide superior support.
In some cases, these chairs have been recommended by doctors for those with back injuries. You'll find them in a variety of materials including cloth and leather versions.
​Slipper Chairs
Slipper chairs are armless furniture that has a low height to the ground. The name comes from their original use. They were used by women in the 18th century as something to sit on when maids helped them put on their shoes or slippers.
Today, they are used in living rooms and bedrooms. They don't hog a lot of space, but they still offer a relaxed place to sit.
​Wingback Chairs
Wingback chairs, also known as fireside chairs, are upholstered chairs with a high back, armrests, and curved padding on sides that resemble wings. Modern designs have often accentuated the wing aspect of the design, making them larger and more prominent.
​Recliners ​
Recliners are incredibly comfortable easy chairs. They usually have a leg rest that can be deployed with a lever, or sometimes with an electric switch. The most common models have a lever on the side that deploys the leg rest.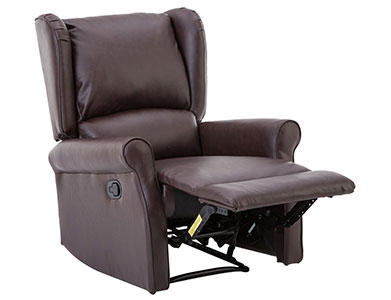 ​Swivel Chairs
A popular feature included in different easy chairs is a swivel base. This allows you to rotate the chair in place for any comfortable sitting angle. This is best implemented in recliners, but it is used in other types of easy chairs as well.
The Origins of Easy Chairs
The origins of easy chairs date back to the creation of wing chairs, club chairs, and recliners. These various innovations all emerged between the 17th and 18th centuries. The wingback chair began in the late 17th century.
The wings were created to block the sides from cold drafts of air. Someone sitting on the chair can sit in front of the fire and soak in the heat without being threatened by drafts from other directions.
Club chairs originated in France but became popular elsewhere after World War II. These new styles stood out as they embraced the Art Deco era. The chairs took on more attractive designs for that time period.
While different materials are used today, the original club chairs were covered with sheep's leather. It took anywhere between six and eight skins to cover a single chair, but the material lasted for roughly 40 years.
Finally, the rise of recliners also contributed to other types of easy chairs. The first type of recliner was created in 1850 by the French. They made a piece of furniture that could be used for several different purposes, including lounging.
It is said that Napoleon III was the first person to own a reclining chair. The patent that led to the creation of the La-Z-Boy brand was first obtained by Knabush and Shoemaker who were cousins in 1928.
Two years later they created a recliner with an upholstered exterior and a mechanism that allowed it to move like the recliners we know today. The origins of these chairs all led to the creation of furniture focused on comfort and relaxation.
​A Generation of Easy Chairs
Easy chairs come in a lot of different shapes and sizes, but they all have a singular focus: comfort. While you can find variations that recline, antique designs that spruce up a room, or simple club chairs, all of them are designed for relaxation.
With the numerous types of easy chairs out there, you're sure to find something that's relaxing and comfortable at the same time fits your style and space. As new contemporary designs emerge, we're bound to see new twists on these classic designs more than ever before.
---