The egg is a beautiful shape that's simple and clean. It's not often in nature that you find such a perfectly smooth and round shape. Just as eggs cradle young life, so too does the iconic egg chair cradle you. In fact, there are several different types of egg chairs.
We'll dive into the concept behind this sculpted seat and what types of variations you can expect to find. We'll wrap everything up with a look at the man behind this ingenious design. Read on to learn everything there is to know about the egg chair!
What's an Egg Chair?
​The egg chair is a design that's hard not to recognize at first glance. The curved interior acts like a cradle and provides a sculpted look that no other chair can boast. This unique chair emerged in the 1960's, and it has spawned many more types of chairs.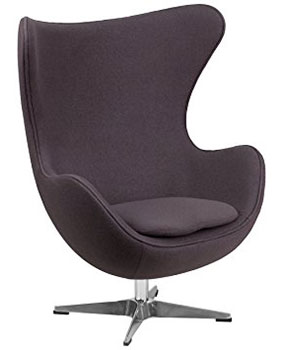 You can spot an authentic egg chair by looking for the sides that curve upward like a wingback chair. The seat is also low and farther back to give the sensation that the chair is cradling you.
It's meant to provide a slice of privacy in a public space. Similar chair styles include the ball chair and bubble chair, but they differ in their shape and overall design.
The egg chair initially made its appearance in the Radisson SAS hotel in Copenhagen, but it has since appeared in other major places.
One example would be its appearance at McDonald's high-end London location. It was also used as the chair for diary entries in the series "Big Brother." Finally, the second terminal at San Francisco's airport was recently renovated with egg chairs.
​Different Types of Egg Chairs
There have been hundreds of variations that arose from the original egg chair concept. These can be boiled down to several different categories:
​Hanging Egg Chairs
Hanging egg chairs are mounted on the ceiling using a chain to keep them aloft. They have a cushion inside made from various materials. Some go for a bohemian style and utilize rattan for the exterior, for example.
Others take a cue from bubble chairs and provide a plastic exterior.
​Egg Stools
A perfect marriage of the egg shape and the simplicity of a stool, these type of egg chair uses a smaller egg shape for a cushion. It is then mounted on a stationary platform that has a hydraulic lever for adjusting the height.
The swivel movement also makes it easy to rotate in place and use this stool for a variety of everyday sitting. It's available in various colors and the most popular options are upholstered in leather.
​Office Egg Chairs
Office egg chairs combine the versatility of an office chair with the classic egg design. Some of the best options from manufacturers like GDF Studio offer a curved and sculpted design that sits on a base that resembles a typical office chair.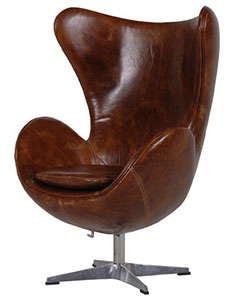 These chairs have great back support and unobtrusive armrests that allow you to relax and work at the same time. These chairs offer a nice amount of cushion and are upholstered in fabric for comfort.
​Outdoor Egg Chairs
Outdoor swinging egg chairs are very popular for patios or poolside get-togethers. These hanging chairs often come with their own base that the chair hangs from. This allows you to place the chair anywhere you like without the need to hang it from a ceiling.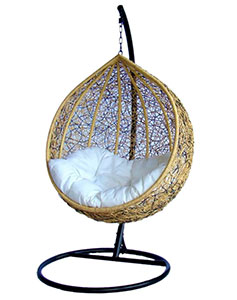 An artistic metal framework combines with a comfortable cushion to make a chair that is both cozy and extremely stylish for your outdoor decor.
​Egg Couch (The Swan)
The egg couch was a very limited release, but it has a similar design in "The Swan", which comes from the same designer. The couch variation was made for the Radisson Hotel, and a few were also made for a limited edition release.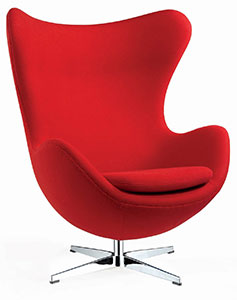 The limited edition egg couches sold for $75,000. The Swan, however, is still in production. The Swan couch is made from a steel frame and fabric upholstery.
​Ovalia Egg Chair
This variation on the egg chair design came out ten years after Arne Jacobsen released his chair. It has a similar egg shape, but embraces the whole shape of the egg, instead of the open design that the original used.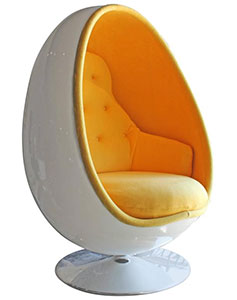 This type of chair also became very popular after it was featured in the hit film Men in Black.
​History and Origins of Egg Chairs
The egg chair was originally conceived by Arne Jacobsen. It was made specifically for the Radisson SAS hotel in Copenhagen. Arne was an architect and designer that was known for his unique chair designs.
Growing up, Arne wanted to be a painter, but his father convinced him to become an architect. When he set out to create the first egg chair, he was inspired by various shapes in nature like a drop of water, a swan, and the ant.
A similar design was the egg chair designed by Henrik Thor-Larsen. Known as the Ovalia Egg Chair, this design came out ten years after the initial release. While it may not be the official egg chair, it did receive a lot of attention in the 70's.
It was even shown in the Men In Black movies, along with appearances in TV shows like Mork and Mindy. While Thor-Larsen's chair admittedly looks like an actual egg, it wasn't the first egg chair to hit the market.
Even so, it's appeal in popular culture gave it a lot of fame, possibly even more than that of the original design by Arne Jacobsen.
​A Comfortable and Classic Chair Design
The different types of egg chairs focus on the cradling sensation of being enveloped by the furniture you're sitting on.
Whether it's the classic egg design from Arne Jacobsen or the alternate vision of Henrik Thor-Larsen, both offer a neo-retro look that fits right into our modern design trends.
---