In a Nutshell:
The U-MAX Massage Chair Power Lift Recliner combines a lot of high-end features into one package. The power lift feature is best suited for elderly users or people who have difficulty getting into or out of their chairs.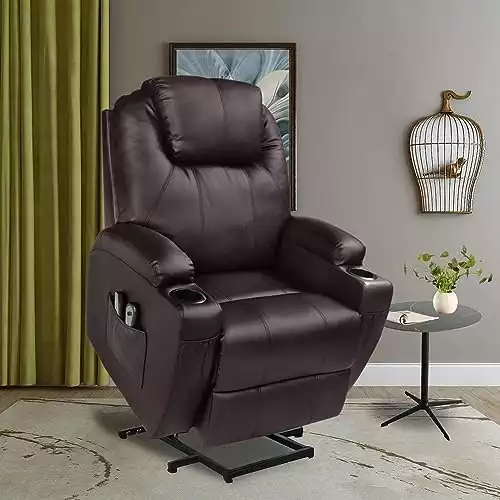 Recliners are the ideal type of chair for relaxing, but power lift easy chairs like the one featured in our U-MAX massage chair power lift recliner review are aimed at users who have trouble getting into and out of chairs for any reason.
Join us as we look at the features, specifications, pros, and cons of this feature-rich easy chair. Ultimately, this review will help you understand how this chair could meet all your needs.
U-MAX Recliner Power Lift Chair Overview
Power lift recliners are an amazing option for people with back pain. They have a unique mechanism that allows them to lift the user into a standing position slowly. They can also take a person down slowly, so they don't fall into the chair.
Elderly users or people with back injuries can both benefit from this chair's assistance. This power lift recliner from U-MAX also takes things a step further by offering both a heated function and massage features as well.
A combination of features like this is hard to come by when you're looking for recliners. If you do find a chair with all of this in one package, it's often sold for a high price. This easy chair from U-MAX sells for a very competitive price point.
The PU leather used to upholster the chair, also known as polyurethane leather, has the same look and feel like genuine leather, but offers a better package that bonded leather. The only real complaint from customers is the fact that the chair can be short for people who are very tall.
In the next section of our U-MAX Massage Chair Power Lift Recliner review, we'll take a look at the chair's features in detail, followed by a more comprehensive look at the pros and cons of this power lift chair.
Features and Benefits of U-MAX Power Lift Chairs Recliner
The U-MAX Power Lift Recliner is not ideal for everyone. It meets a specific need, but it also includes plenty of modern features that users will appreciate. Take a look below for all the features it includes:
PU Leather and Thick Padding
Polyurethane leather is a soft and comfortable material that imitates the look and feel of genuine leather while also retaining durability. The U-MAX massage recliner is upholstered with this material and uses a thick sponge for the cushions.
Wall Hugger
Power lift recliners can be difficult to place in a room due to their need for space to function properly. Thankfully, the wall hugger feature in this chair from U-MAX ensures that you only need 10 inches from any wall.
This feature allows you to place the chair almost anywhere in your living room or home. It's a valuable feature in a chair like this one.
Power Lift Function
For elderly people or those with back injuries, something as simple as getting up from a chair, or even sitting into one, can be difficult. Worse, it can be painful. That is why power lift features like this one are so important.
It carefully lifts or guides the user into or out of the chair without causing them pain or discomfort. It's a simple, but powerful mechanism that can be a huge benefit for people who need it.
Four Massage Areas
You can choose from four different areas to focus your massage into. These include leg, thigh, lumbar, and back areas. There are also five modes that range between pulse, press, wave, auto, and normal.
Between all of these options, this power lift recliner from U-MAX also works as a respectable massage chair in one comfortable package.
​Heated Seat
A heating function in the chair combines with the vibration to provide a relaxing comfort that also promotes circulation in your body. For those with back pain, it is a huge help.
Wheel Base
Wheels on the base of the chair make it easy to move it around if you need to rearrange the room or adjust it for a better angle.
Cup Holders and Storage Bags
The chair is outfitted with both cup holders and storage bags so you can store the remotes and your beverage of choice without hassle.
Chair Specifications
Pros and Cons of UMAX Power Lift Chairs
The sheer number of features in the U-MAX Massage Chair Lift Recliner are impressive, but this chair isn't quite perfect. Here is a look at the pros and cons of the chair:
In More Detail
The power lift mechanism is the star of the show here. The ability for the chair to help people in and out is huge for users who need this assistance. These same people can also benefit from the massage and heating that the recliner offers.
Cup holders and pockets offer a place to store various items, including the two remotes that are used to adjust the massage and power lift settings. The chair begins to show some weakness when you look at reports of long-term usage.
The PU leather doesn't hold up over time. The chair also reclines up to 130 degrees. As a result, some customers wish that it could recline further. The back height of the chair is shorter than other recliners. Users over six feet tall may find that the chair is too short for them.
U-MAX Massage Chair Power Lift Recliner Review Conclusion
Our U-MAX Massage Chair Power Lift Recliner review showcases all of the things that make this chair unique and useful. This chair is an excellent choice for people with back pain or elderly users who need assistance.
While it's not perfect, the rich selection of features and the usefulness that it offers to its customer base make this one of our top picks of easy chairs for back pain.
---
References & Resources