In a Nutshell:
The UltraComfort UC546 is an expertly designed, extremely capable sleeper recliner with a powerful lift function. A great, American-made product. It is recommended for users 5'2" and under, weighing 300 pounds or less.
* Brand Reliability is a measure of the strength and longevity of the brand, which by extension, is a measure of the level of support you can expect.
** While aesthetics is a matter of taste, Aesthetic Flexibility is a measure of how easily a given design would fit into a wide range of home or office décor schemes.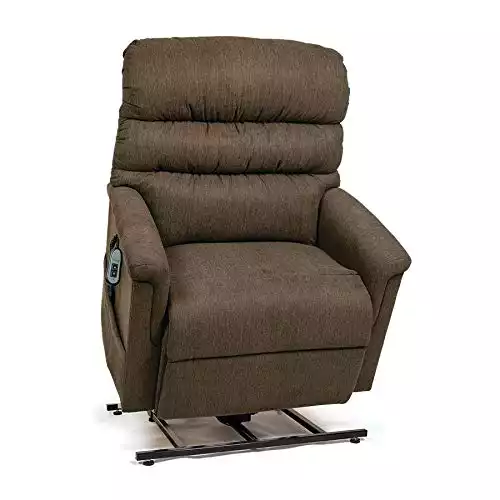 Do you suffer from some type of mobility issue? Have you recently had surgery? Do you have some kind of medical condition that makes sleeping in a bed difficult, if not outright impossible?
If you answered yes to any of those questions, you've probably been on the hunt for some kind of sleeper recliner, possibly one with lift functionality, so it's easier to get up and get moving around again.
If that describes your situation, you're going to love our review of the UltraComfort UC546 zero gravity recliner. It's an expertly designed, comfortable and capable recliner that's as good for lounging as it is for sleeping. Even better, if you're interested in buying American, this is the recliner you want, the chair is made in the great state of Pennsylvania!
It's got a lot to offer, but it's not perfect, and in the sections that follow, we'll tell you all about what it does well and where it comes up short so you'll have all the information you need to decide for yourself if this is the recliner you've been searching for. If that sounds good to you, read on and let's see what this model has to offer.
Overview of the UltraComfort UC546 Power Lift Chair
Before we get into the details, note that the JPT is the Junior/Petite version of the UltraComfort UC546 power lift chair. The company offers the UC546 model in Medium (M) and Large (L) variants as well. Let's start by reviewing the basic statistics:
| UC546 MODEL | UC546-JPT | UC546-M | UC546-L |
| --- | --- | --- | --- |
| Overall Width | 33" | 33" | 33.5" |
| Overall Height | 40" | 43.5" | 47" |
| Reclined (Seat Back to Footrest) | 42" | 43" | 44.5" |
| Seat Depth | 18.5" | 19.5" | 21" |
| Seat Width | 21" | 21" | 23" |
| Floor to Top of Seat | 19.5" | 21" | 21.5" |
| Wall Clearance | 17" | 19" | 20" |
| Recommended User | 5'2" below | 5'3" to 5'10" | 5'11" to 6'2" |
| Weight Capacity | 300 lb. | 375 lb. | 375 lb. |
Size
As you can see just by looking at these numbers, even the petite version is already a big piece of furniture, and since it's not built with space-saving technology incorporated into its design, it's going to require a lot of space. You'll need at least 17" of clearance between the back of the seat and whatever wall you place it nearest.
That's going to make it a nonstarter for people who have smaller homes and limited space. Even if you have a larger room, the Ultra Comfort UC546 chair is likely to wind up dominating it.
Aesthetics and Design
The good news on that front is that the Montage UC546 by Ultra Comfort is designed along purely conventional lines and is reasonably attractive. We're not huge fans of the waterfall style seat, but we're sure others will find it more appealing than we do. In any case, it's not unattractive, and even better, if you decide to order one, you can get yours in your choice of the following colors:
If that's not enough options for you, if you pay a visit to the company's website, you can select from nearly two dozen custom color and fabric options, although doing so will turn your chair into a custom order which will delay delivery. The "core four" color options mentioned above are guaranteed in stock and won't impact delivery times.
Variants
One final thing to note before moving on to the next section is that UltraComfort recommends the Petite model for users 5'2" and under with 300-lb capacity. But if you're outside that height-weight band, the Medium and Large versions, both with 375 lb. weight capacity, may fit you better. The odds are excellent that the company has something that will fit you like a glove.
Eclipse & Zero Gravity Seating
One of the key features UltraComfort highlights in the marketing of this chair is its "Eclipse Technology," which they describe as a seating position designed to give you a feeling of weightlessness.
In our minds, this is a bit oversold. It's functionally similar to a technology that already exists (Zero-G seating), except that the Eclipse Technology provides it by keeping the chair in a constant, gentle motion. Technically then, this chair offers both (Eclipse and Zero-G seating).
It's unlikely that many people will be impressed enough with this tech that it will be the sole reason for buying this model over some other, but it's interesting enough to warrant a mention.
Lift and Recline Functions
On top of the two specialized seating positions, it's also a standard three-point recliner, and from the wired remote, you can select from Sitting, TV, or Sleeping positions, which is pretty standard fare.
Even better though, the remote also allows you to veer from the beaten path defined by the presets andadjust your angle of recline precisely, giving you effectively an unlimited number of seating positions. The remote also allows you to control the chair's lift function. In short, it's about as adjustable as a recliner can get. This chair does it all.
The motors driving both the recline and lift functions are powerful and quiet, providing smooth action on both counts. This is an area that a lot of companies get wrong, either by using motors that are too noisy, underpowered, or that provide jerky, uneven motion. Kudos to Ultra Comfort for finding the sweet spot here!
Comfort
Where comfort is concerned, the UltraComfort Montage UC546 JPT Power Lift Chair won't leave you disappointed. It's not the hands-down most comfortable chair we've ever seen, but it's certainly a cut above, utilizing a combination of block foam and comfort coils, exactly like you find in most good-quality mattresses today.
It doesn't utilize memory foam or other advanced materials, so it's not next-level comfort, but it does provide a delightful seating experience, and given the infinite number of recline positions on offer, you can customize your sleep experience in the chair to taste. It's a great chair for lounging, napping and even sleeping through the night.
Storage & Extras
The Ultra Comfort UC546 chair only offers a single, modestly sized storage pocket on one side. It's a bit undersized for our tastes but is certainly big enough to hold a collection of magazines, whatever book you're reading, and a few assorted supplies you might need when spending long periods of time in the chair.
It's also got a simple but effective battery backup system. We hope that you'll never actually need that, but if you're in the chair and the power fails, you'll be very glad the backup system is there, as it will enable you to activate the lift function in the absence of electricity and get back on your feet.
That's a much better alternative than having to stay put until someone finds you. It gives you greater independence and tremendous peace of mind. Those are very good things.
Interestingly enough, if you'd like to add heat and massage functionality to this chair, you can do that too, for an additional fee. The heat is confined to the lumbar region of the chair, and the massage is simple vibration-style, which isn't spectacular but is definitely of some therapeutic benefits.
Not a huge number of people will want it, but it's very cool that the option is available. Note, however, that like making a custom fabric selection, adding this option will require some hand-customization of your order, which will slow down delivery.
Minimal Assembly Required
There's not a whole lot to be done to get this chair ready for first use, but as we said at the start, it's a hefty piece of furniture. If you're already suffering from some type of mobility issue, it may be beyond your capabilities to get the chair into position and get it set up.
Even if it isn't, and you'd just rather not be bothered with all that, you don't have to be. The company offers White Glove service for an additional charge, which makes the entire process hands free.
Pros & Cons of the Ultra Comfort UC546 Lift Chair
We only really have two issues with this chair. One, we'd love to have seen a USB port for device charging. It's a small thing, but incredibly valuable and convenient. Two, it would have been nice if the chair offered more storage, either in the form of a more expansive pocket or perhaps a hidden compartment in the chair arms.
Granted, the chair arm storage might be impractical in this design, since they're a bit on the small side, but it certainly wouldn't be impossible.
In any case, those are both relatively minor points, and few, if anyone would find their absence to be deal-breakers. We love everything else about the design, and we think you will too!
UltraComfort Lift Chair UC546 Review Conclusion
The UltraComfort UC546 is a great chair, offered by a great if somewhat less well-known company. If you factor out the Brand Reliability metric, this model clocks in at 4.53 stars out of 5. The only thing keeping the chair from ranking higher than it does overall is the fact that Ultra Comfort just doesn't have the same heft as the bigger, more established brands.
All that to say, if you're not brand conscious, and you're looking for an excellent piece of furniture, made right here in America, then you're going to love the UltraComfort UC546 Montage. We recommend it.
---
REFERENCES & RESOURCES