In a Nutshell:
The Vivora Luno Ball Chair is a stylish choice for modern tastes that combines several handy features into a reliable and sturdy ball chair. It may lack some of the bells and whistles seen in other chairs, but it makes up for this with a unique design.
* Brand Reliability is a measure of the strength and longevity of the brand, which by extension, is a measure of the level of support you can expect.
** While aesthetics is a matter of taste, Aesthetic Flexibility is a measure of how easily a given design would fit into a wide range of home or office décor schemes.
Exercise ball chairs are great for sitting in an active posture that engages your muscles, but they often come in bright plastic colors that don't fit well in a modern room or office. All of that changes with the Vivora Luno Exercise Ball chair.
This unique design combines the benefits of a ball chair with an artisanal cover that lends it a softer look overall. Read on to find out if this stylish ball chair is right for you!
Vivora Luno Exercise Ball Chair Overview
Exercise ball chairs have sparked a revolution in how we think about sitting. Gone are the days where we slouch in chairs and experience long-term health problems with our posture and legs. Ball chairs encourage our bodies to remain active, even while sitting down.
By aligning the spine and engaging core muscles, you can sit still while stimulating the parts of your body that often go unused while sitting. This can help you improve your posture, relieve muscle pain, and even burn a few calories while you're at it!
What makes the Vivora Luno ball different than most are its unique design and helpful features. The modern exterior leaves a great first impression. It makes this ball chair resemble furniture you would see in any part of the house.
It's a nice change of pace from the bright colors and plastic exteriors that we usually see from exercise ball chairs.
Let's find out what features help this interesting ball chair stand out!
Vivora Luno Ball Chair: Top Features
The Vivora Luno is a chair that demands attention. From the moment you first lay eyes on it, you'll notice that it looks far more artisanal than your typical exercise ball. A closer look also reveals some compelling features: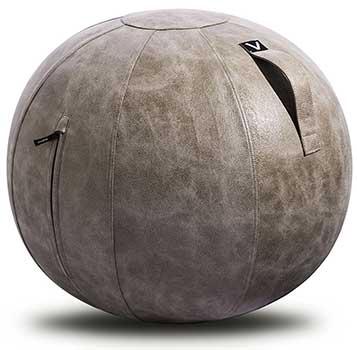 Premium Artisanal Designs
The exterior cover for Vivora Luno ball chairs comes in four distinct types ranging from felt to suede leatherette, to olefin, and even chenille.
Patented Self-Standing Base
It all starts with the base of the ball. This is a patented self-standing design with a non-slip grip that ensures the ball will remain stationary on any surface.
Whether you're on tile or carpet, you can rest assured the ball won't roll out from under you.
Multi-Purpose Functionality
The simple and elegant style of the Luno ball chair lets you use it just about anywhere. The sitting height is 22-24 inches, so it will fit at almost any desk if you want to use it in an office.
The design doesn't incorporate a base or wheels, so it can be used for exercise or yoga as well. The versatility makes this a great option for someone on-the-go.
Healthy Sitting
Enjoy all the benefits of sitting on a ball chair with this option. Better posture, increased core muscle strength, and less muscle soreness are just some of the things you can expect.
Handle For Easy Transport
An exterior handle gives you the ability to pick up the chair and move it without any trouble.
Simple and Easy Storage
The ability to quickly deflate and store the ball makes this a piece of furniture that can tailor itself to your spatial needs at any time.
Vivora Luno Ball Chair Specifications
Item Weight: 4.1 pounds.
Weight Capacity: 250 pounds.
Ball Size: 24-inches.
Variants and Color Options
The exterior cover of the Luno exercise ball chair comes in four types: felt, chenille, suede leatherette, and olefin. It is also available in different colors depending on the materials used for the exterior cover.
These include:
Pros and Cons of the Vivora Luno Exercise Ball Chair
While the Luno Ball Chair doesn't have some of the bells and whistles we've seen in other options, it does earn points for a classy design. Here's a breakdown of the pros and cons:
The elegant exterior of the chair makes it a great addition to any interior design. The self-standing base works very well, but it can wobble if you are someone who tends to move a lot while sitting.
This is the ideal chair for someone who wants to try the benefits of an exercise ball but doesn't want the bright colors of a typical design to clash with the rest of a room's look and feel.
People who work in offices, for example, probably don't want a bright pink or green ball under their desk. The design of the Vivora Luno offers a softer and more textured look than any other ball chairs.
The only downsides are the lack of back or armrests, but this arguably places you into better posture. Some customers have reported that the size is a little too small for standard work desks, but this will vary based on the height of your desk.
Final Thoughts – Vivora Luno Ball Chair Review
The Vivora Luno Exercise Ball is an excellent chair for those who want to try out the benefits of a ball chair while still retaining the style of modern furniture design. With several colors and materials to choose from this is one ball chair that can fit into any room's design.
The patented self-standing base ensures that you'll be stable and comfortable, even while sitting for long periods of time. If you want a chair that combines style and functionality, this is a great option.
---
References & Resources: