In a Nutshell:
The Walker Edison Midland Patio Loveseat is a superb, Mission-style bench, proudly made in the USA and offered in a range of color options, or unfinished if you prefer. Recommended for anyone. A bit more expensive than some options, but this bench is superb.
* Brand Reliability is a measure of the strength and longevity of the brand, which by extension, is a measure of the level of support you can expect.
** While aesthetics is a matter of taste, Aesthetic Flexibility is a measure of how easily a given design would fit into a wide range of home or office décor schemes.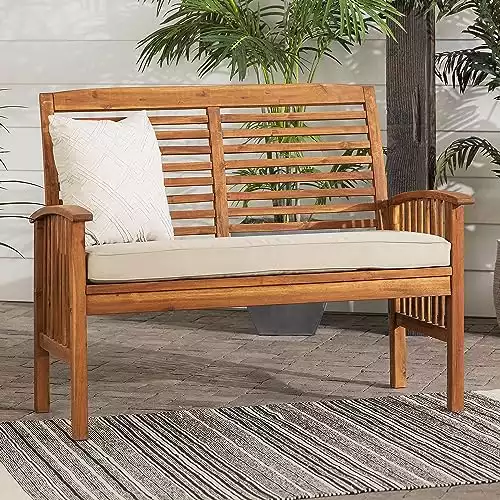 Do you enjoy outdoor entertaining? Are you a bigger, taller, or heavier individual?
If you answered yes to either of those questions, you've almost certainly run into the issue of finding furniture that's sturdy and robust enough to support you.
It's a shame really, but the simple truth is that most of the furniture available on the market today will only support 300-pounds or so. If you weigh more than that, the number of options available to you drops off sharply.
The good news is that the Walker Edison Midland Patio Loveseat may be a good fit for you. We'll be quick to point out that it's got its limitations. But if you're on a budget and in the market for some good quality outdoor furniture, this one is well worth considering.
In the sections that follow, we'll tell you everything it has to offer, and we won't pull any punches in terms of talking about its limitations. That way, you'll have all the information you need to decide if this is the outdoor bench-style seat you've been looking for. Let's jump right in and take a closer look.
An Overview of the Walker Edison Midland Outdoor Loveseat
The Walker Edison Midland Patio Loveseat is an attractive, bench-style seat. Unlike many of its peers, it is padded for added comfort. It's also made from acacia wood and is lightly stained, providing a beautiful, casual aesthetic that will look great just about anywhere.
Before we go into further details, let's do a quick stats review:
Most of these numbers are impressive. We love the seat height, which is firmly in big and tall territory, but not so high that shorter users can't enjoy it as well. The only real problem is the rather disappointing maximum supported weight.
We selected this loveseat because it supports enough weight for bigger, taller, and heavier users, but there's a catch. If you fall into that category, you're going to be sitting in this chair by yourself. Even though it's designed for two people, the weight limit just won't support it if you're on the heavy side. In any case, if you do sit in it by yourself, it will support you comfortably.
Adjustability and Comfort
There's nothing adjustable about the Walker Edison Midland Outdoor Loveseat, but comfort-wise, you'll find it to be a cut above most bench-style seats, which are almost always made either entirely of wood or a mix of wood and metal and with no padding.
The addition of a 4" thick seat pad, combined with the space between the slats on the seatback, which allows for greater breathability, makes this one of the most comfortable seats in its class. In addition to that, the seat pad upholstery is weather-resistant and quick-drying, making it a great fit for outdoor use and something you won't need to buy a cover for when you're not using it.
Assembly Is Required
As is the case with most of the furniture you can buy online these days, if you decide you want one of these, it will arrive at your door in a large box and in several pieces, so you'll have some work to do before you get it ready for first use.
The production quality is better than average but is not best in class, and the instructions are clear and easy to follow, so expect to spend the better part of an hour putting the Walker Edison Midland Loveseat together.
While it's not impossibly heavy, you're probably better off assembling it near the spot you ultimately want it to go because once it's put together, it's bulky enough that moving it into its final position may be a struggle if you're by yourself. Having an assistant on standby won't necessarily speed the assembly along, but it will make getting it into final position easier.
Again, this isn't because it's particularly heavy, it's just that it's long enough when fully assembled that it's awkward to carry on your own.
Pros and Cons of Walker Edison Midland Loveseat
We really like this love seat, but we didn't fall in love with it. It's a very good, lightweight piece of outdoor furniture with a budget price, which is excellent. It also wins high marks for comfort. The biggest drawback is that although it's certainly suitable for heavier users given its 400-pound weight limit, this chair was technically built for two, so the only way a bigger, taller, or heavier person will be able to enjoy it is if they sit in it solo.
We don't view that as a deal-breaker, and we think that most people would agree, but it is something to be mindful of, and it does limit the appeal of this particular model.
Walker Edison Midland Patio Loveseat Review Conclusion
If you're a heavier individual and you're looking for a bench-style seat, you can enjoy sitting next to your significant other in, the Walker Edison Midland Patio Loveseat isn't the model you want. If, on the other hand, you're just looking for an attractive, comfortable, well-priced piece of furniture that's sturdy enough to support you properly, you plan on sitting on it by yourself, and you weigh 400-pounds or less, this is a good option to consider.
Unfortunately, that's a sufficient number of conditions that we can only give this one a provisional recommendation. It's good, but it falls short of greatness.
---
References & Resources