In a Nutshell:
The Windermere Burton NM1650 is a well-crafted chair with enough comfort and extras to keep you smiling. Trendelenburg seating is a nice perk, but you can often find Zero-G seating offered for the same or even less money. Recommended for anyone, but it's an especially good fit for taller users.
* Brand Reliability is a measure of the strength and longevity of the brand, which by extension, is a measure of the level of support you can expect.
** While aesthetics is a matter of taste, Aesthetic Flexibility is a measure of how easily a given design would fit into a wide range of home or office décor schemes.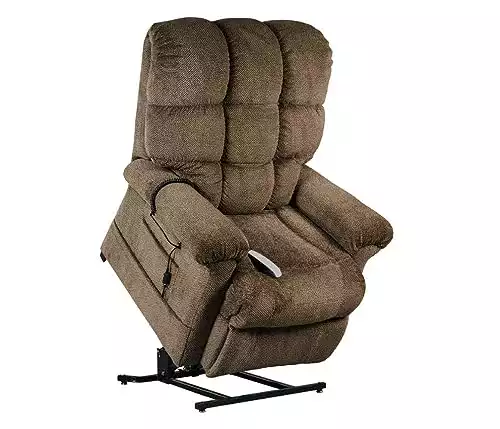 Do you have trouble standing up after you've been sitting for a while?
There are lots of reasons why that might be the case. A recent surgery, the flare-up of an old injury, arthritis, or let's face it, sometimes it's just the accumulation of years finally catching up with you.
Whatever the underlying cause, the loss of freedom, independence and mobility can be jarring and even unsettling or embarrassing. After all, you used to be able to get your feet under you with no problems, and now, it feels like an epic struggle.
You don't have to be embarrassed about it, though. Some technologies can help restore your independence, including a top-quality power lift recliner.
The problem is that there are a dizzying number of models available, and it can be hard to narrow your search. We've tried to make it easier by rounding up the best of the best, and the Windermere Burton NM1650 falls into this category. In fact, it made our short list, placing a strong third in the best lift chairs being sold today.
While it may not be the one you're looking for, we think you'll agree; this is an excellent, capable model. To help you decide, we'll go over everything it can do in the sections that follow.
About the Windermere Burton Brand
Before we do that though, we should point out a detail that's not readily apparent. You may not be familiar with the name "Windermere Burton." Many people aren't, and this leads them to believe it's an off-brand.
Nothing could be further from the truth! In fact, Windermere Burton is a subsidiary of an excellent company called Mega Motion, which itself is owned by none other than Pride Mobility. Pride is one of the biggest and best-known brands in the mobility market, and the makers of exceptional lift chairs, wheelchairs, and mobility scooters.
They make outstanding products and are known for their world-class post-sales service and support, which is a trait shared by their subsidiaries. Even if you're not especially brand conscious, sometimes it pays to know who you're dealing with, and in this case, you're dealing with one of the best companies in the business!
Having said that, let's take a closer look at the Windermere NM-1650 lift chair and see what it's all about.
The Windermere Burton NM-1650 In Detail
The first thing you'll notice when you see the Windermere NM-1650 for the first time is the fact that it has a friendly, inviting look to it. The checkerboard back and warm colors the chair is offered in (see samples below) lend it an almost homespun, welcoming air.
Combined with its modern American styling, the chair will blend in easily with most home décor schemes, but note that it's a fairly size-able piece of furniture, measuring 40" x 38" x 47" and weighing in at respectable 125 pounds, so if you have a smaller living room, this chair could easily dominate the space.
Chair Specifications
Other relevant specs are as follows:
A couple of interesting things to note here, starting with the maximum supported weight. If you're heavier than that, we recommend having a look at either the Catnapper Burns or the Mega Motion Easy Comfort, which can support users up to 400 and 500 pounds respectively. The Easy Comfort is a cousin to the Windermere Burton power lift chair, both being manufactured by subsidiaries of Pride Mobility.
Beyond that, did you see the seat depth? Twenty-five inches! Right off the bat, you know that this chair was designed with taller people in mind. If you're not especially tall, then sitting in this chair could be an uncomfortable experience, because if you're settled all the way back against the backrest, your knees might not bend over the edge of the seat. Definitely something to keep in mind!
Comfort
Assuming you do fit nicely into the chair, you'll find it to be extremely comfortable and well-padded. The design of the chair back is deceptively cunning, because this model reclines into the "Trendelenburg Position," which sees you flat on your back with your feet elevated 15-30 degrees above your head.
The back rest then pulls double duty as a mattress when you're in this position, and it's sufficiently well-padded that it is an exceptional chair for napping, Trendelenburg position or not!
The generous padding is further assisted by the company's patented "comfort coil" system, which helps the padding conform to the shape of your body, making it functionally similar to memory foam, but a whole lot less expensive (and admittedly, not quite as effective).
All that to say, if comfort matters, you won't find many chairs on offer at any price that can beat this one.
Recline and Lift Functions
Regarding adjustability, there are no preset recline positions on the remote, which we consider a positive. The trouble with presets is that while they do give you one-touch convenience, they're only convenient if you find the presets to your liking, and you may not.
After all, where presets exist, they were designed by some guy in the factory who may or may not have the same comfort preferences as you, which limits their utility. We much prefer chairs that just give you the remote and let you experiment to your heart's content, and that's exactly what the Windermere Burton offers.
Sure, it may mean you'll be spending a few minutes fiddling with the controls to get the angle just right, but it essentially gives you an unlimited number of recline positions for maximum flexibility. We love it.
Powerful Motors
The motors (there are two) that control the recline and lift functions are powerful and relatively quiet, although not the quietest we've ever heard. More importantly though is the fact that they offer smooth action, which won't jolt you unexpectedly as you change positions or activate the lift function. Even better, the electronics are all top-notch and built to last. No corner cutting here!
Extras
There's a surprising amount to talk about here in our Windermere Motion NM1650 review, but let's start with the basics.
Storage
The ​Windermere Burton power lift chair gives you a total of three storage pockets, all generously sized. That's more than enough room to stash your remote, books and magazines, and that bag of chips or snack cakes you snuck in from the kitchen when no one was looking, and what's not to like about that?
Built-In Battery Backup
Second, there's the built-in battery backup system, which is huge. Most people don't fully appreciate how important this is until the first time they need it; then it's worth its weight in gold.
Consider this scenario: You're home alone, but you're not worried about not being able to get up, because you've got your handy lift chair. You drift off to sleep, only to be awakened sometime later by a loud rumble of thunder. The power has gone out!
Uh oh. Now you're in trouble (if you don't have a battery backup), because of course, the chair requires electricity to help you into a standing position. Since your home alone, your options are limited, and none of them are very good. You can:
That's the magic of the battery backup though. If something like that happens (and sooner or later, it will), the battery backup engages when the lights go out, and you can get your feet under you and carry on.
USB Port
Third, there's the inclusion of a USB port on the chair arm. This is a small touch and one that a lot of people in the market for a lift chair might not make use of (seniors, for example, haven't embraced smartphones the way younger folks have).
Even if it doesn't get used by everyone, it's still a great finishing feature that adds a nice "extra touch" to the chair. We love it!
Trendelenburg Position
Fourth, let's talk about that Trendelenburg Position. It's a great therapeutic feature that provides a raft of benefits, ranging from helping to soothe aching muscles to improving circulation and helping to lower blood pressure. In other words, it's a lot like the Zero-G seating options offered by many massage chairs.
Personally, we're on the fence about it. Granted, it's cool, but we sense that only a minority of users will take advantage of the feature. Even so, the fact that it can be reclined all the way back like that makes it a great napping chair, and it's certainly comfortable enough to use for those purposes.
It's also worth mentioning that since the chair has an infinite number of recline settings, with a bit of patience and experimentation, you can rig up your own Zero-G seating position, with your knees elevated slightly above your heart. The feeling of weightlessness will only add to the comfort of the chair. Nice touch, Windermere Burton!
For Tall Users
Finally, let's talk about the seat depth some more. Twenty-five inches, remember? So, the chair is designed for taller people.
The company took things a step further along those lines and built the chair with an extended ottoman, ideal for long legs. Of all the chairs we reviewed, this one really is the best overall choice for users taller than 6'1". You'll find it fits you like a glove. Shorter people, however, probably won't be all that comfortable in it.
Minimal Assembly Required
Unfortunately, the Windermere Mega Motion NM1650 doesn't come fully assembled and ready to use when it arrives at your doorstep.
The assembly process won't take twenty minutes (even less with a helper), but if you'd rather not be bothered with even that, you can order "White Glove" service, have a pro come in and assemble it for you, and cart the box away. Another very nice touch!
Pros & Cons of the Windermere Power Lift Chair
There's so much to like about the Windermere Mega Motion NM1650 that it's hard to know where to begin. In our view, here are the things you're likely to be most impressed with:
About the only thing that will give you pause is the price. There's a premium to be paid for this kind of quality, and unfortunately, that puts the chair out of reach for many of the people who need it the most.
This could have been at least partly offset had the company left a few things off (like the ability to recline in the Trendelenburg Position), but it wouldn't amount to huge savings.
Windermere Burton NM1650 Review Conclusion
This is a great chair. There are just no two ways about it. It's super comfortable, full-featured, and offered by one of the best companies in the business.
We recommend the Windermere Burton NM1650 without reservation to anyone over 6'1" as you're unlikely to find a better "fit" even among the chairs that ranked more highly in our roundup review.
As good as it is though, if you're a shorter person, give this one a pass. You're just not going to be comfortable in it, on account of the seat depth. You'll either sit all the way back and not be able to bend your legs or sit forward to bend your legs and lose the back support.
---
Official Manufacturer Support
References & Resources