Are you on a budget? Looking for a decent, well-priced office chair that won't break the bank? If you answered yes to either of those questions, you're going to be interested in our review of the Yamasoro brand.
We'll be quick to point out that we're reviewing an off-brand product line of value-priced furniture, so these chairs are far from perfect. Then again, they don't have to be. Everybody in the market for value-priced furniture knows the game. Companies deliver the features you want and use low-end materials to keep the cost down. Yamasoro is no different in that regard.
Having said that, we found these chairs to be a cut above what you typically find in the world of budget furniture, and that alone makes them worth taking a closer look at. In fact, the company's former "flagship" product was featured in a recent roundup review we did on the best office chairs under $100.
In the following sections, we'll take a closer look at the products in the brand's lineup, although we note that they've currently pulled a number of their models for redesign. We expect them to return in short order, but for now, we'll focus on the "core four" they've already finished revisions on as these are the only products the company is offering as of the writing of this review.
Before we dive into the particulars of each model here in our Yamasoro Office Chairs review, let's take a top-level view of what we're dealing with:
Summary:

Generously padded basic office chair with basic ergonomic features, but an aesthetic that leaves something to be desired.

Summary:

Better looking than the model it was designed to replace, but not quite as well padded. Retains basic ergonomic supports.

Summary:

Generously padded basic office chair with a full suite of basic ergonomic supports.

Summary:

A very basic task chair. Functional and with limited ergonomic supports.

Recommended for:

Plenty of padding, but the pillowed upholstery won't appeal to everyone (nor will the black and white leather). Provisionally recommended. You'll either love it or give it a pass on sight.

Recommended for:

A solid, well-priced design. Beautiful chair that will blend in well with most home décor schemes. Recommended for anyone.

Recommended for:

Extra padding and good seat height adjustment range makes it ideal for heavier users.

Recommended for:

If you need a chair right now and don't have much to spend, we (provisionally) recommend it.

Overall Dimensions:

28.4" x 25.7" x 42.9" to 46.9"

Overall Dimensions:

28.3" x 26" x 42.1" to 45.3"

Overall Dimensions:

27" x 25" x 42.2" to 46.1"

Overall Dimensions:

20.1" x 20.1" x 34.2" to 38.2"

Recline Range:

NA, but it does rock back

Pros:

Generous padding and a full suite of basic ergonomic features.

Pros:

Got the basics covered, Ergonomically

comfortable.

More rugged than first meets the eye. Reasonably adjustable.

Pros:

Generous padding and a full suite of basic ergonomic features.

Pros:

It's cheap and functional. has Two-year warranty

Cons:

No adjustable ergonomic features. Limited warranty.

Cons:

No adjustable ergonomic features. Limited warranty.

Cons:

No adjustable ergonomic features. Limited warranty.

Our Verdict:

A decent choice for heavier users on a budget. Lighter users will enjoy the extra padding but may find it difficult to sit comfortably in the chair, so compare your measurements with the chairs before committing to a purchase. Provisionally recommended.

Our Verdict:

Solves for most of the problems we had with the company's former flagship model. Recommended for anyone, but especially bigger, taller users.

Our Verdict:

A surprisingly good, versatile chair. Recommended.

Our Verdict:

If you're desperate for something to sit in, or need a cheap backup chair, we provisionally recommend this one.
*While aesthetics is a matter of taste, Aesthetic Flexibility is a measure of how easily a given design would fit into a wide range of home or office décor schemes.
**Brand Reliability is a measure of the strength and longevity of the brand, which by extension, is a measure of the level of support you can expect.
There's one significant thing to mention here in our Yamasoro Office Chairs review. Take a look at the seat adjustment ranges on these chairs. As things stand now, the remaining chairs in the Yamasoro lineup skew heavily toward bigger, taller users, and their two strongest designs are unmistakably big and tall chairs.
If you're an average-sized or short user, you should probably keep looking because the brand's best designs are going to tend to swallow you whole and won't provide anything close to an optimal seating experience. That may change as Yamasoro completes the redesign of the other chairs in their lineup and starts bringing them back onto the market, but based on the models currently offered, the trend is unmistakable.
Assembly Required
Again, this will probably come as no surprise to people interested in buying office furniture at this price point, but what you get when your chair arrives at your door isn't in a ready-to-use state.
You'll get a box filled with pieces and parts and a moderately helpful instruction sheet. Fortunately, crystal clear instructions aren't critical. Everybody who's ever sat in a chair knows more-or-less where everything goes.
Assembly time will vary slightly depending on the specific model you get, but expect it to take about half an hour. You can shave about ten minutes off of that if you've got an assistant to help you. After that, you're good to go.
Now, let's take a closer look at the individual models on offer.
Yamasoro Office Chairs In More Detail
Yamasoro High Back Executive Office Chair – Top Pick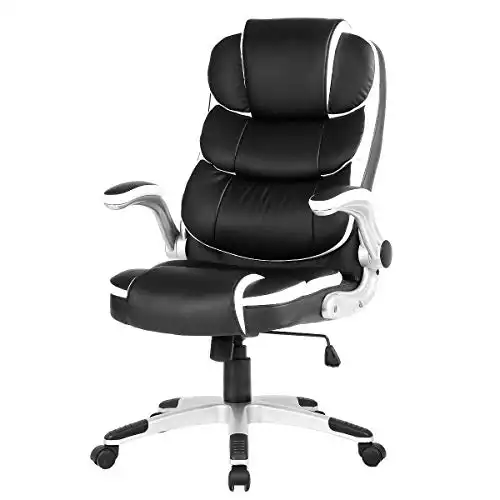 This model was mentioned as a possible alternative in one of our recent roundup reviews, in the under $150 category.
When the model was introduced in early 2018, the idea was that it would become the company's new flagship model. That didn't work out so well, and we'll go into more details about that when we talk about the next model — the company's "once and future flagship model."
This Yamasoro Executive Office Chair is decent, but not outstanding, with comfort being its main selling point. Here are the features we think you'll like best about it:
All of that sounds pretty good, right? Which may lead you to wonder why it earned a relatively modest ranking from us. Unfortunately, paired with the good, this model has some drawbacks you may not be thrilled about. These include:
In addition to that, if you're a shorter person, this chair just isn't going to work for you at all. Check out the seat height range!
The bottom line is, we wanted to like this chair more than we did, but in our view, its modest overall ranking is justified, given the above. As we said at the start, it's decent but falls well short of greatness.
Yamasoro Ergonomic Executive Office Chair – Best Value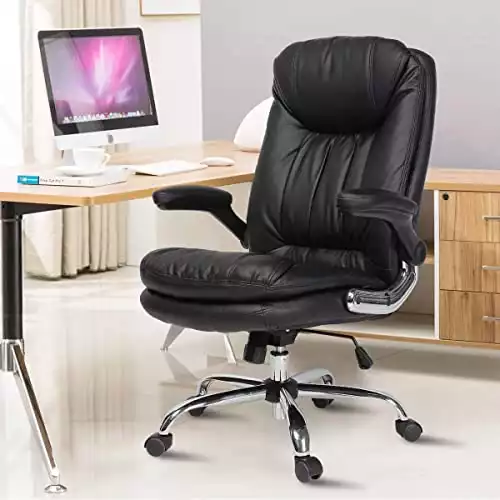 The story of this model is an interesting and convoluted one. We'll spare you the details and give you the summary. This model was the company's original "Flagship." About a year after its introduction, Yamasoro released the chair we just talked about, apparently having high hopes that it would be well-received.
It was not, so the company went back to the drawing board and made a few tweaks to its original flagship offering, then reintroduced it. That's what this model is.
The good news is that it's a significant improvement over the "Zebra on Wheels" we talked about above. It's well-padded, comfortable, with a basic suite of ergonomic features. We were especially impressed with the seat padding. It's conventional block foam, but the seat pad is an astonishing 5.9" thick, so there's a lot of it.
On top of that, the chair sports an S-shaped seat back which follows the natural curvature of your body's spine, further augmented by a lumbar support system, an ergonomic headrest and ergonomically designed (and well padded!) armrests, which also flip up.
The chair reclines to a maximum of 135 degrees. So, if you use a bit of applied creativity to engineer your own ottoman, you'll find that you can lounge in both style and comfort.
Finally, the chair supports 350 pounds, and even better, the base is aluminum, rather than nylon, so it can not only better withstand the weight but also stand up to the rigors of heavier daily usage.
That, plus the height adjustment range (19.7" to 22.9") gears this model more toward the big and tall segment of the market. Shorter, slimmer people may not fit well into it, which is a recurring theme with the chairs remaining in the brand.
As ever, the big drawback here is the fact that the upholstery is bonded leather, which is going to start showing its age sooner, rather than later, and unfortunately, this chair is only offered in one color; brown.
It's a small thing, but we'd love to have seen this model available in either black or brown. Given its more conventional styling than the "Zebra chair" we mentioned above, offering even one other color would make this chair even more appealing. As it stands, it's the brand's strongest design and most comfortable chair.
This is proof positive than Yamasoro can get it done when they want to, and this chair's existence, combined with the fact that the company has recently yanked most of their poor-performing models for redesigns gives us hope for a bright future for Yamasoro.
Yamasoro Leather Office & Gaming Chair
This is a really good chair for the money. If this model were being offered by Amazon Basics or some other big-name brand in the market, it would easily rank as one of the best, if not the best office chair under a hundred bucks, and that's saying something.
It's billed as both an office chair and a gaming chair, and while it doesn't feature the classic racing-style seat that most gaming chairs are known for, it is easy to see why it would be popular with the gaming set. It's comfortable, and it doesn't cost a ton of money, which means more funds left over to buy games!
In addition to its generous padding, this model also sports a waterfall-style seat, an ergonomic headrest, and ergonomically designed, though non-adjustable armrests.
With a maximum supported weight of 280 pounds and a seat height adjustment range of 18.1" to 22," it's a good fit for a broader swath of the market than the company's big and tall designs, although some taller users could find a good fit here too.
Even better, this model can be ordered in either black or brown, giving you at least a little bit in the way of color flexibility, and the generous maximum recline angle (135 degrees) means that you can put your feet up while you're gaming – provided you rig up your own ottoman, that is.
The two downsides are exactly what you'd expect. The upholstery is bonded leather, which won't age well, and the base is nylon, so this model isn't likely to hold up well for years on end. Then again, given its modest price, you won't need it to. When it starts to fail you, it's easy enough to get another one.
The bottom line is if you're on a tight budget, but don't want to sacrifice comfort to get a decent chair, this is a surprisingly strong choice.
Yamasoro Mid Back Mesh Task Chair
This chair is about as basic as it gets. Upholstered with two-tone breathable mesh and limited padding (the seat and seatback padding are less than 2" thick), it gets the job done but is definitely more function over form.
It's a mid-back design, and the only chair that Yamasoro currently offers for sale that regular-sized or smaller folks could reasonably fit into. That's a nod in the model's favor, but honestly, there's not a lot to recommend this model.
It's above average but falls well short of greatness. Its only ergonomic feature is lumbar support, which is admittedly well-implemented, so if that's enough for you, this might be a good choice.
It does have one potentially strong selling point, but even that is a little on the strange side.
This is the only chair in the Yamasoro lineup to offer a staggering two-year warranty, which is crazy given the modest price of this chair.
For one thing, this little model isn't going to stand up to the rigors of heavy daily use. For another, offering a two-year warranty on a chair at the extreme low end of the price range leaves us scratching our heads.
This was designed basically to be "disposable furniture." We can't imagine many people would take the company up on their two-year warranty, which may be why they felt safe in offering it.
In any case, if you decide this chair really does it for you, and it falls apart after a year of intensive use, you may be able to get another one from the company via the warranty.
Or maybe not. Yamasoro isn't known for its sterling customer service and support so you may get so frustrated trying to get a live person on the phone to use your warranty that you just give up.
The thing is, though, we're not sure why many people would want to. For just a few more dollars, you can get a significantly better chair than this.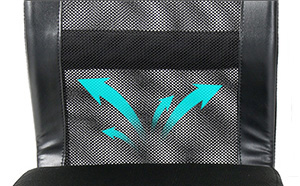 We provisionally recommend it for people who need something right this second and aren't picky about what they're sitting in, but honestly, it's not hard to do better than this chair. It's not a failed design (not by any means), it's just that nothing is outstanding about it—except for that crazy warranty, that is, which seems entirely out of place on this particular chair.
Pros & Cons of Yamasoro Office Chair
On the whole, we regard Yamasoro as a slightly above average brand with two outstanding models. This is proof that the company has what it takes to carve out a larger niche for themselves and given the fact that they've pulled many of their models off the market to redesign them gives us hope that when those models are reintroduced, they'll all be significantly improved.
That was certainly the case with their flagship model, which is evidence that the brand is moving in the right direction. The best models offered by Yamasoro have two things going for them: They're cheap, and they're comfortable.
They've also got the usual array of negatives that are associated with nearly all furniture sold at the budget end of the market. Cheaper, lower-quality materials that start to show their age quickly and don't stand up well to the rigors of heavy daily use.
As long as you keep those limitations in mind, you won't be disappointed.
Yamasoro Office Chairs Review Conclusion
As of now, we give the brand as a whole a provisional recommendation, with a solid recommendation for their new high-backed Executive chair and their (bonded) leather gaming and office chair.
The main thing to keep in mind here is that except for their little task chair, all of the Yamasoro Office Chairs skew toward the big and tall segment of the market. If that doesn't describe you, then this brand is unlikely to have anything to offer to you.
---
REFERENCES & RESOURCES