In a Nutshell:
A simple, rugged, surprisingly attractive wooden stool for both indoor and outdoor use. The YE ZI Solid Wood Bar Stool is recommended for anyone in the market for a good, simple wooden stool for use indoors or out, with a higher than average weight capacity (400 pounds!)
* Brand Reliability is a measure of the strength and longevity of the brand, which by extension, is a measure of the level of support you can expect.
** While aesthetics is a matter of taste, Aesthetic Flexibility is a measure of how easily a given design would fit into a wide range of home or office décor schemes.
Do you love entertaining guests in your home? Do your friends come in all shapes and sizes?
If you answered yes to both of those questions, then you know what a challenge it can be to find good quality furniture that is built ruggedly enough to support heavier people.
Most of the furniture on the market today was built to support in the neighborhood of 300-pounds. If you or someone you know weighs more than that, the number of options open to you drop off rather quickly.
The YE ZI solid wood bar stool is an exception to that. While YE ZI isn't a huge brand, these stools are surprisingly well-made and durable and will serve you well in a variety of circumstances. In the sections that follow, we'll tell you why this model belongs on your radar. Let's take a closer look at what it has to offer.
An Overview of the YE ZI Bar Stool Solid Wood
Simple, rugged, and surprisingly attractive. Those are the first things you're likely to think when you initially see the YE ZI solid wood bar stool. It's a fair assessment. This little stool is a simply built, versatile piece of furniture that's useful both indoors and out.
Chair Specifications
Before we go into more details, though, let's have a quick look at the numbers. Here they are: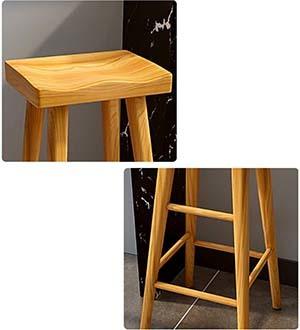 As you can see, it's lightweight, so it's easy to move from place to place if and as you need it to. While the seat dimensions might seem a bit on the smallish side, it's important to bear in mind that stools like this are occasional seating. Few people would seriously consider trying to spend the day lounging in a barstool of any kind, and these stools are no exception.
If you're a fan of wood furniture, these little stools are almost a no-brainer, especially given that you can order yours in your choice of three different finishes, each option darker than the last, which makes it easy to blend them in with just about any home or outdoor décor scheme.
The only potential problem here is the fact that these are very light. It is so light that if you have it outdoors, a sufficiently strong wind could blow it over, so it might be best to store it inside when not in use just to keep these from getting scuffed up by the weather.
Adjustability and Comfort
Although there's nothing adjustable about the YE ZI bar stool solid wood, note that when you place your order, you can select from three different sizes, choosing from a 17.7", a 25.6" or a 29.5" variant. That's excellent because it allows you to tailor the height of your stools based on exactly what you need them for.
Comfort-wise, they're about what you'd expect for a wooden stool, although the saddle-style seat design does enhance the comfort a bit. The good news here is that if you want to make the chairs more comfortable, it's easy enough to add a seat pad of whatever thickness you desire. If you really want to take comfort to the next level, you could even invest in memory foam seat pads.
No Assembly Required
It probably comes as no surprise given the simplicity of the design, but there's no assembly required where these stools are concerned. All you'll have to do when they arrive at your door is take them out of the box, put them where you want them, and take a seat to test them out.
Pros and Cons of YE ZI Bar Stool Solid Wood
There's really nothing not to like about these. These are good looking and versatile pieces of furniture, and if you're a fan of wood, you're going to love them.
Ultimately, it's going to come down to the question of whether or not you need this kind of seating. If you do, these will probably be on your shortlist for consideration. If you aren't in the market for stools like this, you'll give them a pass without thinking twice, and rightly so.
If you're not a huge fan of wood, then we recommend having a look at the Renovoo Aluminum Stool, which is similarly designed and offered in matte black.
YE ZI Solid Wood Bar Stool Review Conclusion
They're useful. They're versatile. They're surprisingly attractive, and they support a lot of user weight. Those are all good things, but they're also niche products. You either need this kind of seating, or you don't. On that basis, we provisionally recommend the YE ZI solid wood bar stool.
---
Official Manufacturer Support
References & Resources