In a Nutshell:
The Ashley Yandel Power Lift Recliner is an understated but attractive power lift recliner, offered by a world-class company for a surprisingly modest price. Recommended for anyone weighing 350 pounds or less, provided the chair isn't for heavy daily use.
* Brand Reliability is a measure of the strength and longevity of the brand, which by extension, is a measure of the level of support you can expect.
** While aesthetics is a matter of taste, Aesthetic Flexibility is a measure of how easily a given design would fit into a wide range of home or office décor schemes.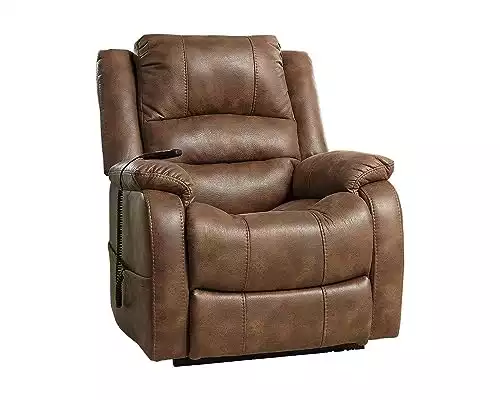 Has your get up and go gotten up and left you?
Are you finding it increasingly difficult to do day-to-day activities, including simple things like getting in and out of your favorite easy chair?
There are lots of different reasons you could be suffering from mobility issues. It could be a severe back injury, the onset of arthritis, or the simple fact that your age is beginning to catch up with you. Whatever the cause though, there are some simple things you can do to work around the problem. Technology is your friend.
One of the things you can do is to invest in a power lift recliner, and if you're interested, then the Yandel, offered by Ashley Furniture, is an excellent model and well worth your consideration.
It is by no means perfect, and there are some potentially serious shortcomings you should be mindful of before making a final decision.
Not to worry though, we'll go over everything the Ashley Yandel Power Lift Recliner can and can't do in the sections that follow so you'll have all the information you need to know for sure whether or not this is the chair you've been looking for. If that sounds good to you, let's get right to it!
An Overview of the Ashley Yandel Power Lift Recliner
This is a better-than-average-looking chair. The Ashley Yandel Power Lift Recliner is not gorgeous by any means, but it's got a comfortable, understated aesthetic that many people will find appealing and its natural saddle-colored (or black) leather will blend in well with many, if not most home décor schemes.
Before we dive deeper into the chair's capabilities, let's start by taking a look at a few basic statistics:
All that's well and good, but a decent lift chair needs to do more than just look nice, so let's take a more in-depth look at its core functionality.
Adjustability & Comfort
The Signature Design by Ashley Yandel Power Recliner has two motors, with one dedicated to controlling the recline motion of the seat back and footrest, and the other assigned to the lift function.
A simple wired remote attached to the chair enables you to control the recline functions independently, allowing you to enjoy an unlimited number of possible seating positions thanks to the fact that the seat back and footrest can be controlled separately.
One shortcoming of the model, and something it shares with its slightly more expensive cousin, the Ernestine, is the fact that there are no preset seating positions accessible from the remote.
That's not a huge issue, and it's certainly not a deal breaker, but if you're looking to maximize convenience, then you'll miss this feature.
The Yandel is upholstered with bonded leather, which is attractive but not very durable. Even if you're exceptionally careful with it, it's going to start showing its age by fading and/or peeling much more quickly than you'd like, and if you have pets, then bonded leather upholstery is not recommended. They'll destroy it in a matter of days.
The other drawback of bonded leather, and in truth, leather upholstery of any kind is the fact that it's not very breathable. Spend any length of time in the chair, and it's going to make you sweat.
That's not a big deal if you're only planning to use this chair lightly to moderately every day, but if you have a serious mobility issue that sees you spending hours at a time in your chair, this model is going to be frustrating because it won't take long before you start getting uncomfortably hot.
If that describes your situation, you're better off getting a lift chair with fabric upholstery like the Ernestine, also offered by Ashley Furniture.
Issues with the bonded leather upholstery aside though, it's a delightfully comfortable chair.
True, the padding is conventional block foam, which is nothing special, but there's a generous amount of it, and the seating experience itself is quite comfortable, again, provided you're not spending all day in it.
In addition to that, the chair reclines almost, but not quite fully. It certainly lays flat enough that you could take a nap in it, although sleeping in it overnight could be problematic due to the lack of breathability we talked about earlier. Comfort-wise though, for two to three hours at a stretch, you'll be pleasantly surprised.
Storage & Extras
There are only two things to talk about in this section of our Ashley Yandel Power Lift Recliner review. The Yandel features a pair of roomy pockets, one on each side, and it comes with a battery backup system, powered by a pair of nine-volt batteries.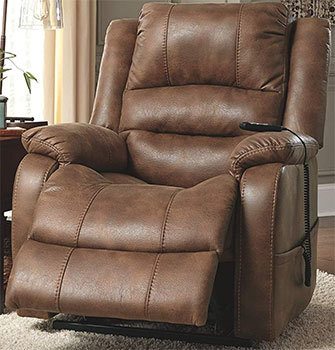 The storage compartments are well-sized and capable of holding all your favorite books, magazines, snacks, electronic devices, and other goodies. Basically, everything you'll want or need while spending time in your new favorite chair can fit with relative ease into those two pockets.
The battery backup system is a very nice touch and not something you find on every modestly priced lift chair. We regard it as an essential feature though. After all, if the power goes out and you're at home alone, in the absence of a battery backup system, it could be a real challenge to get yourself up out of the chair.
Fortunately, the presence of the backup system here means that's one less thing you have to worry about. It's something you may never need, but if you do, then you'll be very glad it's there!
Some Assembly Required
The Yandel comes mostly assembled. About all you'll have to do is figure out where you want it, hook up the backup battery system, plug it in and decide which side you want to connect the wired remote on.
Even better, Ashley Furniture's setup instructions are clear and well-written, so you'll have the chair ready for first use in a matter of minutes.
Pros & Cons of Ashley Yandel Power Lift Recliner
We really like the Yandel, and we love the aesthetic. Unfortunately, though, the bonded leather upholstery works against the chair's core design. Most people with mobility issues will be spending extended periods sitting in their chairs, and that leather gets uncomfortably hot, very quickly.
On top of that, it starts showing signs of wear much more quickly than fabric. That's true because although bonded leather is real leather, it's made by fusing scrap pieces together and it just doesn't have the strength, durability or suppleness of grain leather.
Feature-wise though; it's a gem, especially the modest price point Ashley is offering the chair at. You're getting a good product for the money, no doubt.
If we could change one thing, we would love to see at least a couple of preset seating positions on the remote and if we could take our pick about which one to add, it would be Zero-G seating, which reclines you to a point where your knees are elevated slightly above your heart, giving you a feeling of genuine weightlessness and helping improve circulation.
The cost to add such a feature would be modest and, in our view, would enhance the value proposition without dramatically raising its price.
Ashley Yandel Power Lift Recliner Review Conclusion
Despite its limitations, we think the Ashley Yandel Power Lift Recliner would be a spectacular addition to just about any home, although, given the limitations imposed by the upholstery, we only provisionally recommend it. If you have a minor mobility issue and you don't need to spend endless hours at a time in it, and you don't plan on sleeping overnight in it, then this is a fabulous chair.
If you're looking for something that will stand up well to the rigors of heavy daily use, however, this one isn't the model you're looking for.
On that basis, we give it a provisional recommendation.
---
REFERENCES & RESOURCES