In a Nutshell:
This is the gold standard of bench seating and the model that all others strive to match. It's a magnificent bench.The CAF Amish Heavy Duty Roll Back Garden Bench is recommended for anyone. If you want to incorporate bench seating into your outdoor spaces, this one should be at or near the top of your list.
* Brand Reliability is a measure of the strength and longevity of the brand, which by extension, is a measure of the level of support you can expect.
** While aesthetics is a matter of taste, Aesthetic Flexibility is a measure of how easily a given design would fit into a wide range of home or office décor schemes.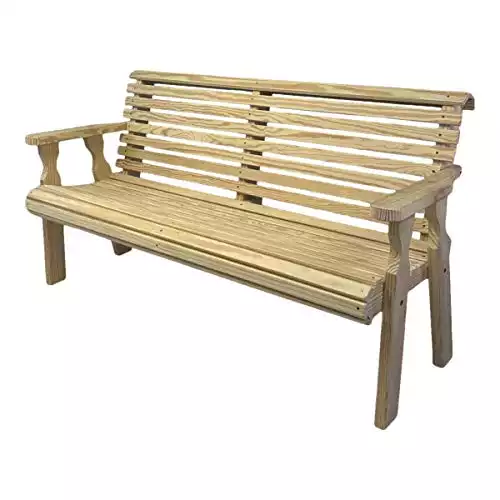 Do you love outdoor entertaining? Do you frequently find yourself entertaining bigger, taller, or heavier users?
If you answered yes to either of those questions, then you've probably struggled to find outdoor seating that's sturdy and robust enough to support you and your guests properly.
It's a shame, really, but most of the furniture on the market today, whether indoor or out, simply isn't designed for bigger, taller or heavier folk. The good news, however, is that there are some great options available, and the CAF Amish Heavy Duty Roll Back Garden Bench is one of the best bench-style seats you'll find anywhere.
In the sections that follow, we'll tell you everything this handsome bench has to offer and why it deserves a place of prominence in your yard, deck, porch, or patio. Even if you ultimately decide to go in some other direction, we think you'll be impressed. Let's take a closer look.
An Overview of the CAF Amish Heavy Duty Roll Back Outdoor Bench
The CAF Amish Heavy Duty Roll Back Garden Bench is a big, beautiful, sturdy bench, proudly made in the USA and offered in unfinished form, allowing you to stain it to perfectly match whatever color or outdoor décor scheme you have in mind. Before we say anything more than that, let's take a quick look at the stats that define the model:
Overall Product Dimensions:
There's a lot to like about these numbers. The seat height is firmly in the big and tall range, which typically starts at 18" and goes up from there. Whichever variant you choose to purchase, the bench is both wide and deep enough to comfortably support 2-3 people.
That, combined with the maximum supported weight limit of the chair, makes this one of the most rugged and durable pieces of outdoor furniture you'll find anywhere.
Also note that although you can buy an unfinished bench and stain it to taste, the company also offers a variety of pre-stained options, which will save you time if one of those options is a natural fit for your prevailing color and/or décor scheme. The color options available include:
The semi-solid stain colors are interesting because they give these benches a slightly weathered look that many people find incredibly appealing. In contrast, the two stain color options bring out the richness of the wood grain, creating a delightful aesthetic.
Adjustability and Comfort
There's nothing adjustable about the CAF Amish Heavy Duty Roll Back Outdoor Bench, so there's nothing to talk about on that front. Where comfort is concerned, it's about what you'd expect from a wooden bench, though the space between the slats on the seatback help improve breathability, which enhances its comfort somewhat.
Honestly, though, the bench itself is just the starting point. It's a blank slate. If you want to make it more comfortable, it's easy enough to add a seat and/or seatback pad, stuffed with as much padding as you'd like. Doing so, however, will hide the natural beauty of the wood.
In most cases, you won't need any additional padding. But if you're looking for an easy way to take its comfort to the next level, you can absolutely do that.
Assembly is Required
As is the case with most of the furniture you can buy online these days, if you decide you want one of these, it will arrive at your doorstep in a large box and in several pieces, so you'll need to spend some time putting it together before you can actually use it.
From unboxing to parts sorting to the assembly itself, expect the process to take about an hour, not counting staining if you bought an unfinished bench and want to do that. The production quality is exceedingly high, and the instructions are clear and well laid out, so the process of putting it together isn't complex.
Even so, the company offers an expert assembly option with the CAF Amish Heavy Duty Roll Back Patio bench, so if you don't like putting your own furniture together, you can pay an additional fee to have it done for you. Unfortunately, the cost of this service is quite high and will nearly double the price you pay for the bench, so we don't recommend it. Still, if you have a phobia about doing it yourself, know that the option is available.
Pros and Cons of CAF Amish Heavy Duty Roll Back Bench
As we said early on in this review, this bench is the standard by which all the other high weight capacity bench-style seats on the market today are measured. It's big, comfortable, and it supports an amazing amount of user weight.
It's also made by Amish craftsmen right here in the USA and offered at a fair price. We like almost everything about the CAF Amish Heavy Duty Roll Back bench, though we note that if you get one of the pre-stained variants, you'll only find one coat of stain on the bench, which isn't the way we'd have done it.
In an ideal world, there should be two coats of stain and at least two coats of polyurethane to help protect it, but this is hardly a deal-breaker as it's easy enough to enjoy the pre-stained variants and when the time comes, do a bit of stripping and restraining to make it exactly how you want it. With proper care, the bench itself will last for years. It's a great piece of outdoor furniture.
Final Thoughts: CAF Amish Heavy Duty Roll Back Garden Bench Review
The positives far outweigh the negatives here. Amish Casual is a great company, and they make superb products. CAF is one of only a handful of resellers, and they stand behind the products they sell nearly as well as Amish Casual themselves. If you have any post-sale issues, you'll be well taken care of, and if you decide to buy one or more of these for your outdoor spaces, you and your guests will love them. The CAF Amish Heavy Duty Roll Back Garden bench comes highly recommended, whatever size or finish you choose.
---
References & Resources: