In a Nutshell:
This is a simple, no-frills shower stool design that can support significantly more weight than most of its peers. The Carex Universal Bath Seat and Shower Chair is recommended for anyone with a light to moderate mobility issue who weighs up to 400 pounds.
* Brand Reliability is a measure of the strength and longevity of the brand, which by extension, is a measure of the level of support you can expect.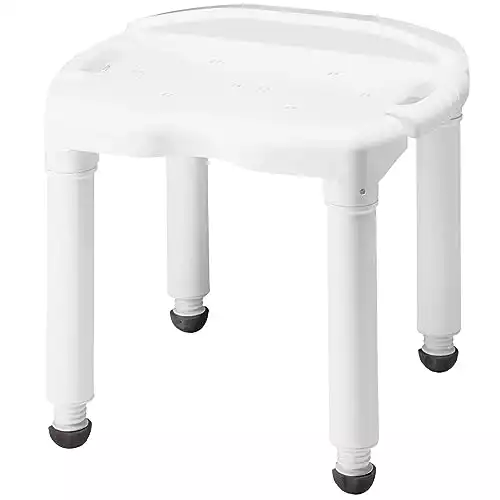 Do you struggle to get into and out of the bath or shower and take care of business while you're there because of some type of mobility issue? If so, you've probably been looking for a simple, cost-effective solution to your problem, and you may have even considered a shower chair of some kind.
The problem, though, is that there are so many to choose from, it can be tough to find the 'right' option for you.
If that's where you are, you're going to like what you read in this review. While the Carex Universal bath seat and shower chair isn't perfect, it is extremely well made, and even better, it gets around one of the most common limitations found in this type of medical aid.
If you're looking for a simple, no-frills solution designed to make bathing easier and hassle-free, read on, and we think you'll be impressed with this one, even if you ultimately opt to go in a different direction.
An Overview of the Carex Universal Shower Chair and Bath Seat
This design is about as simple as it gets. It has four legs and a seat with a built-in handle. That's it. If you're looking for something pretty that will make a good accent piece for your bathroom, this isn't the bath seat you want. In a similar vein, if you're looking for something that's loaded with extras, the Carex Universal bath seat and shower chair will leave you unimpressed.
On the other hand, if all you want and need is a simple medical aid to make it easier, safer, and more convenient to bathe, this sturdy little stool delivers in style. Before we dig any deeper than that, let's press pause for a moment to take a brief look at the core stats that define the model.
Here they are:
These are awesome numbers, across the board. The seat height range can be set 2" below the big and tall range and extends well into that territory. The overall dimensions are small enough that the stool can fit inside a standard-sized bathtub, and it will fit into almost all showers, though if you have a tiny pocket shower, that might be a bit of a struggle.
The seat width is superb, and unlike most shower stools, the seat depth is outstanding as well. Even better, check out the maximum supported weight!
Most of these types of stools support between 250-300 pounds of user weight and this one is well above that, which is superb and makes this stool a good fit for more than 95% of the market.
Finally, the chair is light enough that it can be easily relocated when you're not using it.
There's nothing about any of these numbers that is even marginally problematic, and that's outstanding.
Adjustability, Comfort, and Extras
Let's start with comfort because there's almost nothing to say about it. The Carex Universal shower chair and bath seat is a heavy-duty molded plastic stool. It's about as comfortable as you might expect.
Fortunately, you're not going to be spending tons of time sitting on this stool, so its relative lack of comfort isn't going to be a deal-breaker.
The chair only has one adjustable feature, and we talked about it above. The length of the legs can be adjusted, which in turn impacts the height of the seat. It's a good feature addition that adds to the versatility of the design.
In terms of extras, there are a few different things to talk about. First, you'll find drain holes in the seat, which keeps you from sitting in a slowly expanding puddle while you're bathing, which is a small thing, but a very nice touch.
Second, there are built-in handles on the sides of the stool. It's a good addition, but there are no rubberized grips where your hand is supposed to go, and we wish they were present.
It's a small addition that would add a tremendous amount of value to the chair because when it's wet, the handles are bound to be slippery. If you're already unsteady on your feet, that's a recipe for potential disaster, so use them with care!
Finally, the feet have two excellent features: First, they're rubberized, which gives the stool a good grip with the bottom of your tub or shower, making it virtually impossible for it to slide away from you when you're getting into or out of it.
Second, each of the feet has a built-in leveler, just like you find on your washer, dryer, and stove.
This is excellent because, of course, most tub and shower bottoms are curved, and you can tweak each foot to make sure your stool is perfectly level, which increases its stability: a small detail, but an excellent addition.
Some Assembly is Required
While it's true that this stool will arrive at your door in a box and unassembled, it can be put together in a matter of minutes and without any tools, making it one of the simplest assembly processes we've ever seen. It will probably take you longer to get the pieces out of the box than it will to get this stool ready for its first use, which is fantastic.
Carex Universal Bath Seat Pros and Cons
There's really nothing not to like about this stool. The only thing holding it back is the fact that while Carex is a good company with a solid reputation, they're not one of the best-known players in the market.
Still, if you're not brand conscious, there's not a thing in the world wrong with this well-priced stool.
Carex Universal Bath Seat and Shower Chair Review Conclusion
We like just about everything about this little stool. The Carex Universal bath seat and shower chair is a simple, sturdy, rugged design. Sure, it won't win any beauty contests, but that's not what it was designed for`1, and the fact that it supports significantly more user weight than many of its peers is superb. We recommend it.
---
REFERENCES AND RESOURCES