In a Nutshell:
The CMO Mesh Ergonomic High-Back Chair combines a modern mesh design with a contoured shape and adjustable features for a great ergonomic option under $200. If you're in the market for a mesh office chair, this is one of our top picks.
* Brand Reliability is a measure of the strength and longevity of the brand, which by extension, is a measure of the level of support you can expect.
** While aesthetics is a matter of taste, Aesthetic Flexibility is a measure of how easily a given design would fit into a wide range of home or office décor schemes.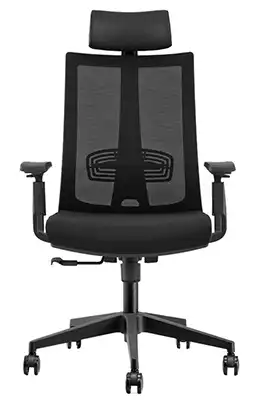 The rise of ergonomic mesh office chairs has resulted in truly unique designs. Using this material, as opposed to leather, offers more ventilation and breathability. Our CMO Mesh Ergonomic Office Chair review is one such design.
Join us as we look at this chair's feature, pros, and cons to help you decide if it would work well in your home office or place of work.
CMO Mesh High-Back Office Chair Overview
The CMO brand is well-received on Amazon with a wide range of ergonomic products. While they do sell office chairs, they also sell equipment used for posture and wrist support. There is a clear focus here on ergonomics in all of their products.
While we've mostly known office chairs to be made from leather or synthetic upholstering, this new design from CMO incorporates high-density mesh into the design for a chair that is lighter and more breathable.
As a result, sitting in this chair during summer months or in a hot office can be less stuffy than other leather chairs. As always, we look for chairs that offer adjustable ergonomic features, and this particular mesh office chair has several compelling options.
The overall look and feel of mesh office chairs have a contemporary feel that would fit well into any office space. Let's take a look at the features you can expect.
CMO Mesh Ergonomic Office Chair Features
The best office chairs under $200 combine value with features you wouldn't normally expect from a budget price range. Here are the features you can expect from the CMO Ergonomic Mesh chair:
Synchronous Mechanism
A Synchronous mechanism on the chair combines seat gliding with tilt and three locking positions, ensuring that the chair will move with you and adjust to your various needs throughout the workday.
Built-in Lumbar Support
Lumbar support is included through a built-in solution. The mesh back doesn't have a lot of padding, but it does offer ample support. We prefer adjustable lumbar support for various user heights, but this inclusion is still a positive one.
Adjustable Headrest
A detached headrest above the chair gives you a place to lay your head. It is adjustable and padded with PU leather for relaxing neck and shoulder support.
Padded Armrests
The T-shaped armrests have sculptured PU leather padding for comfort. They are also adjustable to offer a comfortable height.
High-Density Mesh
The mesh on the chair is a high-density nylon material that provides support despite the lack of a cushion on the backrest. This type of mesh also allows for consistent airflow that keeps you from feeling stuffy while sitting in the chair for a long period.
Contoured Seat and Back Design
The seat cushion and back are contoured to match the curvature of the human spine. Premium fabric and a waterfall seat design also encourage comfort and circulation in your legs.
Product Specifications
Pros and Cons of CMO Mesh Office Chairs
Mesh office chair often have a lot of positive elements. The unique material lends itself to support and breathability. Here is a breakdown of the pros and cons associated with the CMO Mesh Office Chair:
Customers enjoy the mesh design of this office chair and the ease of assembly. For most people, it only takes about 30 minutes to completely build the chair before its first use. The overall quality and comfort are also praised by customers online.
The downsides to this chair are few. There's an inherent flaw with a mesh design that removes much of the padding in return for better ventilation. While this may not be a problem for most users, some prefer more padding.
The max weight capacity for this chair is 350 pounds. This is better than other mesh office chairs, but it is still lower than models designed for big & tall users. This isn't a dealbreaker by any means, but it is worth considering before making a purchase.
Mesh chairs aren't for everyone, but a chair like this with adjustable options and some sort of lumbar support makes a compelling case for an option that costs less than $200.
Final Verdict: CMO Mesh Ergonomic High-Back Chair Review
Office chairs come in a large range of designs and types. Mesh office chairs are particularly popular, which is why our CMO Mesh Ergonomic Office Chair review focuses on one such option.
If you are someone who wants a comfortable chair with breathable materials, a mesh chair is a great choice. This chair may not be ideal for someone who prefers a lot of padding, but otherwise, it falls into our picks for the best ergonomic office chairs under 200 dollars.
---
Official Manufacturer Support
References & Resources