In a Nutshell:
The Crazy Creek HEX 2.0 LongBack Chair is a simple, but very portable backpacking chair that is easy to carry with you where ever you may go. While it could have better stability, it makes up for this with its small size and lightweight.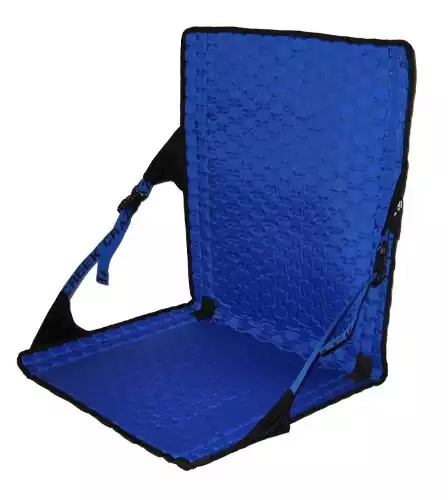 For the longest time, chairs were something that people only used indoors. When you were outside, the best you could hope for was a bench. The first backpacking chairs didn't hit the market until John Cham filed a patent in 1855 for the first aluminum folding chair.
We've come a long way since then. Our Crazy Creek HEX 2.0 LongBack Chair review takes a look at one of the modern options that push the boundaries of portability and comfort. Join us as we look at the chair's design and features, along with the pros and cons.
Crazy Creek HEX 2.0 Overview
Crazy Creek is a brand with a great story behind its inception. The founder, Rob Hart, first came up with the idea for the original chair design when he was leading a group of Outward Bound students on a camping trip into the Colorado wilderness.
He desperately wanted a place to sit where he could also rest his back and not worry about getting his clothes wet. Rob recalled a chair that his grandfather brought with them on camping trips. It was made from wood and canvas.
He joined up with his girlfriend to take the concept to a modern level. They began building prototypes in the attic of their house in Montana. They eventually started selling these prototypes out of their car to get an idea of how it would perform.
They were eventually able to upgrade to a basement where they used industrial sewing machines to meet the demand of the chairs in 1987. The business finally began to take off after Rob's friend John Elsberry joined as the business manager.
Despite a tragic accident that took the life of Rob in 2009, John and Rob's wife Kim acquired the company so it would stay in Red Lodge. The company has continued to grow and innovate in the years since.
Today they sell equipment for every aspect of the outdoors, including the classic chair designs that have inspired countless people to step out and enjoy the world around them. The HEX 2.0 LongBack chair that we're taking a look at today is the culmination of their designs.
High-quality materials combined with a chair that is quickly deployed and usable in all manner of outdoor environments. The attention to detail in both the size and shape of the chair also makes it a great fit for just about everyone.
All of this combines with a limited lifetime warranty to ensure that you get the most out of this backpacking chair that goes everywhere with you. Let's take a look at the features it has to offer.
HEX 2.0 LongBack Chair Features
While the design is simple, this chair's list of features is anything but simple. Let's take a look at all the things you can expect from this timeless design:
Improved Back and Sizing
This version of the HEX chair from Crazy Creek features a broader back and taller backrest overall. With 20 inches of width and 37.5 inches in height, it will accommodate just about anyone you bring with you on your outdoor trips.
High-Density Foam
The material on the outside is a high-density closed-cell foam that offers insulation and cushion without adding to the weight. The chair is made with an outer layer of 210D coated ripstop nylon.
The inner part of the chair has a 70D nylon that is water-resistant and easy to clean. The carbon-fiber stays are also incredibly hard to break. Finally, the tight-knit nylon webbing offers unparalleled strength.
Attached Strap
The chair rolls up into a small portable shape that is only 4 inches in diameter. The attached roll-up strap and hanging loop also make it incredibly easy to keep the chair compact. You can hang it from your bike, backpack, or anywhere else when you're not using it.
Limited Lifetime Warranty
Crazy Creek backs their HEX 2.0 Camp Chair with a Limited Lifetime Warranty. This ensures that you can buy with confidence knowing that the chair is protected under this warranty.
Crazy Creek HEX 2.0 LongBack Chair Specifications
Product Dimensions: 16.5 x 17.5 x 21 inches
Product Dimensions (Rolled Up): 4 inches in length
Product Weight: 1.55 pounds
Material: Cored EVA closed cell foam, 210D coated ripstop nylon
Pros and Cons of Crazy Creek HEX 2.0 Chairs
The Crazy Creek line of outdoor equipment is truly an incredible story of inspiration and quality design. The HEX 2.0 chair is among our top backpacking chairs for its combination of portability and durability in one convenient package.
At just under 2 pounds, the HEX 2.0 chair from Crazy Creek is a lightweight option that can quickly deploy at a moment's notice. The impressive selection of materials also ensures that it can withstand the rugged nature of the outdoors.
The inclusion of a larger seat and back also makes the chair a great fit for just about anyone who wants to use it on their hiking trips or fishing excursions. The price may be higher than you would expect for comparable chairs, but the quality is there to back up the asking price.
Finally, the portable version, while very small, is not quite as minute as other chairs on the market. It's not difficult to carry around by any means, but it would have been nice for it to be a little smaller after rolling it up, so it could more easily fit into packs.
Our Verdict on Our Crazy Creek HEX 2.0 LongBack Chair
This Crazy Creek HEX 2.0 LongBack Chair review showcases why it made on our list of the best backpacking chairs. It's a very durable and well-made design that doesn't sacrifice portability for comfort.
For your next trip into the wilderness, make sure you check out Crazy Creek's selection of furniture and equipment specifically designed to survive the harsh conditions of the outdoors.
---
Official Manufacturer Support
References & Resources: