In a Nutshell:
The Sentra EC won't win any beauty contests, but it doesn't have to. It's a simple design but superbly built. Recommended for anyone who weighs up to 700 pounds and who's in the market for a basic, rugged wheelchair.
* Brand Reliability is a measure of the strength and longevity of the brand, which by extension, is a measure of the level of support you can expect.
Do you suffer from a mobility issue? Are you having trouble finding a good-quality manual wheelchair that's built ruggedly enough to properly support you? If you answered yes to both of those questions, you're going to love what you read in this—our Drive Sentra EC review.
We'll be the first to say that this isn't a fancy machine. It's not going to win any beauty contests. As designs go, the Sentra is about as basic as it gets.
We don't regard that as a bad thing at all. Most people buy a wheelchair for function. A sleek, stylish form is a bonus if it's considered at all. The Sentra is exceptionally well-built and offered by Drive Medical, which is one of the biggest and best-known companies in the industry today.
In the sections that follow, we'll step you through everything the Sentra has to offer, and we won't be bashful about pointing out this chair's very few shortcomings.
That way, you'll have all the information you need to make an informed decision about whether or not this is the right chair for you. If your interest is piqued, read on, and let's take a closer look.
An Overview Of The Drive Medical Bariatric Sentra EC Heavy-Duty
As we mentioned in the last section, this chair isn't defined by its eye-catching design. It looks like a slightly larger, wider version of a standard manual wheelchair. As such, we can't say that it makes a great first impression, and it's obvious at a glance that the design team behind this chair cared a lot more about function than they did about form.
As long as you're not expecting a sleek, sporty design, this is almost certain not to be off-putting.
Where this chair truly shines is in its capabilities, and that's best expressed by taking a closer look at the raw numbers that define the model. To that end, here's a quick overview:
The chair's frame is rugged carbon steel, covered in chrome, and sports heavy-duty 8" flat-free adjustable casters. If you decide you want one, know that you can order yours with either full-length or desk-length arms.
Whatever you decide, both are detachable, and it's worth mentioning that the armrests are extra wide, generously padded, and surprisingly comfortable—though sadly, not adjustable in any way.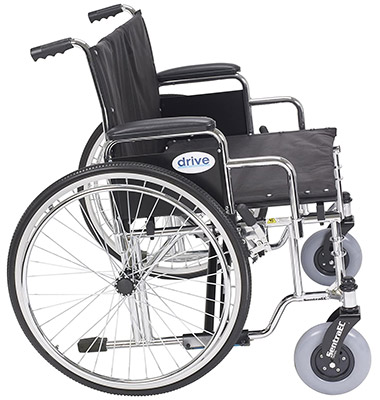 Note that the stock chair does not come with leg supports. We'll be talking about those later because you can buy them if you like, but they're an accessory on this model.
We're not thrilled with that, but we get it. If your mobility issue isn't severe, you may not need to use the chair long enough every day to make the leg supports necessary, and if that's the case, then there's no sense in paying for something you don't need.
In any case, as you can see, this is a sizeable chair, and as such, it's heavier than average. Given its footprint, you can probably fit it in the trunk of your car if you own a mid-sized or larger sedan, and of course, if you own a truck or van, you'll have no trouble whatsoever.
You will need a fair amount of upper body strength to stow the chair away for transport and then haul it back out again or have an assistant traveling with you.
The big thing to note when looking at these numbers is the fact that when you order one, you can specify the seat size—choosing from three different options. Given that, you'll want to take a couple of careful measurements to be sure you get the right seat size for you so that the chair fits you like a glove.
The signature feature of this chair is its impressive weight limit. With a weight capacity of seven hundred pounds, the Drive bariatric Sentra EC can be used by just about everyone, though it is worth mentioning that Drive makes two variants of this chair—the EC Heavy Duty and the EC Extra Heavy Duty, with the primary difference being the weight limit.
Drive Medical Sentra Wheelchair Is Neither Particularly Adjustable Nor Comfortable
Manual wheelchairs aren't known for their adjustability, and this one is no exception. As such, we'd rate this as an average component of our Drive Sentra EC review.
While some manual wheelchairs have a feature that will allow you to adjust the seat to floor height, this one does not. It's static at 20". This is a strictly "what you see is what you get" chair.
The upholstery is reinforced nylon. As such, it's not especially uncomfortable, but the Sentra doesn't offer a luxurious seating experience either. If you plan on using the chair for a number of hours every day, you're almost certain to want to add a seat pad of some description.
The good news on that front is that there are tons of options, so at the end of the day, you can make the Sentra as comfortable as you want or need it to be.
Drive Medical Sentra EC Accessories
This is an incredibly strong component of our Drive Sentra EC review. Although the stock chair is simple and rugged, Drive offers tons of accessories for this model. Here's the complete list:
These are all awesome additions to the stock model, and note that the leg supports (with or without calf pads) are aluminum. You'll find no cheap plastic here. That's very much in keeping with the ruggedized design, which includes reinforcement everywhere, including the crossbar.
We do wish that the leg supports and seat belt are standard pieces of equipment, but as we mentioned before, we get the reason why the company opted to go this route. It keeps the price down and gives buyers the flexibility to get only the extras they want or need.
Pros & Cons of Drive Medical Sentra EC
If you've reached this point in our Drive Sentra EC review, we think you'll agree that although this is a basic design, it's a true workhorse, incredibly capable, with lots of accessories available, and capable of supporting an impressive amount of weight—especially considering that many of the chairs on the market today only support in the neighborhood of three hundred pounds.
All of that is good, but honestly, this is a fairly self-selecting chair.
If you weigh in the neighborhood of three hundred pounds, you can easily find a more adjustable model—and probably a better-looking one—for about the same or less money.
Other than that, there really aren't any negatives associated with the Sentra EC. It's a rock-solid design that will serve you well if you decide that this model is a good fit for you.
Drive Sentra EC Review Conclusion
We can't say we love the Sentra, but we do respect and admire it. There's nothing flashy about it, but it gets the job done, and if you decide to invest in one, it will provide you with years of reliable service.
In our view, where wheelchairs are concerned, that's ultimately what matters most. Given that, we absolutely recommend it.
Comparable Products To Consider
If, after reading this review to the end, you've decided this just isn't the chair for you, here are other options to consider:
Medline Heavy Duty Wheelchair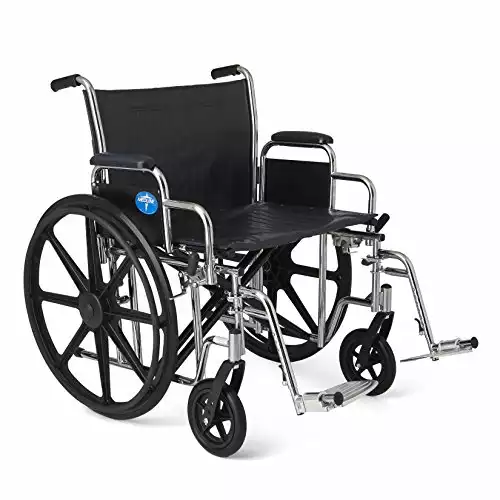 Supporting up to five hundred pounds of user weight and offered at an extremely attractive price, this is a fantastic option for those who aren't especially brand driven. It's a no-frills chair but a very good one.
Healthline Heavy Duty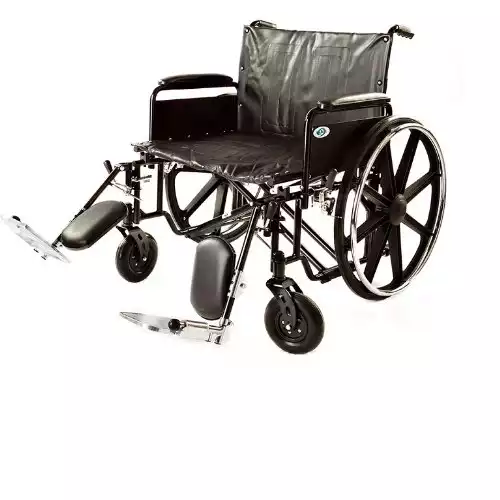 Although Healthline isn't as well known as Drive, they are a well-respected company and this chair is a good alternative. Note, however, that it doesn't support quite as much weight (up to five hundred pounds versus the 700 supported by the chair we just talked about)—still a very good option to consider.
---
REFERENCES AND RESOURCES