In a Nutshell:
The Fjords Muldal Recliner couples design with quality to deliver a comfortable and relaxing sitting experience. It is designed for people who want a recliner that combines form and function with affordability.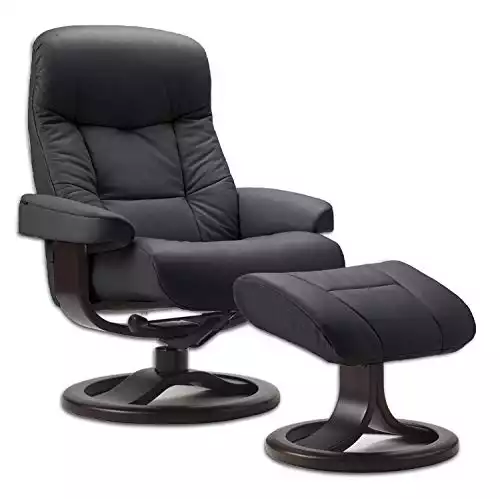 Ever wanted to just kick back and relax, but you can't find a spot comfortable enough? That's where recliners come in. But recliners can be expensive. Which ones are worth your hard-earned money?
To get one step closer to that answer, read our in-depth Fjords Muldal recliner review.
Fjords Muldal Lounge Reclining Chair Design Overview
The average adult spends over 6.5 hours seated upright, and the average teenager spends around 8.2 hours. Sitting for extended periods is bad for your health. Still, doctors say being seated in a reclined position of 135 degrees significantly reduces these risks, so your decision to buy a recliner is smart.

The right recliner for your home could be a piece of art that accentuates your decor, so you need to consider comfort, build quality, and design when you buy one.

The good news is that the folks at Fjords are recognized for making furniture that embodies those traits for 80 years. Fjords started as a small family business and has since progressed to a multinational brand. This success is rooted in producing excellent products.

The Fjords Leather Norwegian Ergonomic Scandinavian Lounge Reclining Chair 215 (it's a mouthful, we know) has been one of the most popular recliners that they offer. It's packed with proprietary technology and a treat to look at. The Muldal really is unique.

Our review is designed to give you all the information you could need on the Fjords Muldal so that you can make an educated decision about whether to purchase it or not, so let's dive in.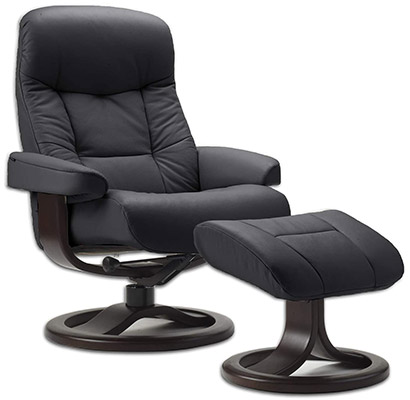 Aesthetics
Muldal Fjords recliner is hands down one of the best looking on the market today, thanks to the designers at Fjords, who take inspiration from the landscapes of Norway and find a way to incorporate them into their products.

The Muldal uses the "R" design philosophy by Fjords and has smooth flowing lines that really make it a treat to look at, and it sits on a striking circular base that makes it unique. We think the Muldal will undoubtedly be admired regardless of which room you put it in.
Build
You purchase any piece of furniture, you expect comfort and longevity, especially when it costs over $1000. But the Muldal is more than just a run-of-the-mill piece of furniture, which is why we're exploring what it's made of.
Fjords believe in using as little plastic as possible, and this is apparent on the Muldal. The frame, bearings, and gliding mounts that make up the recline mechanism are built from steel put through stringent testing and quality checks.

The recliner's base is made of laminated wood that can be stained to a color of your choice and comes with a swivel joint so you can rotate the recliner 360 degrees, ensuring your movement isn't limited. The joints on the Muldal are self-lubricating and are very durable. One supplier said that he hadn't received a single warranty claim on a joint in the last five years of selling them. If you read Fjords Muldal Recliner reviews, they'll tell you the same thing: the Muldal is made like a truck.
Dimension
The Muldal comes in two sizes because Fjords understands that people come in all shapes and sizes, and a one size fits all just isn't true. You can choose between either large or small, based on your requirements. However, the size of the footstool stays the same regardless of the size you purchase. Here are the dimensions of the chairs to help you choose which size is right for you.
Upholstery
Fjords products are known for their superior build quality thanks to their decades of experience in producing furniture, so it's no surprise that they only use fabrics that have passed Norwegian, European Union, and International standards. In addition, the materials are put through Møbelfakta tests, which measure longevity, environmental impact, and more.
Fjords produces 3 different lines of leather for their products. The first is the Nordic line. It focuses on high-quality top-grain leather that is treated to prevent wear from spillage and sunlight and protect the recliner from minor wear, which is essential for an item that will be used often.
As the name suggests, the Soft line is built for extra softness and is protected especially against stains and liquids, which is ideal for families with small children. It allows them to enjoy the furniture without worrying about damages and extra maintenance.
Finally, there's the Astro Line. It has semi-dyed aniline leather, which allows the material's color to be changed but keeps the original feeling intact. This makes it slightly thicker than the other leather options on offer but makes it the most robust.
The Muldal uses Dacron, a hypoallergenic, non-absorbent, and is resistant to mildew, mold, and stains because it can't retain liquids. Dacron is expensive, but it's used between the outer fabric and the cold-cured foam to improve comfort, longevity, and quality.
Cushioning
Fjords goes further than the competition by using high-quality, cold-cure molded foam rather than simple block foam when it comes to cushioning. Cold-cured foam is made without heat and has skin that prevents air from escaping; this helps maintain the shape longer and is twice as dense.
Cold cured foam is more expensive, but it is the material of choice for Fjords chairs because the benefits outweigh the cost. The foam is embedded with springs, and the combination makes the chair feel lighter and offers more cushioning for heavier users.
Stitching
Even the stitching of the fabrics is done with quality and longevity in mind. Customers who've purchased and used the products have said in their Fjords Muldal reviews that they've experienced the upholstery in other recliners they've previously owned haven't withstood the test of time like the Muldal.
Active Release System™
Technology isn't something you'd usually associate with furniture, but the Fjords Muldal will change your perception of that.
The Muldal comes with the patented Active Release System™, an integrated mechanism that provides optimal neck support for when you recline. If needed, you can also adjust the angle in a single movement to suit you better. The Active Release System™ has been around for a while now but is constantly being improved, and this iteration in the Muldal is the best yet.
Customization
A good Muldal Recliner review mentions how the chair's base is offered in 9 different finishes and 36 colors for the chair itself, giving the customer a whopping 324 potential combinations to choose from, making it one of the most customizable chairs on the market.
The base of the Muldal is made of high-quality wood and is available in 9 colors, with unique colors like espresso based on coffee beans, charcoal which is a textured lighter black, and much more.
The three lines of leather upholstery have colors that are unique to each line, the only overlapping color being black. The Nordic line has 9 colors to choose from, whereas the Soft and Astro lines have 16 and 11 colors each, respectively.
Muldal Fjords Recliner Warranty
When you buy a Fjords product, longevity and quality are expected, and you can see how confident a company is in their product by the kind of warranty they offer, and this is Fjords' warranty:
This Fjords Muldal review finds that a warranty this extensive proves that Fjords is willing to put their money where their mouth is and stand behind its product.
Pros & Cons of Muldal Fjords Recliner
The Fjords Muldal is like any other piece of furniture. It isn't perfect, no matter how much it tries to be. So we've compiled a list of what it does and doesn't do well.
Comparable Recliners to Consider
The only direct competitor to this chair that this Fjords Muldal review could find is the Mayfair Classic by Stressless, another Scandinavian brand known for its quality furniture.

The Stressless Mayfair echoes most of the same features as the Muldal, including the ability to recline using your body weight. It has many customization options, too, with 64 colors to choose from.
The price difference between the two might be a massive factor. The Muldal costs twice as much as the Mayfair, which might turn some buyers away. However, users of both products have said the build quality and useability of the Muldal are better.
Fjords Muldal Recliner Review Conclusion
Pricey but built with purpose, cutting-edge materials, and technologies that make it as ergonomic and comfortable as a recliner can be. The Muldal is a steal, and you'll be hard-pressed to find another recliner that rivals it.
There's no other way to put it: the Muldal is a piece of art that masquerades as a recliner. And with that being said, this is the end of our Fjords Muldal recliner review. We hope we've given you all the information you need to make an educated buying decision.
---
References & Resources: