In a Nutshell:
A simple, sturdy, functional design, offered by one of the most respected companies in the business. The Flash Furniture HERCULES Adjustable Shower Chair is recommended for users weighing up to 350 pounds. This chair is a tremendous value for the money.
* Brand Reliability is a measure of the strength and longevity of the brand, which by extension, is a measure of the level of support you can expect.
Do you have trouble getting from Point A to Point B? Has the problem gotten bad enough that you don't trust yourself to keep your feet under you while you're in the shower?
If you answered yes to either of those questions, you've probably at least thought about investing in a shower chair to make your life a bit easier, but there's a problem.
There are literally scores of different shower chairs, stools, and benches out there. How do you know which one is right for you? The search can be a daunting one, and with so many options available, it can be hard to even know where to begin.
If that's where you are, then you're in luck, and the Flash Furniture HERCULES adjustable shower chair might be exactly what you've been looking for. We'll be quick to admit that it's not a perfect solution, but for the right user, it could be amazing. Are you the user this chair was built for? Read on and find out!
Flash Furniture HERCULES Adjustable Bath & Shower Chair Overview
One thing is true about almost every shower chair on the market today. They're not pretty. The designers put all their efforts into function and didn't really pay attention to form.
The Flash Furniture HERCULES Adjustable Shower chair is a bit different. While it's every bit as functional as its peers on the market, the company did at least take one important step to make them look, if not pretty, then at least not hideous. The company offers this model in a modest selection of colors.
It's a small thing, but honestly, when you look at most of the shower chairs out there, just about all of them are drab and colorless. If you want something that adds a splash of color to liven things up a bit, this is one of the few options open to you that will let you do that.
Color Variants
If you decide you want one, you can order yours in your choice of navy, teal, white or gray.
While that's not a huge color selection, to be sure, it's better by far than what most other companies are offering.
Of course, while the color of the chair might make it a bit more visually appealing, function really matters where shower seats are concerned.
Chair Specifications
Let's start by taking a closer look at the core stats that define this model. Here are the basics:
These are generally good numbers, but there are a couple that might give you pause. First, we love the versatile seat height range.
Seventeen inches makes it a good fit for average-sized folk, and 22" is well into the big and tall territory. If you're up to 6'6" or so, you should have no difficulty adjusting this chair for a comfortable seating experience while you're using it.
Unfortunately, the weight limit on this model is only 300 pounds, so this is not a chair for heavier folk. If you're taller, with a slight to average build, it will be fine, but take the weight limit seriously here. If you're heavier than 300 pounds, give this chair a hard pass. You do not want to have it break on you while you're using it!
This is actually something of a curiosity because Flash Furniture's Hercules product line is known for supporting generous amounts of user weight. We have to admit that we were a little underwhelmed here. Even so, with a maximum supported weight of 300-pounds, this chair will accommodate 90% of the user market.
The seat width is okay, given the weight limit, but the seat depth is also somewhat wanting. The saving grace here is that you won't typically be spending a lot of time sitting in this chair, so for the short periods you're in it, the rather narrow seat shouldn't be a huge problem.
If this chair were designed for lounging, the 13" seat depth would be a major issue. However, here, it's a relatively small matter—still, something to be mindful of, but probably not a deal-breaker for most.
The weight of the chair is superb. At just five pounds, you shouldn't have any difficulty at all, moving it out of the way when it's not in use.
Taken together then, we'd rate the core statistics as being good, but falling short of exceptional.
In an ideal world, we'd love to see a slightly more expansive seat and a more impressive user weight range to match the impressive height adjustment range.
Adjustability, Comfort, and Extras
People don't buy these kinds of chairs for comfort, and like aesthetics, comfort isn't something that bath chairs are known for. The seat and the seatback are textured hard plastic. The seat has recessed drainage holes to help it shed water, so you don't find yourself sitting in a puddle.
Again, if the Flash Furniture HERCULES Adjustable Bath & Shower chair was designed for lounging, the hard plastic would be completely unworkable. Still, for the short periods, you'll actually be spending in it, it's fine. It doesn't provide a luxurious seating experience by any means, but it gets the job done.
In terms of adjustability, the big thing to talk about here is the fact that it's so easy to adjust the height of the chair to taste. Each leg has a button located on the inside of the leg. Push that, move the telescoping leg to the desired position, feel the click as it locks into place, and move onto the next leg. It couldn't be easier.
Where this chair really shines, though, are in its two extras. First is the handle that's built into the seatback. This, coupled with its scant weight, makes it even easier to pick the chair up and set it off to the side when you're not actively using it.
If you live alone, you can just as easily leave it in the tub or shower, but if you live with someone else, odds are, they don't need it, so it's nice that it's so easy to move around.
Second, and the big thing to talk about in this section is the no-slip grips of the armrests. This chair bears a great deal of similarity to the one offered by Omecal, and in fact, if you like this chair, but you're heavier than 300 pounds, then the Omecal model is probably the one you want.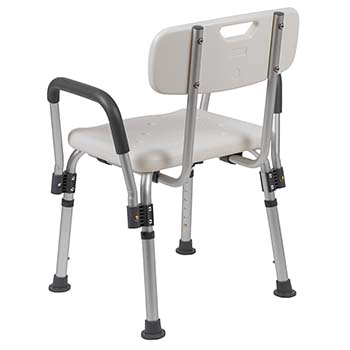 You'll note that the design of the arms in both that model and this one are identical, and that's excellent. The flanged arms and the wide, rubberized surface give you plenty to grab onto when you're getting into and out of the chair, which minimizes your risk of falling.
Finally, note the rubberized feet! This is an excellent addition that enables the chair to find a good purchase on the bottom of your tub or shower, ensuring that the chair won't slide away from you as you move to sit down in it or when you're getting out of it after you've finished your shower.
Taken together, these extras provide a ton of value and allow you to use the chair with confidence. Kudos to Flash for not only offering them but executing them very well.
No-Tool Assembly!
As is the case with most of the furniture you can buy online these days, if you decide you want one of these, it will arrive at your door in a box and in several pieces. The good news is that the assembly instructions are about as straightforward as they can be, and you can complete the assembly of the chair without ever having to break out even a single tool!
Flash's production quality is a cut above what you might expect from value-priced furniture, too, so you shouldn't have any problems getting the pieces to fit together seamlessly.
From start to finish, the entire assembly process might take twenty minutes, but probably slightly less than that. Again, kudos to Flash for making it such a painless process.
Flash Furniture HERCULES Adjustable Shower Chair Pros and Cons
In no particular order, here are the things we like best about this model:
On the other hand, it does have a couple of potential drawbacks to be aware of. These are:
As we mentioned, the seat depth probably won't be an issue for most people because you're not, as a rule, going to be spending tons of time sitting in this chair. Still, the weight limit could be an absolute deal-breaker.
Final Thoughts: Flash Furniture HERCULES Adjustable Shower Chair Review
Overall, the Flash Furniture HERCULES Adjustable Shower chair is an awesome little chair. We love Flash Furniture as a company, and we love the fact that they at least made some effort to liven up the look of their chair by offering it in a couple of fun colors.
In terms of functionality and safety, it brings a lot of value to the table too, so if you weight 300-pounds or less, this one belongs to your shortlist of options to consider.
We recommend it.
---
References & Resources