In a Nutshell:
The Gabrylly ergonomic office chair is a solid design offered by a smaller but respected brand. It's recommended for users weighing up to 280 pounds who like mesh chairs.
* Brand Reliability is a measure of the strength and longevity of the brand, which by extension, is a measure of the level of support you can expect.
** While aesthetics is a matter of taste, Aesthetic Flexibility is a measure of how easily a given design would fit into a wide range of home or office décor schemes.
Are you on a bit of a budget? Is it time to start thinking about replacing your creaking, rickety office chair? If you answered yes to both of those questions, you're going to be intrigued by what you read in this—our Gabrylly ergonomic mesh office chair review.
Haven't heard of Gabrylly?
We'd be surprised if you had—at least in terms of office furniture. The company is perhaps best known for making shower fixtures of all things, but in recent years, they've begun to branch out and now offer a pair of surprisingly well-designed mesh office chairs as they dip their corporate toe into a new market.
We'll be the first to admit that these chairs aren't world-class, but then, they aren't meant to be.
They're slightly more expensive than most budget offerings, and we'd describe them as being at the top end of the value segment of the market. So if you're on a budget, the Gabrylly chair should be just inside the price range for most folks, and frankly, it's better than most of the value-priced chairs out there today.
In the sections that follow, we'll walk you through everything this chair has to offer, and we won't pull any punches when it comes to describing the Gabrylly's limitations (and it's got them). That way, you'll have all the information you need to decide if this is the chair you've been looking for.
If that sounds good to you, read on, and let's take a closer look.
An Overview of the Gabrylly Mesh Chair With Lumbar Support
We'd rate this as an average to strong component of our Gabrylly ergonomic mesh office chair review. The first thing you'll notice about this chair is, as the name indicates, it's an all-mesh chair. That might be a dealbreaker for some people because not everyone is a fan of all mesh chairs.
We're not huge fans, but we do readily acknowledge that mesh is a solid choice for an office chair because it offers a fantastic mix of durability and breathability, which enhances comfort.
In an ideal world, we prefer mixed materials chairs that feature mesh seatbacks and upholstered, padded seats because that gives you the breathability where you need it most and provides extra padding where you need that most.
Sadly, this isn't that kind of chair.
That's not the end of the world, and the mesh seat is certainly comfortable, at least for 4-6 hours of continuous sitting. Much beyond that, though, and you'll start to miss the fact that this chair doesn't offer anything in the way of padding.
There's a really easy fix for that, though.
The aftermarket is brimming with a wide range of seat pads, and for a nominal additional investment, you can have the best of both worlds. Use the chair as is for the first four to six hours, and then, when you start wishing you had some padding, you can just break out your seat pad and keep right on working.
For most people then, unless you're just dead set against an all-mesh chair, this won't be a dealbreaker.
Of course, an office chair is about more than just looks, so let's take a peek at the raw numbers that drive and define the Gabrylly office chair. Here's a quick overview:
These numbers are quite good, with one unfortunate exception. We love that this isn't a featherweight chair. It's heavy enough that it's got some heft to it but light enough that it's not a beat to move around when you have to.
The Gabrylly home office chair seems to have found the sweet spot with most of the other numbers too.
The seat dimensions are a good pairing with the height adjustment range, and we're pleasantly surprised by the warranty.
Usually, chairs offered in this segment of the market have a 1-year warranty, so the Gabrylly is significantly better than average, which speaks highly of the overall quality of the chair.
Our only disappointment lies with the supported weight limit. While there's no formal standard in place, informally, if you survey a broad cross-section of office chairs, you'll find that the average amount of supported weight is 300 pounds. This model falls short of that, though admittedly, it doesn't miss the mark by much.
What that means, though, is that this chair simply won't be useful to as much of the market as it would if it supported even nominally more weight.
That's disappointing because it really is a good design, and its modest weight limit narrows its appeal because that's a hard stop. If you weigh more than 280, no matter how much you like this chair, it's just not going to work for you.
Overall though, these are pretty impressive numbers.
The Gabrylly Ergonomic Mesh Office Chair Is Fairly Comfortable and Somewhat Adjustable
This is a fairly strong segment of our Gabrylly ergonomic mesh office chair review, but depending on how you use the chair, there is some room for improvement.
As we mentioned earlier, mesh is a good choice in that it's incredibly breathable, which makes it surprisingly comfortable—at least in the short run.
If you consider yourself a power user who will be spending 8-10 (or more) hours a day in the chair, you'll probably want to invest in a comfortable seat pad you can use for at least part of the day. But if you're spending 6 hours or less a day in the chair, then you probably won't have any issues at all simply using it as is.
In terms of adjustability, it's got the basics covered and a bit more. We've already talked about the seat height adjustment, and in addition to that, it's got a tilt and lock mechanism. The impressive thing here is that the chair has 120 degrees of tilt angle, so you can lean really far back in the chair and then lock it into that position if you want to.
While there won't be many people who will zero in on that feature and decide that, yep, on the basis of that, this is the chair I want, it's still pretty cool and definitely something that's worth calling your attention to.
On top of that, it's got a mesh headrest that is both height and angle adjustable. It can be moved up and down a whopping six inches, which really makes this a flexible chair that can be used by a busy household and shared by a number of different people, all of differing heights.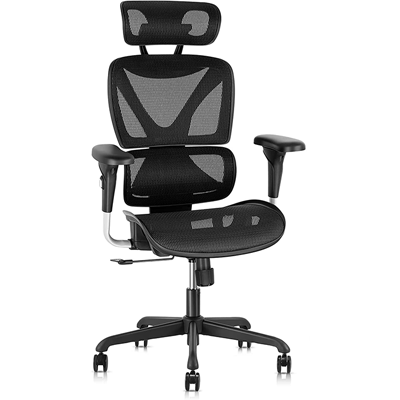 The armrests are only marginally adjustable. You can move them up and down in a 1.8" band, but there, the cool thing is that you can also flip them up and get them out of the way if you want or need to. It's a small thing, but depending on how you plan on using the chair, that's a really nice touch.
Finally, although the lumbar support isn't adjustable, it is dynamic, and the amount of support changes as you shift and move in the chair. This is on account of the two-piece design of the seatback. The lower section is a separate piece that flexes and shifts with you, providing different levels of lumbar support as you shift and move in the chair.
It's a simple design we've seen used in other models but very well implemented here.
The Gabrylly Ergonomic Office Chair Does Not Come Assembled
This should surprise exactly no one. More than 90% of the office chairs sold today don't come assembled, and this one doesn't either.
That's not the worst thing.
The company has a very helpful video assembly guide on their website (see the link above), and the entire process should take you no more than 10-15 minutes both because the assembly instructions are clear and easy to follow and because Gabrylly's production quality is higher than you'd expect at this price range.
Those two things work together to make the assembly process pretty painless, and in our view, that's a clear sign that if Gabrylly wants to expand its footprint in the office furniture market, they're going to be able to do so.
Color Variants of Gabrylly Office Chair
Pros and Cons of Gabrylly Office Chair
Technically speaking, we really like this chair, but we don't love it. It's a tremendously good first try by a company that doesn't have a reputation in this industry. They've got a good design team, and this is a good chair.
It's not a great chair. But then, it wasn't meant to be.
It was meant to be a solid entrant for the upper end of the value segment of the market, and honestly, Gabrylly succeeded in that goal. The only real weakness we can find in the design is its disappointingly low supported weight limit, but if and when the company presents a new offering, we're betting they will fix that.
Gabrylly Ergonomic Mesh Office Chair Review Conclusion
If you're on a budget and you weigh 280 pounds or less, and if you don't mind using an all-mesh chair, this is as good a pick as you'll find in the value segment of the market.
It's got a surprisingly generous warranty, and while it's not the most adjustable chair in the world, it's got the basics covered and even goes a bit beyond that in a couple of areas.
The weight limit is its biggest limitation, and that, unfortunately, is going to limit its appeal but provided that's not a dealbreaker for you, we do recommend it.
Other Options To Consider
If you've read to the end of this review and the Gabrylly ergonomic chair just isn't doing it for you, here are a couple of other options you may want to consider:
This is a more expensive chair but worth every penny. It supports more weight, is more adjustable and is simply, categorically a better piece of office furniture, offered by a company you may not have heard of—the "Quiet Giant" of the office furniture world.
This chair is everything the one we just reviewed isn't. It's all leather and has a decidedly Old World look and feel to it, and it supports more weight. It's not quite as adjustable but wins high marks for comfort and style. A great choice, depending on how your office is decorated.
---
References & Resources