Are you in the market for a new chair for your home office? If so, and especially if you spend any time playing computer games in your off-hours, then the "gaming chair vs office chair" question has probably been flitting around in the back of your mind.
There's more to the comparison than first meets the eye because while the two types of chairs have a number of similarities, they have some key differences as well. In this piece, we'll take a closer look at both types of chairs, highlight their comparative strengths, and shed some insights about aspects of their design that will guide you to the right pick for you.
If that sounds good and your interest is piqued, read on, and let's take a closer look!
Gaming Chair vs Office Chair—Initial Considerations
Ultimately, the best chair for you is the one that fits you like a glove. Whatever chair you're considering, if you physically don't fit into it or if you weigh more than the chair's supported weight limit, that chair is a non-starter no matter how much you may love it.
So, the very first thing you're going to want to do is to take a few careful measurements of yourself to get some raw numbers to work with.
In particular, you're going to want to measure the span of your hips because this will tell you how wide you want the seat of your chair to be.
You'll also want to get a measure of how deep you need the seat to be, which is best done by finding a chair in your home that you fit comfortably into and measuring its seat depth.
Failing that, go to a furniture store and try several chairs on for size until you find one that's a good fit and measure its seat depth.
Ideally, you'll want to sit in the chair and be able to plant both feet firmly on the floor in front of you, with your back touching the lower seatback and your knees able to bend with at least some clearance between the backs of your knees and the edge of the seat. You've sat in comfy chairs before, so you'll know a good fit when you feel it. Find and measure that!
Additionally, seat height is a huge factor, so you'll want to measure that and get a chair with a seat height adjustment range that includes your optimal seat height in inches.
Finally, there's the weight limit to consider. While there is no formal standard in the furniture world, most of the chairs on the market today support around 300 pounds, with some supporting less than that and others supporting more (and sometimes, significantly more).
When you see a chair that says it can support up to 200 pounds, take that seriously. If you weigh more than that, don't buy that chair.
If you do, it's likely to crumble under you, and you'll not only lose your investment, but you will wind up hurting yourself. Just say no, even if you love the design. Get a chair that's rated to handle your weight, whatever it happens to be.
Gaming Chair vs Office Chairs—Upholstery Considerations
Where gaming/office chairs are concerned, you're basically looking at three different upholstery options.
Each choice has advantages and disadvantages, so you'll want to consider the matter carefully, in tandem with an accounting of how many hours in a row you plan on sitting in whatever chair you get.
As you'll see, the time you plan to spend really matters. Let's take a look:
The three basic types of upholstery you'll be choosing from are mesh, fabric, or leather/PU.
Mesh is great because it's so breathable. More airflow equals more comfort, and that's a good thing. There are a couple of problems, however.
First, not everybody likes mesh chairs because, frankly, most of them don't look as good as their leather/PU or fabric-clad counterparts. If aesthetics are important to you, mesh chairs will probably be somewhat diminished in your eyes.
Second, breathability is great but only to a point. The more time you spend sitting in your chair, the more important padding becomes, and at some point (usually after about six hours or so, but this will vary from one person to the next), padding trumps breathability.
This is why understanding how long you plan on sitting in the chair matters. If you're a casual gamer or if you don't plan on working more than 1-3 hours each day, then a mesh chair is a great option—likewise, if you're only planning to use the chair for a moderate amount (up to 6 hours) a day.
Beyond that, mesh starts to lose its luster.
A lot of people like the look of leather or PU, and if you do, you might automatically gravitate to chairs with that kind of upholstery. It's a good choice if you only plan to use the chair a few hours each day, but neither leather nor PU is breathable, so the more time you spend in chairs with that type of upholstery, the hotter and less comfortable you're going to be.
Leather/PU is a good choice for people who only plan to use their chair for a few hours each day, but it becomes an increasingly bad option the more time you spend in it.
Fabric is a solid all-around choice. It's more breathable than leather/PU but less breathable than mesh. On the other hand, fabric looks great and can be stretched over a wide variety of padding—everything from conventional block foam to memory foam, which means that you can get as comfortable in the chair as you'd like.
Fabric upholstered chairs are the go-to choice for power users who spend extended periods sitting in their chairs.
In terms of gaming chair vs office chair comfort, gaming chairs were designed with comfort in mind, while typically, office chairs were designed with ergonomic excellence in mind.
That's not to say that office chairs can't be comfortable or that gaming chairs don't ever have ergonomic features; it's just that gaming chairs tend to put more emphasis on comfort, while an office chair's main focus is ergonomics. At least part of the equation, then, comes down to which of those is more important to you.
Computer Chair vs Gaming Chair—Extras
Another point to consider is exactly what kind of games you typically play. For instance, you can find gaming chairs with built-in speakers or that come with things like gas pedals. If you mostly play driving games, you're almost certainly going to gravitate to a gaming chair because it's going to have the features you need to play your favorite games effectively.
The same thing is true if you play fighting games because a number of high-end gaming chairs come with haptic technology that provides feedback when your avatar in the game gets hit.
If you want that, then you'll be hard-pressed to find that functionality in an office chair, no matter who makes it.
On the other hand, if you suffer from chronic pain and are looking for a chair with well-implemented dynamic lumbar support that gives you the option to adjust its position, get an office chair. Even though you can find plenty of gaming chairs that offer basic ergonomic features like lumbar support, office chairs almost always do that better.
Ergonomic vs Gaming Chair—Styling Matters Too
This isn't something that will matter to everyone, but if you're big on aesthetics, then finding a chair with the right "look" can be tough if you stick to office chairs.
Most office chairs tend to look pretty much the same. Sure, you can find exceptions, but they're rare and almost always pricey. Office chairs tend to look like office chairs.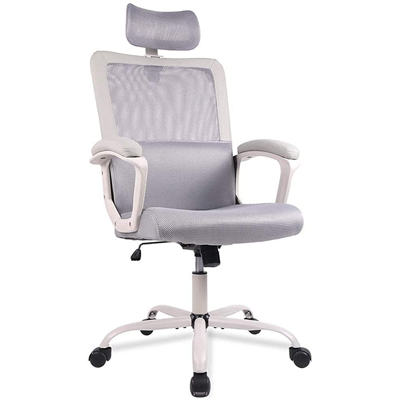 Their designers put much more emphasis on function than on form.
Gaming chairs, though, tend to offer much more radical designs.
You can find L-shaped gaming chairs that are designed to sit on the floor (no legs or base). These usually have built-in speakers and sometimes even massage functions, which is cool, and they offer a really distinctive look.
You can also find gaming chairs that are built more or less like office chairs but use racing-style bucket seats, which gives the chair an edgy appearance. Often, these kinds of chairs are also offered in fun, bold color combinations, which makes them even more distinctive.
Again, this mostly comes down to personal preference. If you don't care what your chair looks like, these edgy-looking options may not do anything for you, but some people absolutely love them.
Gaming Chairs vs Office Chairs—Conclusion
Ultimately, there are no right answers here. Aside from taking measurements and finding a chair that fits you like a glove, the rest comes down to understanding what you want the chair for, how you plan to use it, and how many hours per day, on average, you plan on spending in it.
The answers to those questions will differ from one person to the next, and ultimately, they will point the way toward the perfect chair for you.
In my case, as the author of this piece, I am a diehard computer game player. I play mostly 4x strategy games, which take hours to complete. And in my free time, when I'm not writing, that's what I enjoy doing, so I spend a lot of time in my chair.
I have a bad back, though, and good lumbar support was the key element for me. So I gravitated to an office chair, but I have to say, I was sorely tempted by some of those cool-looking racing-style seats!
In any case, if you have an honest conversation with yourself about what you want and what's more important to you in a chair, it will help thin the herd greatly, which will help you zero in on the perfect chair for you that much more quickly. Happy hunting!
---
References and Resources: