In a Nutshell:
A sharp-looking full-length pool and beach lounger that offers Zero-G seating positions. The H.yina Zero Gravity Patio Lounge Chair is recommended for anyone weighing up to 440 pounds who's looking for a comfy beach lounger.
* Brand Reliability is a measure of the strength and longevity of the brand, which by extension, is a measure of the level of support you can expect.
** While aesthetics is a matter of taste, Aesthetic Flexibility is a measure of how easily a given design would fit into a wide range of home or office décor schemes.
Unfortunately, this product has been discontinued. Check out similar model: CGF-Lounge Chairs
Do you love lounging by the pool or spending the day at the beach? Are you heavier than average?
If you answered yes to both of those questions, then you probably noticed that most of the beach chairs on the market today just aren't built for you. If you weigh more than 300 pounds, you'll find that the number of seating options you have diminishes quickly, which can make the search for a great beach chair an immensely frustrating one.
Although you probably haven't heard of H.yina, their oversized pool and beach lounger is a well-designed chair that's certainly worth a look. We'll be the first to admit that it isn't a perfect chair, but it is a very good design, and it might be exactly what you're looking for.
In the sections that follow, we'll tell you everything the company gets right with the design and where it comes up a bit short, so you'll have all the information you need to decide for yourself if the H.yina Zero Gravity Patio Lounge chair you've been looking for to take with you on your next beach adventure. If that sounds good to you, let's take a closer look.
An Overview of the H.yina Zero Gravity Patio Lounger
Dressed in dark blue Oxford fabric and sporting a gleaming steel frame black accents, the H.yina Zero Gravity Patio Lounge chair is an undeniably handsome chair. That's the first thing you will notice about it, and it's clear that the design team put some thought into aesthetics. If style matters to you, you're going to love it right off the bat.
Of course, a chair has to do more than be good-looking, and before we talk about the other qualities this model brings to the table, let's take a look at the core stats that define it:
On the whole, these are good numbers but holy cow, this is a heavy beast of a chair. While H.yina has definitely mastered the art of making great-looking, functional chairs, they haven't figured out how to make their furniture lightweight.
That may be a deal-breaker for you, or it may be nothing. If you're planning to use this chair by the pool in your backyard, the weight doesn't really matter. If you have to fold this chair up and lug it to a spot on the beach, it might matter very much.
We like the rest of the numbers, though. It's big, far enough off the ground that you won't have to worry about creepy crawly things getting on you, and it can support a generous amount of user weight.
Adjustability, Comfort, and Extras
The H.yina Zero Gravity Patio Lounger is both highly adjustable and surprisingly comfortable, so there's quite a lot to talk about here. Let's start with adjustability. On that front, the chair can be repositioned in a variety of ways, from laying completely flat to a variety of Zero-G positions.
The fact that it lays completely flat means you can use this chair as a makeshift cot if you get surprised by unexpected guests and need somewhere to put them. It's not a great solution, obviously, but it works in a pinch.
The Zero-G seating options are amazing and not something you typically find in outdoor furniture. Inspired by NASA, Zero-G seating positions genuinely do give you a feeling of weightlessness, which enhances the chair's comfort, but that's not what's so great about the fact that multiple Zero-G seating positions are possible with this chair.
More than just being comfortable, Zero-G has a number of documented health effects, including the fact that it is documented to help lower blood pressure, reduce chronic back pain, and if you've recently had surgery of any kind, it promotes faster healing by improving blood flow. That's pretty amazing for a beach chair.
Where comfort is concerned, the H.yina Oversized Zero Gravity Lounge chair is clad in breathable Oxford cloth and features an attached headrest pillow, both of which make it a delight to lounge in. While it certainly can't compete with your living room recliner in terms of comfort, for a pool or beach chair, it's surprisingly relaxing and made even more so thanks to the aforementioned Zero-G seating positions.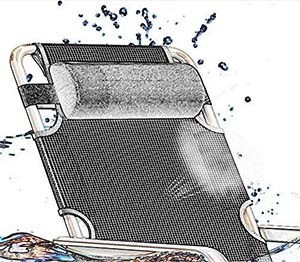 Unfortunately, this chair doesn't offer any onboard storage. If you want a cup holder, you'll have to add one sold by a third-party. The same holds true for onboard storage. Fortunately, both of those are easy DIY additions. Just note that you'll have to add them yourself if you want them.
No Assembly Required
Most beach and camp chairs you can buy online arrive at your door in a box collapsed down and ready to use. No assembly is needed. Just unbox the chair, unfold it, and take a seat. That's all there is to it.
Pros and Cons of H.yina Zero Gravity Patio Lounger
In no particular order, here's what we think you'll like best about the H.yina Zero Gravity Reclining Outdoor Lounge chair:
Unfortunately, it's got two drawbacks that may be deal-breakers for some. It's offered by a totally unknown brand with no history of post-sales support, and it's fairly heavy for a beach chair. It's also got no onboard storage and is a shade on the expensive side given that it's offered by a brand you've almost certainly never heard of, but at least part of that is explained by the quality materials and the engineering required to add Zero-G seating.
H.yina Zero Gravity Patio Lounge Chair Review Conclusion
We really like the H.yina Zero Gravity Patio Lounge chair, but we don't quite love it. It's a good design and solidly built, and the fact that it lays completely flat and offers Zero-G seating positions is superb. Unfortunately, it's a fairly hefty chair, which makes it better for use at home by the pool than it does for lugging around with you to the beach.
Even so, depending on how strong you are, how far you have to carry it, and exactly what you're looking for, this could be a superb option. Given all of the above, we provisionally recommend it.
---
Official Manufacturer Support
References & Resources