In a Nutshell:
The Helinox Chair One is a wonderful choice for outdoor seating. With its lightweight and easy assembly, it's not hard to recommend it to outdoor lovers. Keep in mind that it is more expensive than many of the other options.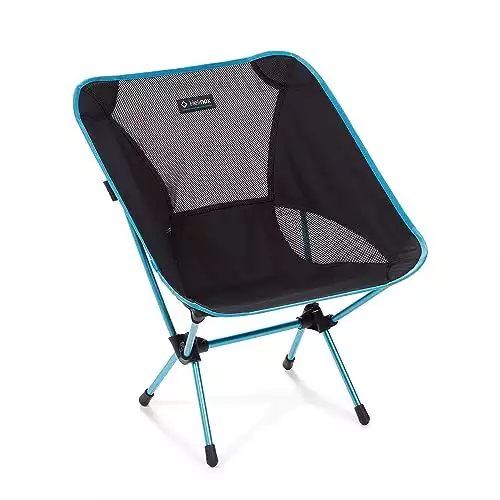 Helinox Chair One
Recommended For: Outdoor lovers looking for lightweight and easy assembly outdoor seating. Keep in mind that it is more expensive than many of the other options.
Check Current Price
If you've been hiking or camping, you know what it feels like after a long trek. Your legs are burning; your muscles are sore. All you want to do is sit down. Today's technology allows for lightweight and comfortable backpacking chairs like the Helinox Chair One.
Join us for an in-depth Helinox Chair One review to find out what features make this seat one of our top choices for a great backpacking chair. We'll also take a look at the chair's pros and cons to help you understand everything you need to know. Let's dive in!
Helinox Chair One Overview
The Helinox chair is made by a brand called Big Agnes. This brand started over eighteen years ago without any particular plan in mind, but they had an idea they knew could go places. They wanted to make the best gear they possibly could to get people outside.
Veterans in the industry said their ideas were too crazy, but they didn't want to back down. The original concept, The Big Agnes, was a combination of a bag and sleeping bag. They encourage their buyers to push the products to their limits, take pictures, and share their stories.
Big Agnes is based out of northwestern Colorado. They test their products in the Continental Divide Trail, which is extremely close to their office. They are known for their Helinox chairs like the one featured in this review.
Thesechairs have a breathable mesh, sturdy, flexible aluminum frames, and a truly unique assembly system that makes them simple and quick to deploy. Furthermore, the carrying bag has loops for hanging the folded chair on bikes, backpacks, or anywhere else you'd like.
The high weight capacity also makes this chair a perfect fit for a variety of consumers. A breathable mesh also ensures that you'll remain cool, even in hot weather. Let's take a look at some of the features it offers.
Helinox Camp Chair Features
The Helinox Chair One is a sturdy and lightweight backpacking chair that managed to rank high in our list of the top options. This is a breakdown of the features it offers:
Simple and Quick Assembly
The frame sections are linked with elastic shock-cord. This allows the chair to pull into its finished shape, which makes assembly a breeze.
Flex Frame
The frame is designed with a flexible nature, which allows it to move according to your body shape. This also lets the chair form to the body of anyone who sits in it.
Attachable Carry Bag
The webbing ladder and large loops on the carrying bag make it easy to attach the folded chair to a bike or bag. This makes it even easier to carry the folded chair around.
Ultimate Comfort
Customers often report how comfortable the chair is when they are using it. Even those who have taken it on long trips have no complaints about the long-term durability of the chair or its comfort for various uses.
Helinox Chair One Camp Chair Specifications
Helinox Camp Chair Pros and Cons
The Helinox Chair One is a perfect marriage of comfort and lightweight design. While it does do a lot of things right, there are some things that bring down the score somewhat. Let's take a look.
Right out of the gate, the Helinox Camp Chair offers a simple assembly by using shock-cords to connect the frame. This naturally pulls the aluminum poles into place, making assembly a quick and straightforward task.
Furthermore, the frame itself bends to the weight placed upon it. This chair can hold up to 320 pounds, and yet, it only weighs a single pound when folded up. The included carrying bag offers several loops for the ability to attach it to a bike or backpack.
Customers often express a love for the chair's comfort and general feel. The breathable mesh on the back keeps you fresh, while the material and frame are focused on ergonomically cradling you after a long trek through the wild outdoors.
The price point for the Helinox One Chair is higher than other options. This is a downside for us, as some of the alternatives tend to offer similar features for less. Finally, the chair's balance will take some getting used to, as some customers report a lack of stability.
As with any lightweight chair, the type of surface will play a role in this stability, so it's important to find flat surfaces to place it on whenever possible.
Final Thoughts on Our Helinox Chair One Review
When we first started this Helinox Chair One review, we were taken aback by the quality of the chair. The price quickly reminded us that lightweight designs like this could also carry a hefty price tag. Even so, the durability and comfort on display here are among the best we have seen.
This chair easily cracked the upper levels of our best backpacking chair list. If you need a reliable and comfortable form of seating for your next trip into the great outdoors, the Helinox One could be the perfect chair for you.
---
References & Resources