In a Nutshell:
If you're looking for a powerchair that does it all and then some, give the Pride Mobility Jazzy 600 ES a look. Produced by a brand that knows what consumers need and want, this power chair is comfortable, durable, and performs well. It's one of the best power chairs on the market and will not disappoint.
Wouldn't it be great to find a power wheelchair that can maneuver through small hallways and turn in tight spaces?
Well, great news. We might have just found one that can do just that—and then some!
In our Jazzy 600 ES review, we'll give you all the pros and cons of this powerchair to help you decide if it really is the right one for you.
Jazzy 600 ES Design Overview
Pride Mobility is one of the largest names in the mobility aid game, with four brands of mobility chairs and multiple market-leading models to their name.
The company has gained the trust of the masses as a quality manufacturer since 1986, so if you're looking for a robust power chair that does much more than getting you from point A to B, you should pay attention to the latest addition to the Pride Jazzy 600 line—the 600ES.
The Pride Mobility Jazzy 600 ES powerchair has been received with critical acclaim by many powerchair users because of its thoughtful design that is functional, robust, and comfortable. It's undoubtedly one of the best-designed mid-range power chairs on the market today. Let's explore how and why.
Chassis
The 600ES is built from durable metal, high-quality plastic, and some components—such as the seats and armrests—have leather-wrapped foam. The dimensions of the wheelchair are: 40 inches long and 24.5 inches wide, making it narrower than its competition, allowing you to go places you couldn't before.
Full Size and Heavy Duty
This power wheelchair weighs around the industry standard, 215 pounds (for 20" wide seat). While it is heavy, the weight allows the center of gravity of the chair to be low and centered, making it very stable and difficult to tip over. The battery helps keep the center of gravity low because it's positioned in front of and above the axle.
The reason for the battery being positioned this way is ease of access. In the event the battery needs to be replaced, you can remove the front cover, disconnect the cables, and slide it out very easily. You can order the Jazzy 600 ES battery replacement directly from the manufacturer.
Captain-Style Seat
Let's start with what you'll spend most of your time on—the seat.
This captain-style seat can recline to four settings between 90 degrees to 107 degrees. It can also be folded flat and even includes seat belts for added safety. It's well-padded, offers excellent lumbar support, is taller than most seats, and has an adjustable head-rest included. The whole seat is neatly wrapped in leather and is considered one of the most comfortable seats on the market.
You can customize the seat to your liking by choosing a size: 16, 18, or 20 inches. The bottom of the seat is around 21 inches from the ground, so the seating position is lower than other models. You can adjust the height up to 3 inches depending on the seat you order.
Flip-up Armrests & an Optional Swing-Away Joystick
The well-cushioned armrests of the 600ES are foldable and can be adjusted both vertically and horizontally, which allows it to accommodate larger riders. The joystick comes attached to the right-hand side by default but can be switched to the left hand if needed. If you purchase the added option, it can be folded away.
Footrest
The main flaw in the 600 ES is the footrest. It's built out of plastic and is attached to the battery cover. We'd say here in our Jazzy 600 ES review that a part that carries the weight of your legs (which is substantial) should be made out of sturdier material and anchored to a point that is not removable.
Transportability
No matter how good your power chair is, it's not worth buying if it's not easy to transport. The Jazzy doesn't have that issue because its frame is smaller than its competitors. The chair also has four well-placed and easy-to-access mounting points on the frame itself, ensuring it stays tied down during transportation.
J600ES Warranty
The warranty on all Pride Mobility power chairs is extensive. We've broken down what's under warranty and what the conditions are so you don't have to.
The following parts are covered with a limited 13 Month (2 years in Canada) warranty:
The shipping charges for repairing warranty damage aren't covered by Pride Mobility and will have to be paid out of pocket.
The warranty does not cover any damage caused by the user. Also, any repairs have to be made by an authorized dealer, or you'll end up voiding the warranty. So make sure to do the recommended maintenance and repairs at an authorized dealer.
Jazzy ES600 Performance
The main thing you need from any item you purchase is that it has to perform as advertised, and the Pride Jazzy 600 ES power chair does not disappoint. Let's break down why.
Weight Capacity
Let's start with the weight capacity. The Jazzy powerchair can carry a load of 300 pounds, which is ideal for larger or bigger users. The load-bearing on the 600ES is respectable for a power chair of this size, but others on the market have a higher load capacity for around the same price.
Speed
The power wheelchair is surprisingly fast and can move at a maximum speed of 4 mph, which is a feat for a full-size chair. However, having this much speed is pointless without the ability to use it, but you won't find that to be an issue with the Pride 600ES because it has a maximum distance of 17 miles per charge (depending on temperature and load).
Drivetrain
The Jazzy is powered by a combination of 2 motors mated to a mid-wheel axle, all of which are fueled by 2 NF-22 batteries (rated at 12 Volt, 5 amp-hours). This allows the 600 ES to climb slopes of up to 6 degrees and climb over obstacles that are 2.5 inches high.
The power chair has a ground clearance of 4 inches under the motor and 2.75 inches at the battery tray. The dual disc brakes on this wheelchair is a regenerative system, which means it captures energy that would otherwise be wasted and charges the battery with it.
Quick Charging
The J600ES power chair can perform these feats thanks to its 2 powerful 12 Volt, 50 amp-hour batteries. It's suggested that you charge the wheelchair for 8 to 14 hours for daily use. The length depends on factors such as weight, average distance travelled, and temperature.
Good Traction
The wheelchair puts all that power to the road using a combination of 4, 6-inch casters and a pair of 14-inch run-flat tires connected to the drivetrain, all of which are non-marking. The large tires and casters offer an impressive amount of traction, making the Jazzy a favorite for outdoor use.
This set-up will prevent you from getting stuck, and travel allows you to maneuver through rough terrain with ease.
Small Turning Radius
The mid-axle design of the 600 ES has the benefit of a tiny turning radius of 20.5 inches, which means that you can do a 360-degree turn on the spot. The wheelchair comes in handy in tight spaces.
Great Suspension
The 600 scooter is known for its comfort, thanks to proprietary Active Trac suspension (AXT Suspension). The suspension is linked to the front wheels and is fully adjustable. You can make the ride softer or stiffer to suit your preferences by simply turning the tuning ring.
The suspension has a large amount of travel and shock absorption that not only makes your ride comfortable but makes tackling rough terrain easy. This suspension isn't widely used in the power chair market, so it's great to see this feature in the 600ES.
Certified Safe
The 600 ES is extraordinarily safe and has an HCPCS Code: Group 2: Standard certification. It also comes equipped with a seat belt and is crash-tested to ensure you're secure when riding in a vehicle. Like all Pride Mobility power chairs on sale today, the Jazzy 600ES also has an FDA Class II approval for mobility scooters.
Jazzy 600 Power Chair Usability
Pride Mobility has been producing mobility aids for years now, and that shows in the ES600. It makes assembly, maintenance, and everything in between a breeze.
When it comes out of the box, some assembly is required for a few of the parts, but the comprehensive and user-friendly Jazzy 600 ES manual allows you to quickly sort it all out so that you can get going.
The charger is not fixed on the wheelchair to reduce the weight and complexity. Instead, it's removable so that if you do decide you need a charge at your destination or along the way, you have the option to bring the charger along.
When it comes to the controllability of the scooter, many testers said its joystick is well-calibrated and sensitive but not overly so. They also remarked that the other controls weren't complicated and that every button and light has a clear purpose.
To make the 600ES your own, you have the option to customize it by choosing from 12 different accessories, including:
You can purchase a variety of military patches for veterans. An accessory that we think you must have is the weather cover.
Pride Jazzy 600 Pros & Cons
If you're seriously considering purchasing the Jazzy 600 power chair for yourself or a loved one, here are a few things to keep in my mind as you're weighing out your decision.
PROS
CONS
Comparable Products
While this particular model of Jazzy is impressive, it's not to say that there isn't competition vying for your eye—and your checkbook. Here are its top 3 main competitors:
Golden Compass Sport
Recommended For: Those who value comfort. It's the closest comparison to the Jazzy you'll find in terms of load capacity, speed, and incline rating, but it costs over $5000.
This chair gives the Jazzy a run for its money when it comes to comfort. It's the closest comparison to the Jazzy you'll find in terms of load capacity, speed, and incline rating. But it costs over $5000.
Karman XO-505 Standing Wheelchair
Recommended For: Anyone who can afford a top-of-the-line standing wheelchair. Besides having the ability to stand, this power chair is slightly faster and heavier than the Jazzy 600 ES.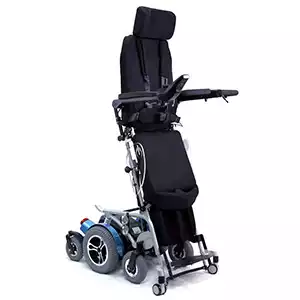 This is a wheelchair that offers much more mobility than the 600ES because it allows you to stand, which offers a lot of health benefits. It's slightly faster and heavier than the Jazzy but can't load as much weight and is over a whopping $6000 more expensive.
Known for being user-friendly, this chair is light but is able to carry up to 300 pounds, and has an incline rate of nearly 10 degrees. However, it has a poor range and the ride isn't as comfortable.
Jazzy 600 ES Review Conclusion
As mentioned early on here in our Pride Mobility Jazzy 600 ES review, the wheelchair is more expensive than many of its competitors. While this price point may seem high, it has extra features—like the AXT suspension, for instance—that warrants it. And if you're lucky enough to find a used 600 ES, expect to pay even less.
The 600ES succeeds in what it was built to be: durable, comfortable, and ergonomic. Customers who have purchased the product are extremely pleased with it and have only one complaint: the poorly designed footrest.
The 600 ES by Pride Mobility is undoubtedly a powerful and capable machine that defeats most of its competitors. It's a powerchair that is amazingly comfortable, built like a tank, and can travel large distances in one go. And let's not forget that its frame is smaller than most powerchairs, which is great for users who need to maneuver through small hallways or door frames.
If that's what you're looking for, give the 600ES some thought.
---
References and Resources: