In a Nutshell:
The Jazzy Passport is a fantastic, surprisingly affordable power chair that's perfect for traveling—loaded with extras and offered by one of the biggest names in the industry. It is recommended for anyone weighing up to 250 pounds who is frequently on the go. This is an indispensable tool!
* Brand Reliability is a measure of the strength and longevity of the brand, which by extension, is a measure of the level of support you can expect.
Are you too busy to let your mobility issue slow you down? Are you in the market for a good, versatile, travel-friendly power chair that can help you get from A to B once you get to wherever you're going? If you answered yes to either or both of those questions, then you're going to like what you read in this—our Jazzy Passport review.
We'll be the first to admit this model lacks the graceful lines that many of Pride Mobility's other models are known for. On the other hand, it's a delightfully full-featured power chair that's brimming with extras and loaded with potential.
It's not perfect, however, and in the sections that follow, we'll step through the Passport's pros and cons in an unvarnished manner, so you can decide for yourself if this is the model you've been searching for. If that sounds good to you, read on, and let's take a closer look.
An Overview Of The Jazzy Passport Pride
The first thing you'll notice about the Pride Jazzy Passport is that it's not nearly as pretty as many of the company's other models. This chair was meant to be a workhorse, so the company stripped it down to its barest essentials. Anything that wasn't absolutely necessary to make the Passport function got pitched over the side.
The result is a chair that's not ugly, but…well, let's just say that it won't win any beauty contest.
On the other hand, almost nobody who's in the market for a wheelchair—powered or otherwise—goes shopping with looks at the forefront of their minds. Sure, sure, if you can find a chair that does all the stuff you need it to and manages to look good at the same time, that's a bonus, but it's not the first thing people gravitate to.
All that to say that most people won't have an issue with the way the Passport looks. If you do, then full stop. No matter how much its feature set impresses you, this probably isn't the chair you want. If you're fine with its somewhat minimalist, function-over-form appearance, then you're going to love everything else.
The best way to begin a deeper analysis of the Pride Passport is to take a look at the model by the numbers, so let's do that right now. Here are the Jazzy Passport specs:
These are good numbers for the most part, and this is, in no small part, why we'll rate this as a very strong component of our Jazzy Passport review.
The big thing that jumps out at us here is the turning radius. At just a little over two feet, that's incredible. It's hard to envision ever getting into such a tight spot that you couldn't get the Jazzy Passport power chair turned around and headed off in some other direction. Even if you're visiting someone in a tiny home or an RV, you should have no real issues, and that's awesome.
The seat dimensions are a bit on the small side, particularly the seat depth. It's not an awful pairing with the chair's 250-pound weight limit, but the seat is definitely not something you want to spend half a day lounging in. So once you get where you're going, you'll almost certainly want to transfer out of the chair and sit in something that offers a bit more comfort.
And speaking of the weight, while we're a little underwhelmed, we get it. Most power chairs on the market today support in the neighborhood of 300 pounds, with many models supporting significantly more than that.
This one doesn't quite rise to the level. In fact, it misses the mark by a fair bit, but we get it. When you're building a travel chair, you cut whatever corners you can to save on the weight and, ultimately, the price. That's what happened here. The result is a more lightly built frame that just can't support tons of weight.
High-grade aluminum, which is what the frame is made out of, is strong, but there are limits, and this is a case where the Passport ran into them.
The overall and folded dimensions are good, and if you have one of these and you drive a full-sized sedan or larger vehicle, you won't have any trouble storing the chair until you get where you're going.
The one potential wrinkle here is the Jazzy Passport weight. It's a bit on the heavy side for a travel chair.
If you typically travel with a partner in crime who doesn't have a mobility issue, then the weight probably won't be an issue. But if your traveling companion has relatively little in the way of upper body strength, or if you're traveling alone, then storing this chair might be a bit of a challenge.
It pays to have an honest conversation about how much weight you can reliably lift before settling on this model.
Slope handling is about average, but the speed is a genuine disappointment. It's not hard to find a power chair that can run rings around the Passport, so only invest in this model if you're not in a big hurry to get where you're going.
In a similar vein, the range is a little underwhelming too, but there's a trick for that. If you go to the company's website, you can order a Jazzy Passport replacement battery, and it is well worth doing so. Given that this model has plenty of built-in storage, it's easy to carry a spare with you, and if you do, then you double the range to some sixteen miles, which is pretty solid.
At 3", the ground clearance is better than average and is sufficient that you'll have no trouble on flat, paved surfaces or flat bare ground, even if it's a bit uneven. As long as the grass has been cut somewhat recently, you should even be able to navigate across more or less level lawns, but more than that will likely prove to be a challenge.
Even so, if your travels take you mostly to urban areas, this is a great chair for just about every environment you're likely to encounter. All that to say, on balance, we like what we see here, and we think you'll be impressed with it as well.
The Jazzy Folding Power Chair Doesn't Fare As Well In Terms Of Adjustability And Comfort
Making a good, travel-friendly wheelchair is all about tradeoffs. You want to keep it as light as possible, but you can't afford to pitch any critical features over the side, and given that, comfort and adjustability tend to be very much on the chopping block when it comes time to cut something.
That's pretty much what happened here.
While many not-so-friendly power chairs and scooters offer seats that are crazy adjustable, this model is strictly what you see is what you get. The seat is 19" off the ground and 15.74" from the footplate, and that's what you get.
There is no way to adjust the height, so you'll want to take a quick measurement to be sure that's a good fit for you because if it isn't, you're not going to like using this model.
Similarly, the seat doesn't boast a ton of padding. Yes, it has padding, and yes, there's enough of it that if you're sitting in the chair for an hour or two, you're going to be reasonably comfortable. Much beyond that, though, and it's going to start getting increasingly uncomfortable.
The good news is that there's an easy fix for that. If you invest in a modestly priced memory foam seat pad, you can dramatically improve the overall level of comfort for not much money, but you probably won't need to.
This chair was designed to get you where you want to go, and then the thinking is, you'll transfer out of it to a comfy chair.
If that's how you plan on using it, the default padding should be just fine, but if you want to spend extended periods of time in the chair, you're almost certainly going to want to invest in some additional padding.
Extras And Options
We don't feel that other Pride Jazzy Passport reviews we've seen online give the chair enough credit where this component is concerned, but in our view, this is one of the strongest elements of the design.
Travel chairs usually cut lots of corners here, but the Passport is positively bristling with extras, and we love that.
Among other things you'll find: a roomy storage pocket behind the seat, another storage compartment under the seat, and a 40" lap belt to help keep you secure while you're motoring around in the chair. And although the arms aren't adjustable, they do swing up so you can get them out of the way when you're transferring into or out of the chair.
That's quite a lot, and they're all high-value extras.
Sure, you may decide you want to customize further, and if you do, the aftermarket has all sorts of great extras you can add, like a cane holder, a rearview mirror, or even a horn if you want some means of telling people to get the heck out of your way.
All of that is great, but honestly, we're impressed by the extras the company built into the design. That's good stuff!
We Rate The Jazzy Passport Chair Highly For Portability and Ease of Use
We'll rank this as another fairly strong component of our Jazzy Passport review even though, as we mentioned earlier, this isn't an ultralight chair. As long as you're traveling with someone who has a reasonable amount of upper body strength, pulling the Passport into and out of storage is not a huge deal.
In addition to that, the Jazzy Passport battery is airline-friendly, so you should be able to travel with your power chair without difficulty. Bear in mind, however, that every airline sets its own policies about what is and is not allowed.
So before you spend money on a ticket, you'll want to call ahead and let them know exactly what you've got, so there are no surprises when you actually get to the ticket counter!
If you're traveling by car, the Jazzy Passport scooter folds down easily once you've pulled the battery, so you won't have any issues there either.
Pros & Cons
We'd like to be able to tell you that the Passport has no real weaknesses, but that would be overselling it.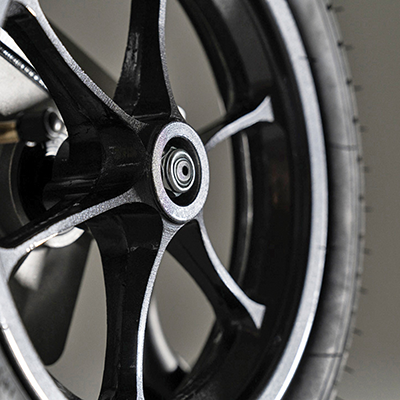 We do like almost everything about the chair, but there are some limitations that it pays to be mindful of.
In no particular order these are:
Finally, bear in mind that the Passport doesn't support a lot of user weight. If you weigh more than 250 pounds, then no matter how much you like the chair, it's just not going to work for you.
As long as you're mindful of those points and you don't consider them to be dealbreakers, you'll like this model very much.
Jazzy Passport Review Conclusion
We regard the Passport as being a mostly self-selecting chair. You're either going to find it to be a good match for your size and weight and what you want a travel chair for, or you won't.
Assuming it's a good fit, it will almost certainly be on your shortlist of options to consider, but a significant number of people are going to run into one of its limitations, and that's going to be a dealbreaker for them. On that basis, we provisionally recommend it.
Comparable Products To Consider
If, for one reason or another, this model isn't right for you, here are a couple of other options you can consider:
A bit more expensive and bright yellow and black, the Navigator XL looks a little bit like a Tonka truck.
If you're okay with that and you're looking for something that supports more weight than the Passport, this is probably the model you want. It's capable of supporting up to 400 pounds and has a range of 18 miles, and it's faster to boot! It's a really good chair and worth every penny.
If you don't mind buying from an off-brand, there's a lot to like about this chair. It's tremendously capable and full-featured and beats the Passport in a number of key categories. The catch, of course, is that if something goes wrong with your Passport, you know Pride has your back. Here, that's a bit less certain.
If you're willing to take a chance though, this could be a great option.
---
References & Resources