In a Nutshell:
The Karman XO-202 Electric Standing Wheelchair is a top of the line, cutting edge electric wheelchair that can do it all, offered by a legend in the industry. Recommended for anyone who needs a full-featured electric wheelchair that also offers stand-up capabilities…provided that you can afford it.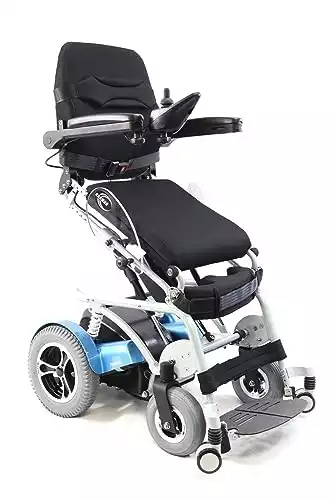 Do you suffer from mobility issue serious enough that you need assistance standing up? Have you been looking for a robust, full-featured electric wheelchair that can do everything, including providing you with automatedaid to get your feet under you?
If you answered yes to either of those questions, then you're going to love our detailed review of the Karman XO-202 wheelchair. This is an utterly fantastic mobility device that can do it all. It's cutting-edge technology that took top honors in our recent roundup review of the best wheelchairs for seniors.
As incredible as it is though, it does have its limitations and has one major flaw (it's costly) that may be a deal breaker for some potential buyers.
In the sections that follow, we'll go over everything this fantastic model has to offer and give you the inside scoop on all its major strengths and weaknesses (and it has a few), so you'll have all the information you need to make an informed purchasing decision. If that sounds good to you, let's get started and see what this impressive machine can do!
An Overview of the Karman XO-202 Electric, Standing Wheelchair
The first thing you'll notice about the XO-202 is the fact that it looks like something straight out of a "Transformers" movie. It kind of acts that way too, given its ability to help you stand up.
It would be overselling it to say that it's a thing of beauty, but it is sleek and futuristic-looking, which is an aesthetic that will no doubt appeal to many. We like the look of it and would rate it as one of the more attractive chairs on the market today.
Even better, it's ruggedly built and durable, and offered by one of the most respected names in the industry, which means you know you're getting a top-quality product, and if a problem arises, you can rely on the company's world-class post-sales support.
Here are the chair's basic statistics:
This last item is of particular interest to us. Since the chair was designed to be used by those with severe mobility issues, the presence of three different safety options means the person sitting in the chair or getting a standing assist has maximum protection.
Adjustability & Comfort
Regarding adjustability, you'll find a lot to like here. A great many chairs on the market today offer one or two adjustment options, typically where the height of the armrests and the length of the footrests are concerned.
That's not at all the case where the Karman XO-202 wheelchair is concerned. Pretty much everything is adjustable. As mentioned above, you can order the chair with one of three different seat depths and two different seat width options.
It doesn't stop there though; you can also adjust:
Basically, there are enough fine-tuning options on offer here that you can customize the chair to be a perfect fit for you.
Comfort-wise, you'll also find a lot to like. The Karman XO-202 Standing Wheelchair offers surprisingly comfortable memory foam padding in both the seat and the seat back. Few wheelchairs aregenuinelycomfy for long-duration sitting, but this is one of them. It's not a great chair for napping, and it's still not as comfortable as an overstuffed recliner, but you'll have no problems sitting in it for most of the day if you need to.
A Few Words About Portability…
While most wheelchairs (electric or manual) either break down into smaller components or collapse for ease of transport, the Karman XO-202 Electric Standing Wheelchair does neither.
Its dimensions are what they are, and when you combine that with the fact that it weighs in excess of a hundred pounds, you get a chair that's more than a little bit of a challenge to move from Point A to Point B. Not that it's impossible, but you need the right vehicle to get the job done.
Your best bet will be a van with an access ramp so that the person using the chair can just drive it into the van, then park it and lock the brakes. Barring that, a ramp and a pickup truck would work, but in most cases, you're just not going to be able to fit this beast into other vehicles, although a lift may be a workable alternative.
In any case, if you find yourself in the position of having to manhandle the chair for transport, you're going to need an assistant with a strong back.
On-Board Storage & Extras
Although the base model chair doesn't come with any built-in extras, at the point of sale, you can order a stunning range of extras, including: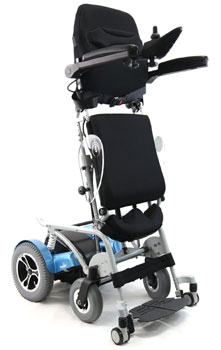 Although we love it when wheelchair designers find a way to put on-board storage under the seat where it can be easily accessed by the person sitting in the chair, in this case, owing to the design and function of the Karman XO-202 Stand-Up Power Wheelchair, there's just no way that's possible.
While we love the vast array of extras on offer here, given the staggering cost of the model, we do find ourselves wishing that at least a few of these would have been incorporated into the base model.
Splendid Indoors, Above Average Outdoors
Sporting wide 14" rear wheels and serviceable 8" front casters (both "flat-free" with plenty of tread), you'll find the XO-202 quite capable of handling a variety of challenging outdoor terrains, and there's not an indoor surface we can imagine that the model couldn't conquer with ease.
Combine that with its 5 MPH top speed and its 25-mile range, and you get a chair that may not be able to go quite anywhere, but it can certainly go just about anywhere you're likely to want to take it and get you back again safely and comfortably.
Indoors, it's tight 25" turning radius means that once you master the controller, you'll be able to navigate in, out and around tight spaces with ease.
Okay, So There's a Learning Curve Here…
While there's not much to do assembly-wise, make no mistake: This chair definitely has something of a learning curve.
Simply figuring out how to strap yourself in with the XO-202's three different safety features will take up a few inches of your time, and that's just the tip of the proverbial iceberg.
You'll want to spend some time practicing with the joystick so you can learn how the chair handles. Then you'll want to experiment with the built-in remote so you can get used to how the adjustments and configurations work, to say nothing of learning how to fine-tune the chair for optimal comfort.
Those things are well worth spending time learning, however, because once you master this chair, you'll find that it can go almost anywhere and do almost anything. It's almost like an automated assistant, helping both you and your human assistant if you have one.
---
Pros & Cons of the Karman XO-202 Wheelchair
There's so much to like about the Karman XO-202 standing wheelchair that we almost don't know where to begin. Rather than repeating all the glowing praise we've given the chair to this point, we'll just hit the high spots.
In no particular order then, some of the great things about this model are:
All of those are undeniably good things, but as we said at the beginning, it comes with one huge catch. You'll pay about as much for the XO-202 as you will for a quality used car.
As great as it is, and as attractive as it may be to a broad swath of the market, its staggering price tag may leave you with sticker shock, and will invariably put it out of reach of a substantial segment of the market. That's a real shame because, in a significant percentage of cases, the people who need it the most and who could get the most benefit from it just won't be able to afford it.
Unfortunately, there's not much to be done about that. We don't feel that the company is overcharging for the model, it's just that you can't realistically create such a grand design without increasing the price, and there are so many things the XO-202 can do that it's no wonder it carries a hefty price tag.
---
Final Thoughts on Karman XO-202 Wheelchair
We love the Karman XO-202 wheelchair. It handily won top honors in our roundup review of the best wheelchairs for the elderly and we stand by that decision.
That said, this chair isn't for everyone. We recommend it without reservation for those with severe, long-term mobility issues as it is these people who will be able to make full use of every feature the model has to offer.
For everyone else, it's probably more wheelchair than you'll ever need, and you can certainly find one with fewer bells and whistles for a fraction of the price.
---
References & Resources