In a Nutshell:
The LaZBoy Trafford is a well-designed big and tall office chair with basic ergonomic features.
Recommended for taller users weighing up to 400 pounds with moderate to heavy daily usage needs (5-8 hours a day).
* Brand Reliability is a measure of the strength and longevity of the brand, which by extension, is a measure of the level of support you can expect.
** While aesthetics is a matter of taste, Aesthetic Flexibility is a measure of how easily a given design would fit into a wide range of home or office décor schemes.
Is your current office chair about ready for retirement? Or maybe you don't have an office chair but are looking to buy one, so you can set up a functional home office or maybe a place to enjoy some gaming on the weekend?
Whatever has sparked your quest for a new office chair, if you're a bigger, taller individual, then you're going to like what you read in this—our LaZBoy Trafford review.
If you live in the United States, you've almost certainly had at least some exposure to the La-Z-Boy brand, and in fact, you may have other pieces of La-Z-Boy furniture in your home right now.
They're an iconic home furnishing brand, but many people don't realize that in addition to selling a wide range of living room furniture, they also sell a modest selection of office chairs and the like.
The Trafford is an excellent example of the company's work on this front. While the chair does have some limitations to be mindful of, it's a well-designed piece of furniture and definitely belongs on your shortlist of options to consider.
In the following sections, we'll tell you everything the Trafford has to offer, and we won't be bashful when describing the chair's weaknesses and limitations. That way, you'll have all the details you need right at your fingertips to decide whether or not this is the chair you've been looking for. If that sounds good to you, read on, and let's take a closer look.
La-Z-Boy Trafford Big and Tall Executive Office Chair Overview
Sometimes, aesthetics matter. Granted, if you're buying an office chair, function probably matters more than form, but the form isn't entirely unimportant.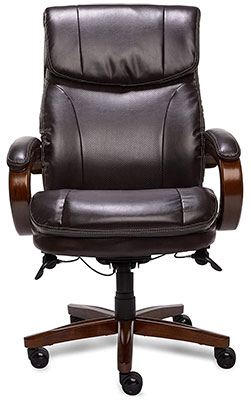 We love the look of this chair, and based on its appearance alone, we'd rate this as a very strong component of our LaZBoy Trafford review. With wooden accents on the armrests and a faux wood base combined with its bonded leather upholstery, the chair boasts an elegant, Old World appearance that adds a touch of elegance to just about any room you place it in.
Of course, having said that, there are times when its appearance could work against it, too.
If the room you're buying a chair for is decorated in a modern or casual style, then this chair isn't going to be a good fit and will probably underwhelm you. If your first impression based on the pictures is positive, you'll probably love the rest!
Assuming you're fine with the aesthetic, if you decide you want one of these, you can order yours in either black or brown bonded leather.
Normally, this would be where we'd say, "Blah blah, yes, bonded leather is better than PU, but it's not breathable, which means that it's not good for long periods of use." But in this case, the company has fixed that problem. We'll outline exactly how a little later in this review.
For now, it's enough to say that the upholstery looks great and is a lot more comfortable than you might expect.
Before we move on to particulars, we should probably press pause here and take a quick look at the raw numbers that define the model, so here's a quick overview:
For the most part, these are fantastic numbers, but there are a couple of things to be mindful of.
First, we like the seat depth, although it's not difficult (at all) to find a model with a deeper seat.
One of the things you'll need to do is measure carefully or, if there's a furniture showroom near you, go in and have a seat in the chair, trying it out before you commit to a purchase.
These are fairly pricey office chairs, and you probably won't want to spend the money unless you're sure the chair is a good fit!
Also, check out the seat height adjustment range. This chair sits quite high off the ground, even on its lowest setting. If you don't have long legs, you're probably not going to fit comfortably in the chair.
The seat width is a good pairing with the maximum supported weight limit, and this is a sturdy, substantial piece of office furniture. When you touch it or sit down in it, it definitely gives you a feeling of solidity but without going so far overboard that it's a problem to move it around as needed, and that's a very good thing!
Finally, be aware that this model only has a one-year warranty. As is the case with much of La-Z-Boy's furniture, their products are now manufactured in China, and the production quality has suffered a bit for it.
These are still good, well-designed chairs, but they aren't as long-lasting as the office furniture offered by, say, Steelcase or Herman Miller, so definitely keep that in mind.
The La-Z-Boy Trafford Office Chair Is Delightfully Comfortable and Moderately Adjustable
We regard this as a good but not stellar component of our LaZBoy Trafford review. While the chair definitely wins high marks for the level of comfort it offers, it comes up a bit short where adjustability is concerned compared to comparably priced chairs.
Comfort-wise, the Trafford is a wonder. For starters, the chair is generously padded, with extra padding for the headrest. The armrests aren't as thickly padded as the rest of the chair, but they don't really need to be and offer a quite comfortable place to rest your arms.
If you look closely at the bonded leather on the seatback, you'll note that it's stippled much as you find in the upholstery in high-end sports cars. This adds breathability and neatly sidesteps the main problem with leather and PU upholstery.
It literally offers you the best of both worlds. You get the gorgeous aesthetic of leather, with a level of breathability that comes closer to what fabric has to offer. If you love leather upholstery, you'll be impressed by this solution, and it makes the Trafford useful for even longer periods of continuous seating.
Finally, the seat is a waterfall-edge design, which is a good ergonomic design in its own right. And it improves the blood flow of your legs where they bend at the knee, which again enables you to sit comfortably for extended periods.
Unfortunately, although the controls are all easy to access, there aren't a lot of them. It's not difficult at all to find a comparably priced chair that offers far more in the way of adjustable features. Here, you can adjust the height, the tilt angle, and the tilt tension. That's it.
If you want to be able to adjust the position of the lumbar support, the level of support it gives you, or the armrests, this isn't the chair you're looking for.
That said, assuming the lumbar support hits your back in the right spot, it is excellent, built around the company's proprietary "flexible AIR" system. As good as it is, though, it'd be even better if it were adjustable somehow. We regard that as a genuine disappointment here.
The La-Z-Boy Trafford Big and Tall Does Not Come Assembled
As is the case with most of the office furniture sold today, if you decide to get one of these, it will arrive at your door in a big box and in several pieces, so you'll have a bit of work to do before you can actually sit down in your new chair for the first time.
Although the production quality isn't the best in class, it is quite good, and the instructions are clear and easy to follow. Expect to spend no more than twenty minutes or so getting the chair ready for first use, and you can likely shave a bit off of that if you've got a second pair of hands to assist you on the day the chair arrives.
Pros and Cons of The Trafford Executive Chair
There really aren't any outright negative points to the Trafford office chair, but it is one of those designs where it pays to have a keen understanding of your needs before committing to a purchase.
For example, if you know you want or need a chair with lots of adjustable features, this one is a nonstarter by design. If you know you're buying a chair for a space decorated very casually, then aesthetically, the Trafford is going to be a poor fit.
As long as you keep those kinds of things in mind, you'll be able to make a good decision regarding this chair and whether or not it will be a good fit for you.
LaZBoy Trafford Review Conclusion
We like this chair a lot but don't quite love it. It's a very good design for taller users weighing up to 400 pounds who place emphasis on comfort and don't care about having a bazillion different features to tweak and adjust. If that describes you, you're going to love this chair. If it doesn't, there's almost certainly a better option out there for you.
On that basis, we provisionally recommend this model.
Other Options to Consider
If you've read to the end and you're pretty sure this isn't the model you're looking for, here are a couple of other options to consider:
If you're looking for uber adjustability in the same general price range, it's hard to beat the T50. Don't be alarmed if you've never heard of SIDIZ. Far from being an off-brand, this company is a giant in the industry.
Based in South Korea, they do a tremendous amount of business selling to other companies, but they do have a web portal where individual consumers can buy, and these chairs are awesome.
We don't regard them as being as attractive as the chair we just talked about, but if you care more about being able to "fine-tune" your seating experience, you'll find a lot to like here!
We can't talk about big and tall chairs without mentioning the Herc. This chair is amazing. Offered by a smaller company with a reputation for designing great furniture, the Herc is a beast.
Capable of supporting up to 400 pounds (with another variant going even higher than that) and offered in either PU or fabric upholstery, the solid steel frame of the Hercules can take anything you can throw at it.
It's a rugged, well-padded chair that offers the same number of adjustable features, and you can pick it up for less money than the chair we just reviewed, which is fantastic.
---
References & Resources: