In a Nutshell:
The Lorell Baily Series High-Back Multi-Task Chair is one of the best task chairs on the market today. While it's not quite on par with an executive chair, it is extremely feature-rich and well worth considering. Recommended for users weighing up to 250 pounds.
* Brand Reliability is a measure of the strength and longevity of the brand, which by extension, is a measure of the level of support you can expect.
** While aesthetics is a matter of taste, Aesthetic Flexibility is a measure of how easily a given design would fit into a wide range of home or office décor schemes.
Is your current home office chair getting a little long in the tooth? Or maybe you don't have a chair yet, but you're in the market for one and can't quite put the funds together to buy a top-of-the-line executive chair.
Whatever the case, if you find yourself needing a new office chair, and you're looking for something that's packed with features, reasonably comfortable, and offered at an attractive price, then you're going to like our Lorell Baily series task chair review.
Unlike many task chairs you'll find on the market today, this one comes with armrests. Even better, they're pretty amazing armrests, but we'll have more to say about them in just a bit.
For now, it's enough to say that even if you're not specifically looking for a task chair, this one belongs on your shortlist of options to consider. Even if you ultimately decide it's not the right chair for you, we think you'll agree that it has a lot to offer. Let's take a closer look at the particulars.
An Overview of the Lorell Baily Task Chair
Unassuming. That's the first word that pops into many people's minds when they see the Lorell Baily series high back multi-task chair.
It's a fair assessment. The Baily task chair isn't ugly by any means. It's simply a conventionally designed chair that doesn't have any feature that makes it stand out visually. It tends to blend into the background in whatever room it's in.
That's fine for most people, but if you're looking for a chair that makes a bold statement to serve as the centerpiece of your office, this isn't the one you want.
On the other hand, if you're on the hunt for a chair that you'll enjoy sitting in, even if you spend several hours a day working or playing from it, you'll find a lot to like here.
Before we start talking about particulars, we should say something about the Lorell brand. While they haven't been around for terribly long, the company behind the brand is an old, well-established presence in the office furniture business.
Lorell is a division of the S. P. Richards company, which has been in business since 1848. Based in Atlanta, GA, the company carries more than 30,000 business products offered by a whole host of manufacturers. Lorell is a brand the company crafted so they could sell their products alongside those they sell for others.
All that to say that the company behind the Baily series task chair knows a lot about office furniture.
Even better, S. P. Richards retains a professional interior design staff. If you want to give your home office a professional makeover or if you are a small business owner interested in giving your office space a unified, aesthetically appealing theme, they can help!
Now that introductions have been made, let's take a deeper look. To do that, we'll start with a broad overview and then drill down into the particulars. Here are the basic stats that drive and define the model:
These are very good numbers, and there are a couple of things to talk about here. First, the numbers above underscore the one significant weakness in the design. The supported weight limit is somewhat disappointing at just 250 pounds.
Most of the office chairs on the market today support at least 300 pounds of user weight, with a number of models supporting even more than that. If you're a heavier user, this chair is simply a nonstarter on account of the limitation imposed by the weight limit.
The next number to draw your attention to, though, is the seat height adjustment range. Big and tall chairs tend to start with an 18" seat height and go up from there. The Lorell 81100 Baily chair has a seat height adjustment range that puts it squarely in the big and tall territory, making it a good fit for tall, long-legged but somewhat lightly built users.
The final point to draw your attention to where the numbers above are concerned is the warranty.
Five years is impressive. Sure, you can find a few models that offer an even better warranty, but they tend to cost significantly more money. For a chair in this price range, a five-year warranty is, frankly, amazing.
Even better, if you decide you want one of these, you can order yours in one of three colors:
In addition to that, if you order directly from the Lorell website, you can request a catalog of upholstery colors and choose from a much wider selection. It will cost you a bit more if you deviate from the three offerings listed above, but if your budget will support it, it's an option well worth considering.
While the numbers we talked about a moment ago tell us a bit about the chair, they don't (and can't) tell the whole story. For that, we'll have to take a deeper look at this model's capabilities, and that's what the rest of this review will be all about.
Adjustability and Comfort
This is a very strong element of our Lorell Baily series task chair review. We'll start with comfort because there's relatively little to say on the topic. The padding on this chair is conventional block foam. There's a fair amount of it, which means that the Lorell is fairly comfortable, but the foam is incredibly firm, so you'll likely need a few days to break it in.
Some users have complained that the padding is perhaps a shade too firm. If you fall into that category, you may want to consider an inexpensive seat pad, at least until you break the padding in.
There's a good deal more to say about the number of adjustable features where this model is concerned.
Beneath the seat, you'll find three levers. One controls the seat height. Another one controls the tilt angle of the seat (horizontal or forward by a maximum of about 20 degrees). The third one controls the angle of the backrest, which can recline back by about 30 degrees.
The Lorell Baily Task Chair also offers adjustable lumbar support with 2" of play in the controls and firm armrests that are both height and width adjustable, giving you all sorts of ways to tweak the chair and optimize it to give you a perfect seating experience.
While the armrests aren't luxuriously comfortable, they're more than adequate if you only use the chair 4 hours a day or so. If you're a power user, though, you may find them to be a bit on the firm side, and if so, you'll probably want to invest in some additional padding for the arms.
Note that at your option, the armrests can be left off entirely, making the chair more like a traditional task chair.
Before we leave this section, we should say a few words about the rolling casters that come standard on this chair. They're hard plastic, which is fine for carpets. If you use it on a hardwood floor, you'll want to invest in a mat to protect your flooring surface or swap the casters out for something that's a bit gentler on hardwoods.
Extras
This will be a relatively short section because Lorell doesn't offer any extras that were designed specifically for this chair, but seat pads, casters, replacement hydraulic lift mechanisms, and the like can be ordered from a great many aftermarket sources.
The good news is that since this chair is offered at a surprisingly attractive price, you'll probably have enough money left over to invest in anything else you may want or need.
Does Not Come Assembled
If you decide you want one of these, it will arrive at your door in a box and several pieces.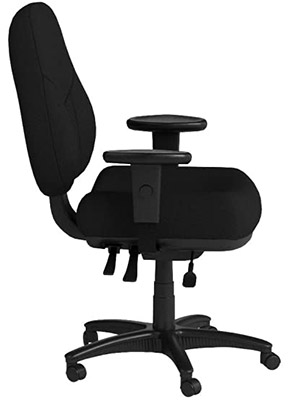 The good news is that the production quality is quite high, and you don't need any tools to put the chair together.
Given that, you can expect the assembly process to take no more than twenty minutes, and you shouldn't encounter any particular difficulties.
Pros and Cons of Baily Task Chair
In no particular order, here are the things we think you'll like best about this model:
It is not a perfect chair, however. There are a couple of weak points in the design. Most notably:
Lorell Baily Series Task Chair Review Conclusion
If you've read our Lorell Baily series task chair review to this point, we think you'll agree. This is a rock-solid office chair that goes far above and beyond what you'd expect from a task chair, given that most task chairs aren't very feature-rich.
Yes, it's entirely possible to find a cheaper option. You may also need to make a few modifications depending on how you use it, including the prospect of swapping out the casters or buying a floor mat and possibly some additional cushioning.
That said, given the chair's relatively modest price tag, most users will have the funds left over for those kinds of enhancements and augmentations.
Overall then, we really like this model and recommend it. If you decide to invest in one, you won't be disappointed.
Other Options to Consider
If the Lorell doesn't meet your needs, whatever the reason, here are a couple of other options you may want to consider:
This is a fantastic budget option. So if money's tight, it should serve you very well indeed. Hbada isn't well known in the US but is very popular in Europe. Thanks to the magic of online shopping, you can have one at your door in no time at all.
This somewhat minimalist design is common for this brand, but it doesn't skimp on the things that matter. It's a tremendous value but be warned; it does have one significant shortcoming—it only supports 250 pounds of user weight.
This one's a bit more expensive, but Steelcase is a legend in the office furniture industry, and the Series 2 is worth every penny. The chair is a masterpiece. It is a somewhat scaled-down version of the company's Leap and Amia models, which are wildly popular and loved by the world over but which may be beyond many people's budget.
---
REFERENCES & RESOURCES