In a Nutshell:
A well-designed little office chair, optimized for shorter users! NBF Petite Ergonomic Chair is recommended For: Shorter users who weigh 250 pounds or less, looking for a good chair for light to moderate daily use.
* Brand Reliability is a measure of the strength and longevity of the brand, which by extension, is a measure of the level of support you can expect.
** While aesthetics is a matter of taste, Aesthetic Flexibility is a measure of how easily a given design would fit into a wide range of home or office décor schemes.
Are you a shorter person?
Has that fact made it notoriously difficult for you to find a decent office chair that actually fits you?
If so, you're not alone. It can be frustrating to find office chairs that are specifically designed with shorter people in mind.
The good news is, they do exist, and the NBF Petite Ergonomic Chair is a good choice for the right kind of user.
While this chair isn't a great choice if you're looking for something designed to stand up to the rigors of heavy daily use, if you're looking for something comfortable that's optimized for light to moderate daily use, you'll find a lot to like about this model.
In the sections that follow, we'll go over every aspect of this chair's design so you can decide for yourself if this is the model you've been looking for. If that sounds good to you, let's jump right in and see what the NBF Petite has to offer!
An Overview of the NBF Petite Ergonomic Chair
The NBF Petite Ergonomic Chair is a surprisingly big chair for one that's optimized for smaller folks. It certainly looks comfy and inviting, though!
Those are the first things likely to enter your mind when you see the chair for the first time, and it really is kind of a big piece of furniture, but as you'll see, it lives up to its reputation as being well-suited for shorter people.
Chair Specifications
Here are the basic stats that define the model:
With a smaller than average seat depth and a low seat height setting that is under 17," this chair is a great fit for users even as short as about 5' tall.
Normally, we'd complain about the modest weight limit of the chair, but given that most shorter users weigh in at under 250 pounds, this chair is a good fit for the vast majority of that corner of the market.
Note though, that the base of this chair is ruggedized plastic, so if you do weigh a little more, you'll definitely want to give this model a pass. No worries though, there are other office chairs out there that are optimized for shorter people and support more weight!
Aesthetics & Design
It boasts a stylish, modern design too, and we detect just a hint of a racing-style seat in the inspiration for this chair. Granted, it's definitely not a racing-style seat, but you can see some faint echoes of that aesthetic in this chair, which we like very much. It might not be for everyone, but we give the chair high marks for its looks and feel that it will blend fairly easily into most home or office décor schemes.
Color Options
Even better, the company offers the NBF Petite in both black and tan variants, which gives you more options where ensuring the chair is a good fit for your home is concerned.
Features of the NBF Petite Ergonomic Chair
Memory Foam
The NBF Petite Office Chair is a cut above standard where comfort is concerned. Instead of sporting the unofficial industry standard block foam padding, this model utilizes memory foam, which makes it a pure delight to sit in it.
While we were thrilled to see the inclusion of memory foam, it is a bit of a curiosity. Memory foam is typically used on chairs that are designed for power users – people who sit in their office chairs for 8 to 10 hours a day, or longer.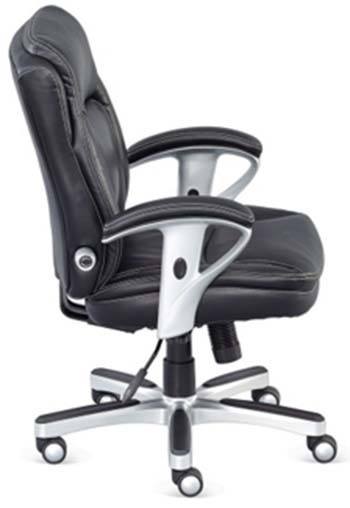 PU Leather
You definitely don't want to do that in this chair. Being clad in PU, it's not at all breathable, which is the main reason we conclude that this chair is optimized for light to moderate daily use.
If you spend all day in this model, you'll be a hot, sweaty mess by the end, to say nothing of the fact that the upholstery simply wasn't designed to withstand the rigors of heavy daily use in the first place.
In any case, however long you plan on spending in the chair, one thing is for certain: Although you may get hot and sweaty thanks to the upholstery, you'll certainly have a pleasant cushion to sit on!
Even better, the NBF Petite offers a variety of well-implemented ergonomic features that help further improve the comfort of the chair; three and a half, in all.
Lumbar Support
The first of these is the NBF Petite's lumbar support system which offers adjustable tension, allowing you to precisely set the amount of support you get. Not only is this feature expertly implemented, making it one of the highlights of the chair, but it's also quite a rarity for chairs offered at this price range.
Head & Neck Support + Sculpted Armrests
The chair also offers outstanding head and neck support, and the ergonomically sculpted armrests are both height and width adjustable, giving you another way you can tweak and personalize your seating experience.
Sculpted Seat
Although the seat isn't a waterfall-edge style design, it is sculpted and as such, provides some ergonomic benefit and definitely enhances the overall level of comfort of the person sitting in the chair. This, we rate as a "half feature" in the count above.
Adjustability
In addition to the pleasant surprise of highly adjustable armrests and a tension adjustment for the lumbar support, this chair has all the usual features you'd expect in a good-quality office chair: 360-swivel, a tilt-and-lock feature and of course, the height adjustment lever.
All told, this one comes close to being best in class in terms of its overall adjustability.
Assembly is Required
As with the vast bulk of office furniture being sold today, the Petite Ergonomic Chair by NBF Signature Series does not come assembled. The instructions are clear though, and the production quality is high enough that you won't have much trouble getting the various pieces to fit together like they should. Although if you are a shorter person, you may struggle to get the seatback attached to the seat without an extra pair of hands.
Overall, you can expect the assembly process to take about 30 minutes, and you can knock another ten off of that if you have an assistant standing by on the day the chair arrives at your doorstep.
If you'd prefer to take a totally hands-free approach, you can do that too, as this chair is offered with expert assembly for an additional fee. We're on the fence about this one. The fee is fairly hefty and amounts to about 25% of the total price of the chair. That's verging on being too rich for our blood, but if someone is really dead set against the idea of putting the chair together themselves, it could easily be seen as being worth the premium.
---
Pros and Cons of the NBF Petite Ergonomic Chair
Here are the things we think you'll like best about this chair:
And here are the things we view as the major weak points of the design:
Overall, we feel that the strong points offered by this chair far outweigh its weaknesses, and we're pretty sure that most people will agree with that assessment.
---
Final Thoughts on NBF Petite Ergonomic Chair Review
The NBF Petite Ergonomic Chair is a very good chair that verges on greatness. It's a comfortable, great looking piece of office furniture and more than that, it has some superbly implemented, highly adjustable ergonomic features, which is a pleasant surprise, given the relatively modest price of this chair.
Granted, it's not a budget chair, but we were still impressed at the sheer amount of adjustability on offer and the quality of the implementation of the various ergonomic features.
We absolutely recommend this chair for shorter users weighing 250 pounds or less. It's a great chair for light to moderate daily use.
---
References & Resources