In a Nutshell:
The Office Star High-Back ProGrid Chair is a high-back solution that would fit well into any modern office. The mesh design combines with several desirable features to create a chair that is fit for any manager's needs.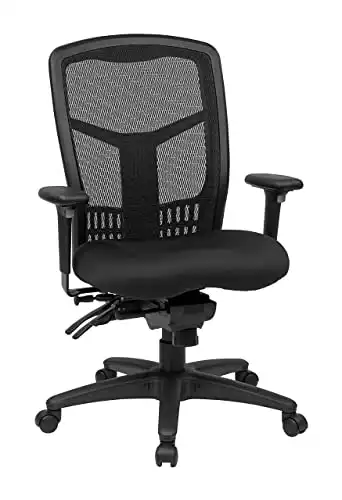 ​As technology moves forward, new designs become possible. The traditional office chair concept is being challenged every day. This Office Star High-Back Managers chair review looks at a modern mesh design to see if this is the way of the future.
Our review will take a look at the Office Star brand, the features of this chair, and the pros and cons associated with this unique and modern design.
Office Star High-Back ProGrid Chair Overview
​Office Star Products specializes in high-value furniture for competitive prices. They focus on keeping their wide selection of products in stock at all times to meet the needs of every consumer.
Their goal is to provide a smooth and simple shopping experience so customers can find what they are looking for quickly. The corporate headquarters and main warehouses are located in Ontario and Fontana, California.
There are additional locations in New Jersey, Georgia, and Toronto, Canada as well that allows Office Star to ship quickly to anywhere in North America. The company has over 30 years of experience across the 175+ employees that work for them.
There are also numerous brands under the Office Star name that sell similar furniture options. It's a very well-known and established brand overall.
This high-back office chair option falls into Office Star's ProGrid line of chairs.
It utilizes a mesh back for extra breathability, providing a cooler sitting experience when compared to thicker leather chairs, which can be stuffy. This chair includes several adjustable ergonomic features as well.
Let's take a look at this chair's features in-depth.
Office Star Managers Chair Features
When we're reviewing an ergonomic office chair like this one, features and customization are paramount. The chair needs to have options that represent modern ergonomic standards, while also embracing adjustments for a range of users.
Here are the features you can expect:
Breathable Mesh Back
The ProGrid back of the chair is a high-density mesh that provides support while still allowing airflow. For many users, sitting in a thick leather chair can be stuffy during the summer months. A mesh chair like this one offers better ventilation.
Built-in Lumbar Support
The mesh back is lined with a built-in lumbar support that gives you a structure for your lower back, reducing aches and pains when sitting for extended periods of time.
One Touch Seat Height Adjustment
A simple pneumatic seat adjustment mechanism allows you to raise or lower the chair quickly. The One Touch system utilizes a button that is within reach of the user for quick and simple height adjustments.
Fixed Back Height
A fixed back height allows you to choose from two different options: a mid-back or a high-back model of the chair. The higher back does offer additional support for taller users.
Adjustable Padded Armrests
The armrests are coated in PU padded leather. They can be adjusted for both height and width, which is an excellent feature in chairs of this kind.
Greenguard Certified
Every chair is manufactured with Greenguard certification. This means that the chair's materials and manufacturing process both fall within acceptable ranges to meet this certification. You can purchase this chair knowing that it is eco-friendly.
Ergonomic Adjustments
The Office Star High-Back Managers chair has several ergonomic features that are customizable to meet the needs of various users. Multi-function control includes a seat slider, forward pitch, 360-degree swivel, and adjustable tilt tension and locking.
Office Star High-Back Managers Chair Specifications
Product Dimensions: 29″ x 26″ x 42″
Product Weight: 51 pounds
Materials: Plastic, high-density mesh
Weight Capacity: 250 pounds
Color and Model Variations
This version of Office Star's chair comes exclusively in black. There are two models of this chair, one with a high-back and one with a mid-back design. The chairs are otherwise identical.
Office Star Managers High-Back Chair Pros and Cons
Mesh office chairs are trending right now and for a good reason. They have a lot of benefits that appeal to modern office workers. Here is a look at the pros and cons of this particular model:
Looking for an office chair under $200? This chair is among the better options you will find. Customers love the dense and firm seat cushion, paired with the easily breathable mesh back. The castors have a wide range of movement on many surfaces as well.
The chair does lack somewhat in the lumbar support. While it is present, it is not adjustable, nor is it a robust version of this feature. As a result, customers who need a lot of lower back support may find this lacking.
The tilt tension adjustment doesn't allow for a very tight option. When turned all the way up, customers still report that the chair feels loose and moves without much effort. Finally, the armrests are a little thin on the padding.
The Final Verdict: Office Star High-Back Managers Chair Review
Mesh office chairs like the one here in our Office Star High-Back Managers chair review are gaining traction in modern office settings. Their sleek design and breathable material make them a comfortable choice year-round.
We recommend this as a top chair under $200. It doesn't revolutionize the design, but among other choices in this price bracket, it's a definite contender.
---
References & Resources