In a Nutshell:
The Ohana 7 Piece Round Wicker Patio Furniture Set is a beautiful, round furniture set that makes a bold, striking statement. Recommended for anyone looking for simple outdoor furniture that supports up to 400 pounds of user weight, but this is an especially good fit for those with limited space and a limited budget.
* Brand Reliability is a measure of the strength and longevity of the brand, which by extension, is a measure of the level of support you can expect.
** While aesthetics is a matter of taste, Aesthetic Flexibility is a measure of how easily a given design would fit into a wide range of home or office décor schemes.
Are you a heavier individual? Do you regularly entertain guests who are? Are you in the market for some good-quality outdoor furniture? If you answered yes to any of those questions, you're going to like what you read in this review.
Finding furniture that's robust enough to support heavier people can be a daunting challenge. Unfortunately, most of the furniture on the market today, whether for indoor or outdoor use, is only designed to support in the neighborhood of three hundred pounds or so.
While it's certainly possible to find furniture that will support more user weight, there are comparatively fewer options available.
The good news is that this spectacular furniture set, offered by Ohana, is one of those rare and wonderful exceptions. The Ohana 7 piece round wicker patio furniture is not a perfect set, but it is very, very good and it may be perfect for you.
In the sections that follow, we'll tell you everything it has to offer and the areas where it comes up a bit short. That way, you'll have all the information you need to decide if this is the outdoor furniture you've been looking for. If that sounds good to you, read on, and let's take a closer look!
An Overview of the Ohana 7 Piece Outdoor Patio Wicker Furniture Set
The first thing you'll notice about the Ohana 7 piece round wicker patio furniture set is that it's round. That simple fact catches the eye and overwhelms every other aspect of the furniture. It's round, which makes it interesting.
It's also a big, expansive furniture set that includes two loveseats, four ottomans, and a round coffee table. Here are the dimensions of the various pieces:
As you can see, this is a big set of furniture. If you're cramped for space, it's going to be difficult, if not impossible, to find a place to put it all.
Overall the numbers are good, but there are a few points to keep in mind. First, check out the seat height and bear in mind that the big and tall seat height range for furniture usually starts at 18" and goes to 22" or more. At 13," these loveseats and Ottomans miss that mark by a significant margin.
If you're taller, and if you have any type of a mobility issue, getting into and out of them may be a bit of a challenge. On the other hand, the seats are comfortably deep, so once you're sitting on one of the loveseats, you'll be quite comfortable.
The loveseats support a generous amount of user weight, so they're great for heavier people. There's so much furniture available here that heavier folk can sit next to family and friends, and everybody can enjoy the day together.
The table isn't the largest one we've seen in outdoor furniture sets, but it's big enough to be useful. The tempered glass tabletop looks great and stands up well to the elements. Also, note that the furniture is wrapped in rattan, but it sports a tubed aluminum frame, which gives it strength and durability, allowing it to support more weight than rattan could on its own.
Adjustability and Comfort
None of the furniture offered in the Ohana 7 piece outdoor patio wicker furniture set is adjustable in any way, so there's nothing to say on that front. Comfort-wise, Ohana sticks to the basics. It utilizes generous amounts of conventional block foam padding in the seats, the seatbacks, and the Ottomans.
There's certainly nothing wrong with this approach. Block foam is used as padding in most of the furniture sold today, so it's pretty much the de facto padding standard. Granted, the use of memory foam or some other advanced comfort material would have made this set even more comfortable. The pads are 4" thick all around, which is about what you find in office chairs that use block foam for padding, that makes sitting on any of the furniture a delightfully comfortable experience.
We understand the company's decision to use block foam in preference for something else. Advanced comfort materials are expensive, and this set is already on the pricey side.
While it would have certainly enhanced the comfort of the loveseats, it would have also priced it out of reach of many potential buyers. As it stands, the furniture in this set is well-suited to lounging.
You won't have any problems spending the better part of the afternoon sprawled out on the Ohana 7 piece round patio furniture. It's much more than simple occasional seating, which is what a lot of outdoor furniture is designed for.
It gets better too because the company gives you two different options where the upholstery is concerned. When you order this set, you can get the upholstery in either beige or brown.
In our view, the beige upholstery is the more attractive option, but it's also higher maintenance. The outside is, after all, filled with dirt, and those pretty beige seat covers will act as dirt magnets. They look great, but if you want to keep them looking great, you're going to have a long-running battle on your hands.
Fortunately, the seat covers feature a zipper making it easy to remove them for washing, or you can leave them in place and clean them with a damp cloth and some warm, soapy water. The fabric is a proprietary synthetic material called "Spuncrylic," which holds its color well, is delightfully breathable and fast-drying.
Best of all, the company gives each person who purchases this set a free furniture cover that's big enough to cover all seven pieces. When you're not using it, just drape the cover over your furniture, and you'll greatly extend its useful life and cut down on the amount of cleaning you'll have to do.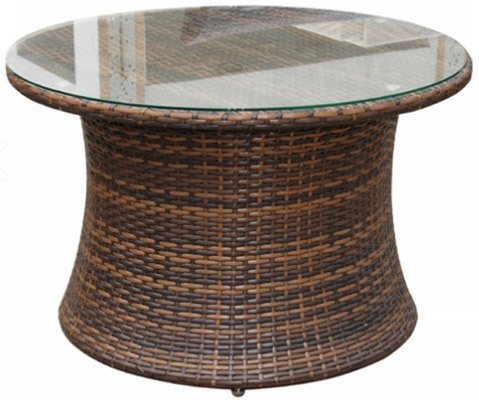 No Assembly Required
One of the biggest drawbacks of buying furniture online is the fact that almost all of it requires some assembly before you can start enjoying it.
Although the Ohana 7 piece wicker outdoor furniture is expensive, it's of tremendously good quality, and even better, it arrives at your door fully assembled and ready to use. Just carry each piece to your porch, deck, or patio, arrange to taste, have a seat, and enjoy. We love that. It may not be one of the biggest and best-selling points of the set, but it certainly got our attention.
---
Pros & Cons of Ohana 7 Piece Outdoor Patio Wicker Furniture
In no particular order, here are the things we think you'll like best about this furniture set:
On the flip side:
---
Final Thoughts: Ohana 7 Piece Round Wicker Patio Furniture Review
Overall, we believe that the many strong points of the Ohana 7 piece round wicker patio furniture set vastly overshadow its downsides. This is an undeniably great set of furniture, and it's visually striking. While Ohana isn't an Industry Titan, they're a good, well-respected company with a reputation for customer service and support.
Even better, they have an eye for detail. They not only know how to make attractive furniture capable of supporting a lot of user weight, but the fact that they offer a cover to help protect your investment is a mark of just how serious this company is about taking care of their customers.
Look at other sets of furniture for sale online. How many other companies are offering something like this? The answer is very, very few.
We love this furniture set, and if you decide to buy a set, we think you'll love it too. We absolutely recommend it.
---
REFERENCES & RESOURCES