In a Nutshell:
The ORC Off Road Wheelchair is a fully customizable beast. You can get your ORC anyway you want it, creating the perfect off-road wheelchair for you – for a price. Recommended for the diehard outdoorsman. If you're looking for a casual outdoor-use chair, this one is probably much more than you need.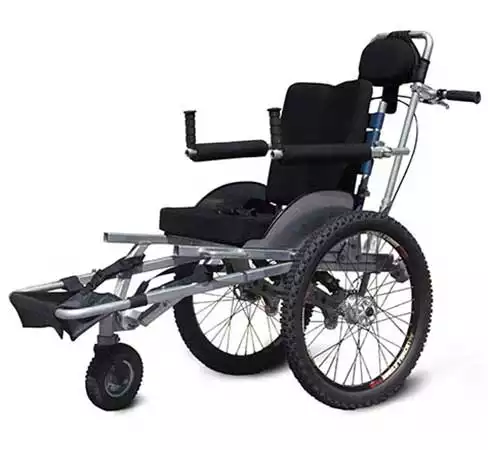 Do you consider yourself an avid outdoorsman? Is your mobility issue cramping your lifestyle? Are you looking for a way to change that? If you answered yes to any of those questions, then this is the review you've been looking for.
The mighty ORC Off Road Wheelchair is, in our view, simply the best manual, all-terrain wheelchair on the market today.
ORC Off Road Wheelchair vs. GRIT Freedom Chair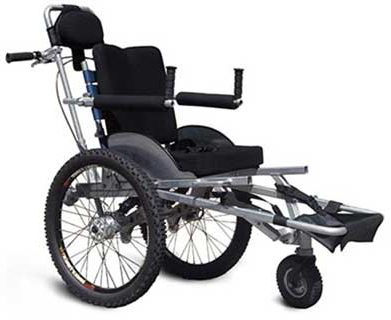 Readers who have pored over other reviews on our site will no doubt see the similarities between this chair and the GRIT Freedom Chair. The two do share several design traits in common, but there's one fundamental difference that catapulted the ORC into the top spot in our recent roundup review of the best manual, all-terrain wheelchairs: Customizability.
The Freedom Chair is a wonder, to be sure, but it's a mass-produced mobility aid. Its specs are what they are. If the chair fits you well, fantastic! You can tweak the base model with a modest selection of enhancements and add-ons and have a solid, reliable adventure chair that will last you for years, if not decades.
Total Customization
The ORC, however, is a breed apart. Listing basic stats for the chair is of limited value because these are hand-built, totally custom machines. If you need a wider seat, a reinforced frame, or a different braking or suspension system, you can get that. The only limit to what you can change is what your budget will bear. You can have precisely the chair you want and need.
If you want or need something that's totally custom and fits you like a glove, then the ORC is the chair you want, no question about it. If you're happy with the stock options that come standard on the Freedom Chair and are content to pick and choose from the collection of enhancements available on that one, save yourself a pile of money and buy the GRIT instead.
This then, in our minds, puts the ORC in the "niche product" category. Most people are okay with mass-produced products. It's only a rare few who want or need something totally custom. Based on this, although we readily acknowledge the ORC as the superior chair, the GRIT will probably be the one most people gravitate to.
In the sections that follow, we'll go over everything this remarkable machine can do. We won't tell you about the things it can't do, because honestly, it can do everything. By the end of this review, we hope to give you all the information you need to decide whether it's worth spending the extra money for a chair like this, or if a less expensive, mass-produced option is the better choice for you.
Let's take a closer look at what the mighty ORC can do!
An Overview of the ORC Off Road Wheelchair
Ready for anything. That's the phrase that springs to mind when you first set eyes on the ORC Off Road Wheelchair. This chair is all business.
The Off Road Chair was actually inspired by the Black Diamond Trailrider. Brian Bell, who suffered a spinal cord injury, had a Trailrider. But after taking it for a ride with his friends, they felt that the chair could use some modifications to further improve the user and sherpas' overall experience. And so… the ORC was born.
Robust Design
It sports a "trike-like" design, with a small wheel out front, and two large, robust all-terrain tires in the back, mounted on either side of the seat.
One of the strongest aspects of the design is the fact that it can be moved from one place to another via four different mechanisms:
The last two items on the list are of particular interest because they're not often seen on mainstream wheelchairs.
Rickshaw-style wheelchairs are rare, and the ORC is only one of three models featured in our roundup review that rely on Sherpas to help you move from Point A to Point B. The others are the Diamondback Trail Rider and the Joelette.
Hand-levers or lever-drive systems are more common than Rickshaw-style chairs, but only marginally so. They offer the compelling advantage of unmatched acceleration. Using the levers on flat, level ground, you can, in short order, find yourself traveling at speeds that no conventionally designed wheelchair can match.
The other significant advantage this system offers is increased torque, which enables you to power your way over and past any obstacles you might encounter (large rocks, downed limbs, and the like). And anything you can't get past or around on your own, you can always fall back on one of the alternate means of moving the chair.
About the only baseline stat to mention here is that the default seat width is 17.5", and that can be changed as needed, along with every other aspect of the design.
Adjustability & Comfort
The ORC Wheelchair is as adjustable as you want it to be. Just contact the craftsmen with your list of requirements, and they'll do everything they can to accommodate you.
If you need to be able to recline the seat back, they can probably make that happen. If you need the headrest to be adjustable, that might be possible too (although it will require a bit of reconfiguration, given the way the stock headrest is placed on the chair).
Likewise, you can make the chair as comfortable as you want it to be. Extra padding and hydrophobic cushions are both entirely within the realm of possibility.
Complete Customizability
As mentioned at the outset, the ORC is a custom-built machine. No two are exactly alike, and the designers are more than willing to work with you. While they may not be able to accommodate every request, they'll certainly make every effort to build you exactly the chair you want and need.
Portability is a Function of the Extras You Add
The ORC is as portable as you want, or need it to be. When working with the designers, if you want to maximize portability, just make sure they know that so they can work to keep the total weight down.
A safe assumption is that you'll need a van, an SUV, or a pickup truck or lift to transport it, although depending on how you design your perfect adventure chair, it may be possible to fit it into a hatchback. Ultimately, that will depend on what you and the craftsmen can come up with. Good communication though will help make sure it's portable enough for your purposes.
Very Easy to Use
If you've never used a lever-action chair before, there will be a slight learning curve as you master that aspect, but it's fairly intuitive, and shouldn't take you more than a few minutes to get the hang of it and get a feel for the chair's handling. After that, you're ready for whatever awaits you over the next hill!
Pros & Cons of the ORC Wheelchair
The ORC doesn't have any negatives, except for the price, and even that isn't as steep as you might imagine. Any perceived weakness in the design can be engineered out of the equation by working with the craftsmen to build around it, giving you exactly the adventure chair you've always dreamed of having.
ORC Off Road Wheelchair Review Conclusion
We recommend the ORC Off Road Wheelchair without reservation to anyone who considers themselves an avid outdoorsman.
If you want a manual, all-terrain wheelchair that will give you the freedom to go anywhere and enjoy hiking, fishing, camping, or any other outdoor activity, and you plan on spending a lot of your free time in pursuit of those activities, then it's well worth the extra money to have something totally custom built that fits you like a glove.
If you're looking for a casual-use outdoor wheelchair, this is almost certainly more chair than you need. In that case, we'd recommend the GRIT Freedom Chair, which is significantly less expensive, and nearly as capable. The only thing you'd be missing out on is the ability to add on just about any feature you want.
For the right user though, there's just no contest. This is the chair you want.
---
Official Manufacturer Support
REFERENCES & RESOURCES: