In a Nutshell:
The PatioPost Hanging Chaise Lounge Chair offers a comfortable and stylish way to kick back, relax, and enjoy the outdoors. With a detachable umbrella canopy, you can also decide if you want more or less sun.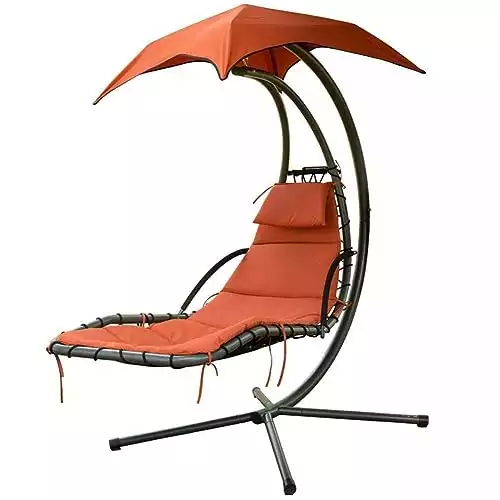 Outdoor space design has seen a major upgrade in recent years. As new technology allows for the creation of more durable furniture, we are seeing high-end options that look great while also withstanding the elements, and the PatioPost Outdoor Hanging Chaise Lounger is one such example.
With a unique and modern hanging chair design and durable powder-coated steel, this chair can rest comfortably in your backyard while offering a great place to sit and enjoy the sun.
Let's find out how it performs, shall we?
PatioPost Hanging Chaise Lounge Chair Overview
The PatioPost brand on Amazon sells a wide selection of outdoor products that range from wicker furniture to textilene solutions, and much more.
The brand combines research, development, production, and sales under one roof to ensure that quality is present across all categories.
The brand is dedicated to providing top quality furniture that also showcases innovative modern designs. The lounger featured in this review is a good illustration of what their catalog has to offer.
The PatioPost Hanging Lounge chair combines a swinging hammock chair with a metal base and canopy for a contemporary design that keeps you cool in those summer months, while also offering a carefree and comfortable seating experience.
Other touches like durable materials and the option to adjust the swing or detach the canopy help this chair go the extra mile when compared to others similar designs. Join us as we take a look at the features in greater detail in the sections that follow.
PatioPost Outdoor Hanging Chaise Lounger Features
Beyond a sleek design and modern look. This chair has a few other things up its sleeve:
Heavy Duty Frame
The stainless-steel frame of the chair is powder-coated to prevent rusting or discoloration when it sits outside. This also allows the chair to support up to 265 pounds for its weight capacity.
Polyester Cushion with Built-in Pillow
The included cushion is a foam-filled support that runs the length of the chair. It has a PVC coating and polyester upholstery as well. The built-in pillow at the top of the chair gives you a place to rest your head comfortably.
Removable Umbrella Canopy
A 46-inch umbrella canopy covers the top portion of the PatioPost lounger chair to keep the sun from your head and shoulders, but it does not cover the entire chair. If you prefer to sunbathe, the canopy can also be detached.
Swing Adjustment
The fixed straps on the chair can be adjusted to change the amplitude of the swing. This handy feature ensures that you can have as much or as little movement as you like.
Product Specifications
Pros & Cons of the PatioPost Outdoor Lounge Chairs
One look is all you need to see that it's in its own class of outdoor patio furniture, but it's not perfect. See below for a breakdown of this outdoor lounger's pros and cons:
You won't find many swinging hammock chairs like this one. The unique design that combines a stationary base with a suspended chair gives you the ability to place it anywhere. The addition of a removable canopy also turns this chair into a great place for sunbathing if you need to catch up on your tan.
On the downside, the PatioPost Hanging Lounge Chair with stand is a little expensive. You'll have a hard time finding it for under $200, so for some people that may be too much for a piece of outdoor furniture. Some customers have also reported that the instructions can be confusing in some places.
Final Verdict: PatioPost Outdoor Hanging Chaise Lounger Review
The PatioPost Outdoor Hanging Chaise Lounger is a beautiful chair that offers a contemporary design and some excellent customizable features. While it does come in at a higher price than we normally like to see, there's no denying that this is a comfortable and stylish outdoor seating choice.
---
Official Manufacturer Support
References & Resources