In a Nutshell:
The Rose Home Fashion Teak Corner Shower Bench is a versatile corner stool that blends well with most bathroom décor schemes. Recommended for anyone weighing up to 250 pounds, but especially those who don't have a lot of room to work with.
* Brand Reliability is a measure of the strength and longevity of the brand, which by extension, is a measure of the level of support you can expect.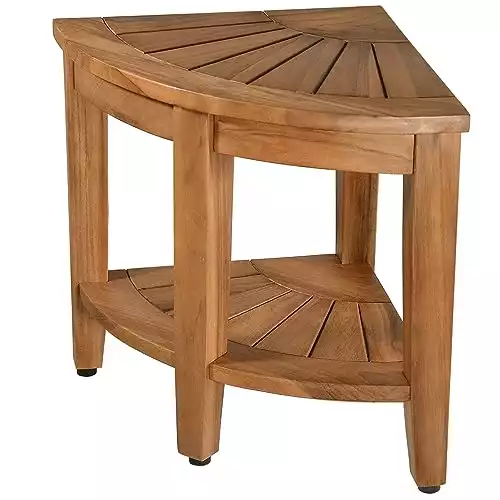 Are you in the market for a stylish shower chair for an accent piece, and to give you a convenient perch from which to enjoy a long, leisurely shower?
If so, then you're definitely going to want to put the Rose Home Fashion teak corner shower bench on your shortlist of options to consider.
This is a superb product for several reasons, but the two biggest are these:
The reasoning behind the second point is simple. Since it's designed for use in corners, there's virtually no chance that the stool will slide away from you. Plus, the fact that it's braced by two of your shower walls gives it a level of stability that conventional free-standing stools simply can't match.
Sure, if you have a mobility issue of some kind, you'll likely need a hand getting onto and off of it. However, that would likely be true no matter what solution you opted for.
If you're interested in learning more, then read on. In the sections that follow, we'll tell you why this model would make a truly excellent addition to your bathroom.
An Overview of the Rose Home Fashion Teak Corner Shower Stool
Simply gorgeous.
Those are the first words likely to spring into your mind when you see the Rose Home Fashion teak corner shower bench fully assembled for the very first time. It really is a beautiful piece of furniture. Crafted from solid teak wood and sporting graceful lines, the design is not overly complex, but that's part of its charm. It's just a great looking, functional bathroom accessory!
Specifications
Before we get too deep into the particulars though, let's press pause long enough for a quick review of the basic stats that define this model:
Size & Dimensions
If you've read some of our other shower stool reviews, one thing that will jump out at you is the fact that overall, this is a relatively large stool. One of the biggest in its class, in fact. The seat height is right on the leading edge of big and tall territory, which usually starts at 18" and goes up from there. Given that it's right on the line, it's still useful for average-sized people, though if you're extremely short, it might be a less than ideal fit.
The seat width and depth are good but bear in mind that it's a corner bench, and the width measurement is taken at its widest point. It gets progressively narrower, so again, depending on your body shape, it may or may not be a good fit for you.
Also, note that the stool is surprisingly heavy. It's not so heavy that it's cumbersome to move if you need to relocate it temporarily, but it's definitely got some heft to it. The explanation here is a simple one: It's constructed from solid teak, which is both beautiful and water-resistant, making it an excellent choice for a stool of this type.
The only real limiting factor is the weight limit. Most of the furniture you can buy today will support in the neighborhood of 300 pounds. This stool, like most of the other teak shower stools you'll find on the market today, falls a bit short of that mark.
It's important to take the weight limit seriously, too. The last thing you want is to have it collapsing under you while you're using it. If you exceed the recommended weight limit for this product, give it a hard pass.
Comfort and Adjustability
As a solid hardwood stool, it's about as comfortable as you'd expect it to be. Note, however, that the design incorporates gaps between the wood planks that make up the seat. This allows water to pass freely through it, so you don't wind up sitting in a puddle when you're using it.
Also note the rounded corners, which ensure you won't hurt yourself if you inadvertently bump up against it when not in use, or when you're getting onto or off of it.
There is one minor adjustable feature on offer here as well. The rubberized feet can be independently level adjusted in the same way that the feet on your stove, washer, and dryer can. This is superb since most shower bottoms are curved and sloping. It allows you to keep the Rose Home Fashion teak corner shower stool perfectly level.
That, combined with the fact that the feet are rubberized and provide a good grip, plus the fact that it's a larger stool with relatively widely spaced legs improves its overall stability, making it even more user friendly.
Assembly Required
Unfortunately, before you can start enjoying your new favorite stool, you'll have a bit of work to do. If you decide you want one of these, it will arrive at your door in a medium-sized box and in several pieces.
From start to finish, it will take about twenty minutes to put it together, and do note the presence of the roomy storage shelf beneath the seat. In most homes, bathroom storage space is at a premium, and any product that adds to the storage available is awesome. This shelf is big enough to be genuinely useful, which adds value to our book.
As to the assembly process itself, you won't have any problems. The production quality is quite high, all the pieces fit together seamlessly, and there really aren't all that many pieces to contend with anyway.
Kudos to Rose Home Fashion for making the process almost hassle-free!
Pros & Cons of the Rose Home Fashion Teak Corner Shower Stool
This is one of our favorite teak wood shower stools. It looks great, and with proper care, it will last for years. Its design makes it a good fit even in cramped bathrooms that don't have much in the way of "extra" space. The only real downside is the modest weight limit, which, unfortunately, will be a deal-breaker for some people.
Rose Home Fashion Teak Corner Shower Bench Review Conclusion
On the whole, we love the Rose Home Fashion teak corner shower bench.
It's an extremely attractive, useful, functional accent piece that would look great in just about any bathroom you place it in. Just be mindful of the weight limit, but we highly recommend this one.
---
REFERENCES & RESOURCES