In a Nutshell:
An absolutely outstanding furniture set offered by a great company. Stylish, comfortable, and capable of supporting a generous amount of weight. The RST Brands Cannes 6-Piece Loveseat Outdoor Furniture Set is recommended for anyone weighing up to 400 pounds with plenty of space to work with and looking for an all-in-one outdoor furniture solution.
* Brand Reliability is a measure of the strength and longevity of the brand, which by extension, is a measure of the level of support you can expect.
** While aesthetics is a matter of taste, Aesthetic Flexibility is a measure of how easily a given design would fit into a wide range of home or office décor schemes.
Are you in the market for some outdoor furniture? Do you regularly entertain people who are heavier than average, or are you in that category yourself? If you answered yes to both of those questions, you're going to love what you read in this review, especially if you don't yet have any outdoor furniture at all, and are not interested in acquiring it piecemeal.
Unfortunately, most of the furniture on the market today, whether indoor or outdoor, is designed to support in the neighborhood of 300-pounds. If you weigh more than that, the number of options open to you diminishes very quickly.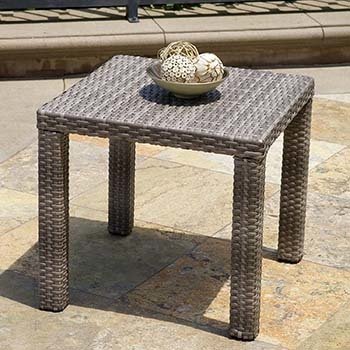 The good news is that several smaller, respected brands offer furniture that's rugged and robust enough to support you properly, and RST is one of those.
The major advantage of buying a set like the RST Brands Cannes 6-Piece Loveseat Outdoor Furniture set is the fact that if you don't have any outdoor furniture at all, it's a simple, convenient way to get everything you need to start using the outdoor spaces on your property for outdoor entertaining.
In addition to that, every piece of furniture in the set has a similar look and feel, giving your outdoor décor a unified aesthetic. If you decide you need additional pieces, later on, all you have to do to maintain your outdoor aesthetic is to buy furniture that blends well with the set you already have, which is usually easy to do.
We'll be quick to point out that buying furniture in a set like this is a major expense, especially if you're interested in buying something high quality that's built to last, so this set won't be for everyone.
In the sections that follow, we'll cover every aspect of this set so you'll have all the information you need to decide if it's right for you or not. Even if you decide that this isn't the furniture you're looking for, by the time you reach the end of this review, we think you'll be impressed. If your interest is piqued, let's take a closer look!
RST Brands Cannes 6-Piece Loveseat Patio Furniture Set Overview
These are good numbers across the board. The seat height is solidly in the big and tall range, which typically starts at 18" and goes to 22" or higher. The seat width is also superb, and even if you're quite close to the chair's maximum supported weight limit, you won't have any trouble fitting comfortably into it, and the rest of the numbers are a good pairing with the rest.
The side table is on the small side. Still, it is certainly large enough to be useful – big enough to hold a drink, a small plate of food, books, magazines, or any other smallish, miscellaneous items you may want or need while you're enjoying the afternoon outside.
The coffee table is generously sized but doesn't have a shelf built into the bottom section like many outdoor tables too, so it's not quite as versatile. Still, it's certainly a valuable addition to the set.
The furniture itself is a greyish color (stippled, so there are multiple shades of grey weaved together). Even so, the company gives you some flexibility in terms of the look and feel by offering padding in three different color options: charcoal grey, ginkgo green, or Moroccan cream.
A lot of people aren't huge fans of rattan, and in truth, we're not either, but here, you barely notice that it's rattan at all. The material looks gorgeous and is supported by an underlying frame of powder-coated aluminum, which provides strength and durability while helping to keep each piece relatively lightweight.
Adjustability and Comfort
None of the furniture in the RST Brands Cannes 6-Piece Loveseat Patio Furniture set is adjustable in any way, so there's nothing to say on that front. Comfort-wise, RST sticks to the basics, cushioning their furniture with conventional block foam in the seat pads and using generously padded throw pillows for the seatbacks of both the loveseat and the club chair paired with smaller accent throw pillows to provide additional comfort.
The pillows are filled with poly fiberfill, and the upholstery covering both the pillows and the seat pads is a durable, weather-resistant, quick-drying material that's easy to clean with a damp cloth.
Although there are no advanced comfort materials like memory foam on offer here, the seat pads are nearly 4" thick and provide a delightful seating experience. Most outdoor furniture is designed as occasional seating, but on these, you'll be comfortable even if you find yourself lounging for extended periods. We love that. Kudos to RST for going the extra mile.
Light Assembly Required
Most of the furniture you can buy online these days arrives at your door in boxes and unassembled. That's true in this case too, but the company has done at least part of the work for you. The RST Brands Cannes 6-Piece Love Seat and Club Chairs Set is already partially assembled when you get it, and you don't have to do a lot to get it ready for first use.
In addition to that, the production quality is quite high, and the assembly instructions are clear, which further streamlines and simplifies the process. Granted, there are a lot of pieces to the set, so it's not a trivial job, but it will only take 90 minutes to two hours, including unboxing and sorting. You can cut that down significantly if you have someone standing by to help out on the day the furniture arrives.
Unfortunately, the set does not come with an expert assembly option, so you'll have to either do the work on your own or get a friend to help you with it, but honestly, it's not a difficult job. We were pleasantly surprised, and we think you will be too!
Pros & Cons of RST Cannes 6-Piece Loveseat Patio Furniture Set
Here are the things we think you'll like about the RST Brands Cannes 6pc Love and Club seating set:
There's a lot of it. This set gives you everything you need to start getting more enjoyment out of your property's outdoor spaces.
It's high-quality construction and offered by a company that places a lot of emphasis on customer service and support.
It comes partially assembled, and the process of getting it ready for first use is significantly easier than you'll find with most other furniture sets.
The powder-coated aluminum stands up well to the elements, including the salty air common in coastal regions.
The rattan is treated to provide better protection against the elements
The padding is generous, and the chairs are delightfully comfortable
RST offers the furniture in a few different accent color options, giving you at least some flexibility in terms of personalizing your outdoor décor scheme
The only real downside here is that the RST Brands 6-Piece Cannes Love and Club Seating Set is an expensive set of furniture. This is definitely a case of getting what you pay for, though. It's a quality set of furniture that will serve you very well, but the high price may simply put it out of the reach of some of the people who want it.
RST Brands Cannes 6-Piece Patio Set Final Thoughts
Even though we're not huge fans of rattan furniture in general, the RST Brands Cannes 6-Piece Loveseat Outdoor Furniture set is amazing. It's well worth the price the company is asking for it, and if you decide to take the plunge and get it, you'll be impressed. We highly recommend it.
---
REFERENCES & RESOURCES