In a Nutshell:
The Serta Air Health and Wellness Big & Tall Executive Office Chair is a good looking chair designed for bigger, taller people, offered by a legend in the industry. Recommended for bigger, taller people who have a little money to spend, but don't want to go broke buying a decent office chair that fits them.
** While aesthetics is a matter of taste, Aesthetic Flexibility is a measure of how easily a given design would fit into a wide range of home or office décor schemes.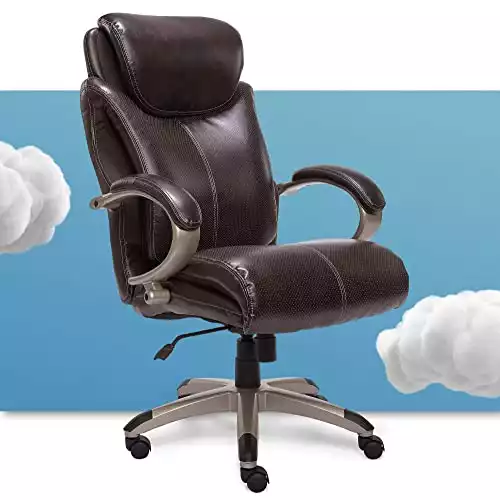 Are you a bigger, taller individual? Have the bargain-priced chairs you've been looking at left you feeling disappointed? Are you still looking for a decent office chair that will fit you that won't cost an arm and a leg?
If so, then our Serta Air Health and Wellness Executive Office Chair review is going to make you smile. It's an interesting design that has a lot going for it, and it's offered by one of the most respected brands in the industry.
It's not a perfect chair, and ultimately, you may decide that it's not the model for you. Even if you opt to go in some other direction though, we think you'll agree that this one's a cut above, and well worth a second, and possibly even a third look.
In the sections that follow, we'll take a deep dive into everything this model brings to the table so you'll have all the information you need to decide for yourself. Ready? Let's get right to it!
An Overview of the Serta Air Health and Wellness Executive Office Chair Big and Tall
Unassuming. That's the first word that will likely spring to mind the first time you see the Serta Air Health and Wellness Executive Office Chair. It's a big piece of furniture, sure, but then, it was designed for big and tall people, so that's a given.
You can tell the designers spent some time considering the chair's styling because it manages to be reasonably attractive while simultaneously blending in well with most home décor schemes.
We'd hesitate to call it beautiful, but it's a decent looking piece of office furniture with a subtle, understated aesthetic that we found appealing.
The second thing you'll notice is what we almost immediately took to calling "the beer belly." The seatback appears at first glance to be overstuffed, which causes it to poke out, looking a bit like a "beer belly."
That's actually one of the more important features of the chair, and we'll have more to say about it later on, but we wanted to give it a quick mention here because it's one of the first things you notice when you see it.
The chair's basic stats are as follows:
Adjustability and Comfort
Serta is best known for making mattresses that are wildly popular in the US, so it goes without saying that this company knows a thing or two about comfort.
They've applied their in-depth knowledge to the creation of this chair, and we were surprised to see cutting-edge comfort technology on a chair in this price range. Unfortunately, the results of their experiment were mixed.
The cushioning is a mix of block foam and air pockets. The block foam is arrayed in such a way that it creates pockets of air the company calls "comfort coils" which allow the padding to adjust to your weight and body shape in a way similar to memory foam, but without the expense.
It's not as comfortable as memory foam, but it's an interesting idea that works pretty well, and it's no surprise that Serta was the driving force behind it. Looking at the technical diagrams of the comfort coil padding, one can't help but notice the similarities to a mattress.
The seat back is another matter. It too uses air mixed with padding and is designed to provide dynamic ergonomic support, including ergonomic lumbar support.
Unfortunately, while the seat cushion design was a substantial success, the seat back's design is a bit less so. Earlier, we mentioned the "beer belly" that defines the backrest. The idea here is that your body's weight will press against the seat back and depending on how much pressure your weight puts on it, it will respond, providing the optimal level of support.
It's a good idea in theory, but the problem is that lighter users don't exert enough pressure on the "beer belly" to cause it to give, which forces them to sit on the edge of the seat with the beer belly poking them in the back.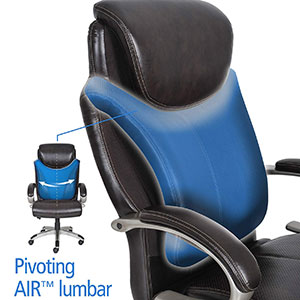 Combine that with the fact that the height of the seat back is a bit on the low side (33" from seat to the top of the headrest), and it becomes clear that the Serta Air Health and Wellness Big & Tall Executive Chair was designed for big and tall people with average or smaller sized torsos.
If you are "long-bodied," then the headrest will wind up hitting somewhere in the area of your shoulder blades, and the chair won't be a comfortable fit for you.
If you're taller and long-bodied and lean, the problems magnify because your back pressing against the seat back won't exert enough force to cause the "beer belly" to give, as we described above. In that case, the chair is going to feel like a disaster to you, and you'll be sorely disappointed.
Extras
Most office furniture doesn't come with anything in the way of "extras" so there's usually not much to talk about here.
In this case, the notable extra is that you can order the chair in one of four colors:
The world is dominated by black office furniture, so the fact that you've got even a few color choices here is a nice touch, and something we wish more companies would embrace. Who says office furniture always has to be black!?
Does Not Come Assembled
As you might suspect, there is some assembly required here. When you get the chair, it's going to come in pieces, so you'll have to do the "Furniture Assembly Shuffle."
Unbox everything, find and sort all the parts, find the tool they give you to help with the assembly and then start putting it together.
Expect the process to take about an hour if you're doing it solo and expect to use colorful language in a couple of places as you struggle to get the bigger pieces into position. Not because the production values are low, and holes don't line up correctly, but just because some of the pieces are big, and you'll find yourself wishing you had an extra pair of hands.
If you do have an extra pair of hands in the form of an assistant, you'll probably shave fifteen to twenty minutes off the build time and save yourself a lot of sweating, grunting, and swearing.
That's not to say that it can't be assembled solo; it can, it's just a bit more of a process and adventure.
---
Pros & Cons of the Serta Air Health & Wellness Leather Executive Office Chair
We like the Serta Air Health & Wellness Leather Executive Office Chair, but we don't love it. In no particular order, here are the model's strongest points, in our view:
On the other side of the equation, there are two aspects of the design we regard as weaknesses:
In addition to that, there have been numerous user complaints about the hydraulic lift mechanism that controls the height adjustment aspect of the chair. It's Chinese made, and not of the best quality. Users have reported that it gives out under the strain of heavy, repeated use, prompting them to have to disassemble the chair to replace it.
Given the price, we feel that the positives far outweigh the chair's negatives, although we readily admit that each person is different so your mileage may vary on that front, and you may not agree with our conclusion.
---
Serta Air Health and Wellness Big & Tall Executive Chair Review Conclusion
We gave the Serta Air Health and Wellness Executive Office Chair Big and Tall relatively high marks, and we stand by that assessment. It's a good chair, offered by a great company that knows a lot about comfort. Unfortunately, it falls short of greatness, and because of some of the particulars of its design, it's not going to be an ideal fit for some users.
On that basis, we provisionally recommend it and would urge potential buyers to compare their measurements against the chair's, or even better, sit in one in a showroom near you before buying.
---
References & Resources: