In a Nutshell:
The SitRite Ergonomic Office Kids Chair is a surprisingly well-designed office-style chair for kids, offered in a variety of fun colors. Recommended for kids of all ages. This chair doesn't lift sufficiently to allow a petite adult to sit in the chair and use a standard-sized desk, which limits its utility.
* Brand Reliability is a measure of the strength and longevity of the brand, which by extension, is a measure of the level of support you can expect.
** While aesthetics is a matter of taste, Aesthetic Flexibility is a measure of how easily a given design would fit into a wide range of home or office décor schemes.
SitRite Ergonomic Office Kids Chair
Recommended For: Kids of all ages. This chair doesn't lift sufficiently to allow a petite adult to sit in the chair and use a standard-sized desk, which limits its utility.
Buy Now
Do you have a youngster in your house? Are you looking for a fun, stylishly-designed office chair for your child so he or she can have a chair just like mom and dad?
Let's face it; kids take their cues from their parents, and they'd probably be thrilled to have an office chair like the ones their parents use every day. There's a problem: full-sized office chairs are disasters for children's postures. They're too big for kids to sit in comfortably.
Fortunately, SitRite has the solution. Their office chair is designed explicitly with youngsters in mind, and even better, it comes with an impressive suite of ergonomic features that will help foster good posture, just like your office chair does for you!
If you're in the market for a fun, stylish chair made just for kids, then the SitRite Ergonomic Office Kid's Chair might be exactly what you've been looking for.
We'll be quick to point out that it's not a perfect chair, and there are some limitations to be mindful of. Don't worry though; we'll cover all the details in the sections that follow so you'll have all the information you need to decide if this is the right chair for the smallest and youngest members of your family.
That said, let's jump right in and take a closer look!
An Overview of the SitRite Ergonomic Office Kid's Chair
Fun and modern. Those are the first two words that are likely to spring to mind when you see the SitRite Ergonomic Office Kid's Chair for the first time. Even better, it's offered in a variety of bright colors that virtually guarantees that it will blend seamlessly, no matter the décor scheme in your child's room. When you place your order, you can choose from:
Here are the chair's basic stats:
There are several exciting things to talk about here, first and foremost being the fact that this is one of only a very few office chairs in this price range that comes with an adjustable seat depth. That's a huge win that allows the chair to grow with your child.
Second, the optional footrest is a great addition, especially for smaller, younger children. Bear in mind that this chair was designed for children aged four and up, and even with the chair at its lowest seat height setting, that may be too tall for especially young children, which makes the footrest a brilliant addition that again, allows the chair to grow with your youngster.
Third, note the presence of lockable wheels. Not many adult-sized office chairs have this feature, and it's great to see. In fact, it's such an easy addition that we'd love to see it on more full-sized chairs. Office furniture manufacturers, please take note of this!
Finally, the maximum supported weight is impressive for a child's chair and is yet another feature that allows this chair to grow with your child, so you won't be faced with the prospect of having to buy a new chair every couple of years. Kudos to SitRite for having thought of just about everything!
Adjustability and Comfort
We've already mentioned the two most significant adjustable features: the seat height adjustment range and the seat depth adjustment.
So, we won't say more about those in this section except to note again that you just don't find office furniture in this price range with an adjustable seat depth, which makes it one of the strongest features of SitRite's design.
Comfort-wise, you won't be disappointed either, as the SitRite Ergonomic chair is generously padded with hypoallergenic block foam, making it ideal for even long stints at the computer playing games, watching movies or doing homework.
It's got three ergonomic features worth mentioning: mid-back support, ergonomic armrests, and a sculpted seat.
These are decent, but honestly a bit weaker than we would like to have seen. In our view, the chair would be significantly strengthened by extending the seat back to the seat itself and incorporating proper lumbar support.
Further, although the arms are ergonomically sculpted, they're not adjustable in any way, owing to the chair's unibody design. Given the presence of an adjustable seat depth, it would have been a fantastic addition to have at least some play in the armrests. In a similar vein, the seat is sculpted for added comfort, but a waterfall-style design would have been even better.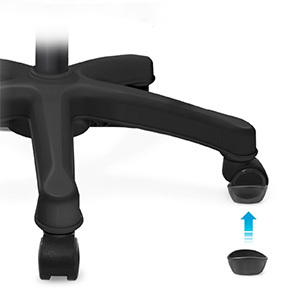 At the end of the day then, we'd rate the ergonomic features to be good, but not great. Even so, you won't find many adjustable height children's chairs that offer better ergonomic supports.
Simple, Fast Assembly
This is another thing that SitRite got right. Like almost all office furniture offered at this price range, this chair comes unassembled, but the process of putting it together couldn't be more straightforward. The chair comes in the box in just three pieces: the base, the cylinder, and the seat. Simply insert the cylinder into the base, place the seat atop it, and you're done!
Honestly, we're not sure why all office furniture manufacturers don't take this approach. Having to spend thirty minutes to an hour grunting and swearing as you wrestle to put your chair together before you can sit in it for the first time is both frustrating and off-putting. We dearly wish this would become an industry standard as it would save a lot of headaches and hassles.
Pros & Cons of the SitRite Ergonomic Chair
There's a lot to like about SitRite's offering, but it's important to know what you're getting before you buy. This is a chair specially designed for children. If you're a petite adult looking for a comfortable office chair, you may be tempted to buy this one, but unless you've got a smaller than standard sized desk to go with it, resist the urge or you'll wind up being disappointed.
Here's what we think you'll like best about this ergonomic children's desk chair:
As good as it is though, the chair is not without its weaknesses. While we were glad to see the addition of ergonomic features, we do wish they had been more strongly implemented, and we think the overall design would be better if the height adjustment range allowed petite adults to use it in conjunction with a full-sized desk, which is sadly not possible.
Finally, be aware that getting post-sales support from SitRite might be a bit of an adventure, so the safe bet is to assume you'll be on your own once you get the chair. That's not necessarily a deal breaker, because in practice, few people who buy office furniture at this price point expect or rely on the company's support in the event of a problem. It's usually just easier to get a replacement children's ergonomic desk chair.
SitRite Ergonomic Office Kids Chair Conclusion
The SitRite Ergonomic Office Kid's Chair is surprisingly well-designed and decent looking, but ultimately, it's a niche product, because it's not suitable for petite adults sitting at a standard-sized desk.
That, combined with the fact that SitRite is a relatively unknown brand with little brand heft makes it an interesting product, ideal for families with children, but not really a mainstream seating solution. On that basis, we provisionally recommend it.
---
REFERENCES & RESOURCES