In a Nutshell:
The Smugdesk High Back Mesh Recliner Office Chair is a surprisingly good, versatile chair with well-implemented ergonomic features, offered by a company you've probably never heard of. Recommended for average sized folks who are looking for a chair for moderate to heavy daily use.
* Brand Reliability is a measure of the strength and longevity of the brand, which by extension, is a measure of the level of support you can expect.
** While aesthetics is a matter of taste, Aesthetic Flexibility is a measure of how easily a given design would fit into a wide range of home or office décor schemes.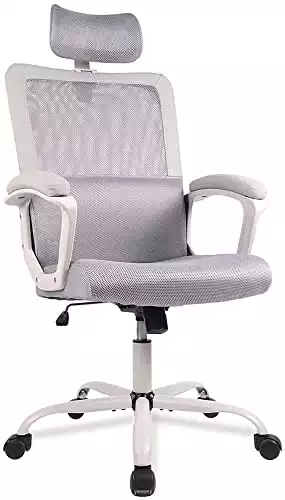 Are you looking for a good ergonomic office chair that can be more when and as needed?
Do you have some money to spend, but want to make sure the dollars in your budget stretch as far as you can make them, giving you a tremendous amount of functionality and versatility for your money?
If you answered yes to either of those questions, then you're going to enjoy learning more about the Smugdesk high back mesh recliner office chair.
Don't be surprised if you've never heard of Smugdesk. Most people haven't, but they certainly know their way around the office furniture market and make surprisingly good products. If you're not especially brand conscious and don't mind buying from an off-brand that doesn't have a big, well-established presence in the market, you'll find a lot to like here.
In the sections that follow, we'll tell you all about what this chair can do, and let you know where it comes up a bit short.
An Overview of the Smugdesk High Back Mesh Chair Recliner
When most people see the Smugdesk reclining office desk chair for the first time, they come away at least a little impressed. It's a surprisingly attractive chair which is a significant accomplishment, given that mesh chairs aren't exactly known for their stellar looks. It has a vaguely futuristic appearance but not to the point that it would have difficulty blending in seamlessly with most any home or office décor.
Features of Smugdesk High Back Office Chair
Basic Specifications
An ergonomic office chair is a lot more than simple appearance though, so let's take a look at the basic statistics that define the model:
Overall Dimensions: 34.3" x 28.3" x 46.1"
Seat Depth: 16.9"
Seat Width: 19.3"
Seat Height Adjustment Range: 18.5" to 20.5"
Maximum Supported Weight: 250 pounds
Chair Weight: 64.3 pounds
A couple of things jump out at us right away here. First, this is a fairly sizeable, weighty piece of furniture. Despite that, however, it's not capable of supporting big and tall users. Not only is the seat depth not up to the task, but the relatively modest maximum supported weight limit makes this model unsuitable for most of the big and tall market. This is a chair for average sized and some shorter folks.
Adjustability and Comfort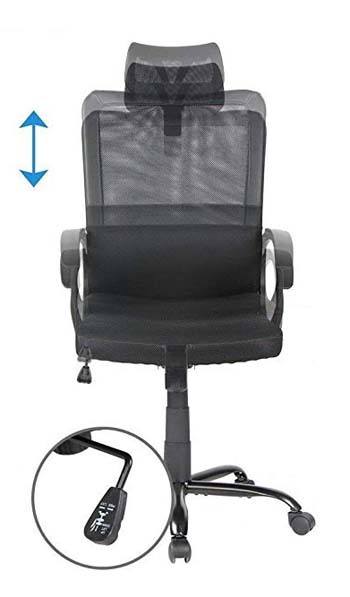 In terms of adjustability, this chair has the basics well-covered. It swivels 360-degrees, has a tilt tension control knob and reclines to a maximum of 135 degrees. The slide out ottoman/footrest is generously padded and can be engaged at any recline angle.
Where comfort is concerned, this chair is quite good but falls short of greatness. The mesh back is highly breathable and well-suited to the rigors of heavy daily use, but the seat padding isn't as plush as you might expect, being just under four inches thick.
To Smugdesk's credit though, they don't rely solely on conventional block foam, using a two-layer padding approach which helps compensate for the lack of volume. It more or less works, but if you're a power user, you'll probably want to either get up to take regular stretch breaks or lean back in the chair and take periodic advantage of the recline function. Overall then, a good job on the comfort front, but not an exceptional one.
The heart and soul of the chair though lies in its ergonomic features. There are four on offer here:
Taking these in the order we mentioned them above, the lumbar support feature is the best-implemented of the bunch, offering decent, but not exceptional support. One thing you'll love about it though is the fact that it's height (not tension) adjustable, which gives you the ability to customize your seating experience, so you get support exactly where you need it.
The head and neck support are probably the weakest ergonomic feature of the bunch. While the headrest itself is height adjustable, it's not articulated, which limits its ergonomic value. Still, some support is better than none, so this is by no means an awful feature.
The ergonomic armrests are well padded and comfortable, and you'll come to appreciate them if you plan on using the chair for several hours of each day. Unfortunately, though, they're not height adjustable, which we found a bit surprising and disappointing, given how many other elements of the chair are adjustable.
The seat is, in our view, the second most robust ergonomic feature of the Smugdesk high back mesh recliner office chair. A waterfall-edge style seat wouldn't really work here, given the presence of the pull-out ottoman/footrest, so we like that Smugdesk didn't even bother to try taking that approach. The sculpted design works well and provides the same essential benefits that a waterfall-edge seat would have.
Overall then, this chair impresses us. In many cases, when an off-brand attempts to offer a whole raft of features like this, most of them wind up being rather poorly implemented, but Smugdesk did an admirable job incorporating multiple elements into a surprisingly modestly priced offering.
Other Notes
There are a couple of other things worth a brief mention. First, Smugdesk incorporated oversized casters into their design which are capable of handling everything from hardwood and laminate flooring to carpet. Granted, the casters will struggle on shag or very plush carpeting, but that's true of any desk chair. We like the approach and wish more companies would offer casters big enough to handle a variety of flooring surfaces.
Second, for an off-brand, Smugdesk offers a better warranty than you might expect. You get eighteen months on the chair itself, and the company provides free component exchange (gas lift, control knobs, and levers) for up to two years after the date of your purchase.
This Chair Does Not Come Assembled
As with most office furniture, if you order the Smugdesk high back recliner, it will arrive at your door in a large box and unassembled. It's a sizeable, weighty piece of furniture and it has a few extra parts not found on most other office furniture which does complicate the assembly process a bit. This fact is further complicated by the fact that the materials used in its construction aren't top of the line and the instructions are a bit on the cryptic side.
While you can undoubtedly assemble the chair by yourself, expect it to take the better part of an hour. You can reduce that by 10-15 minutes if you've got a trusty assistant to pitch in on assembly day.
Pros and Cons of the Smugdesk Reclining Chair With Footrest
As we said at the start, this is a surprisingly good chair. The only reason it didn't rank higher on our chart is that as a brand, Smugdesk isn't very big or well established. Its features are well-implemented, though not quite as strongly as some of the other finalists on our list and the production quality is a shade lower, but you're honestly getting quite a lot of chair for your money.
It's also one of a relatively few office chairs that can also serve as a recliner and it does an admirable job in that regard, too. Granted, this isn't a feature that many people will want or need, which makes this more of a niche product than the other chairs on our list of finalists. After all, there's no point in paying for features you're not interested in or plan to use regularly. Even so, those are about the only negative aspects of the design. Smugdesk did a great job here, in our view.
Final Thoughts on Smugdesk High Back Mesh Recliner Office Chair
This chair isn't going to be for everyone. Given its modest height adjustment range and modest maximum supported weight limit, big and tall folks will give it a pass by default. In a similar vein, anyone who doesn't want or need an office chair that's also a recliner will give it a pass.
By and large then, Smugdesk high back mesh recliner office chair design and feature set make it almost entirely self-selecting. Potential purchasers will tend to either be very interested in and excited by what it has to offer, or not interested at all. On that basis, we provisionally recommend it. For the right user, this is an excellent choice.
---
References & Resources