In a Nutshell:
While there's no denying the style and luxury of the Svago Zero Gravity Recliner, the price point is much higher than most other options on the market. Nonetheless, the zero gravity feature and high-end massage function make this an impressive chair for those with a higher budget.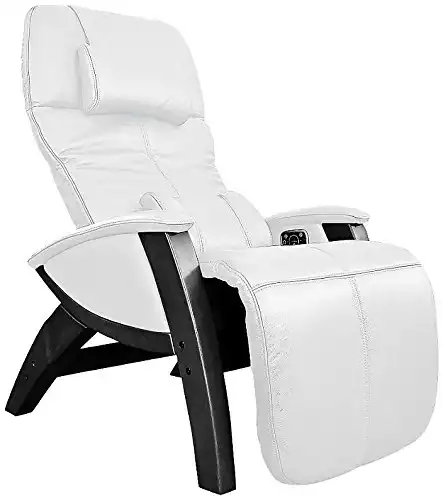 Easy chairs and recliners are designed for ultimate comfort, but they can also go a long way towards relieving symptoms of back pain. Zero gravity, in particular, is known to be an excellent position for the spine that also promotes healthy blood flow.
Our Svago Zero Gravity Recliner review will take an in-depth look at this easy chair for back pain. Do the features measure up to the price point? Read on to find out.
Svago Zero Gravity Recliner Overview
The word "Svago" actually means "relaxation" in Italian. This term embodies the brand by starting the focus right at the goal. The Svago brand defines relaxing as the enjoyment of comfort while surrounded by beauty.
And to accomplish this, their chair design uses a combination of these things: zero-gravity seating, using contoured beech wood for the frame, and memory foam for the chair.
This chair design combines massage, heat, and Zero Gravity seating into one beautiful design. You may have heard of Zero Gravity before, but this type of seating offers a lot of health benefits worth discussing here in our Svago Chair review.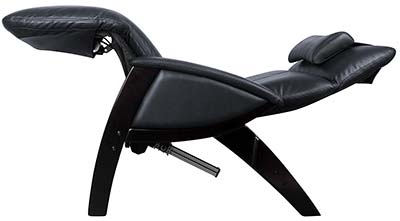 What Is Zero Gravity Seating?
Zero-gravity is a unique position inspired by NASA. This same position is used by astronauts when taking off for missions. Zero Gravity places the body in a position where the weight is distributed across the body.
Zero Gravity chairs decompress your spine, improve blood circulation, and decrease lower back pain. This is just one of the features included in this chair. Let's take a look at everything the Svago Zero Gravity Recliner has to offer.
Features of the Svago Zero Gravity Recliner
The Svago recliner is a beautiful design. The price point is much higher than many would expect for an easy chair, but it does have a lot of high-end features: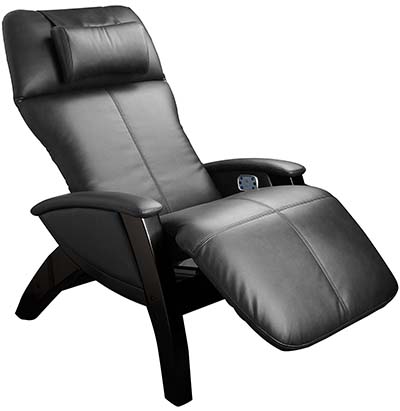 Massage and Heat Functions
Recliners like this one don't often have massage and heat functions, but Svago has included both of these high-end features into their design.
Independent Footrest
The footrest is adjustable separately from the rest of the chair. It allows for the chair to accommodate a wider range of height as a result.
Zero Gravity Positioning
Zero Gravity reclining is an excellent way to relieve back pain while also improving spine and circulatory health. This easy chair reclines fully into this position.
Elongated Armrests
The extended armrests on the Svago massage chair recliner span the full length of the chair and out towards the footrest. This is a small, but welcome feature.
Removable Head and Lumbar Pillows
The headrest and lumbar pillows on the Svago Zero Gravity recliner are both removable. If either of them is not the correct size, or they do not increase comfort, you can take them off simply without issue.
Soft Bonded Leather
The chair is upholstered in bonded leather, which is soft to the touch. While it's not genuine leather, it is an incredibly close mimic of the material.
Svago Zero Gravity Recliner Specifications
Pros and Cons of Svago Zero Gravity Chairs
The Svago Zero Gravity Recliner makes an amazing first impression. It also includes a lot of desirable features. What's not to like? The chair is almost perfect. Here is a breakdown of the pros and cons:
If you're going to recline in a chair, Zero Gravity positioning is perhaps the best posture you can hope for. Combine this with both massage and heating in the chair, and you have quite the package. Many massage chairs have these kinds of features as well.
The overall design is a reason to consider the chair on its own. The ivory material and sleek contoured wood for the frame combine to create a chair that is both functional and a work of art. It's packed with features and perfect for a contemporary living room.
The downsides of this chair are few. The bonded leather, while impressive, is not genuine. This brings us to the price point. This chair from Svago is one of the most expensive recliners we have seen in our reviews.
Despite the price, customers enjoy the chair very much. For many of them, the features and Zero Gravity option are enough to make it worth the high cost.
Our Verdict: Svago Zero Gravity Recliner Review
It's impossible not to see a positive Svago Zero Gravity Recliner reviews. It may have a high price of entry, but this easy chair for back pain is a great choice for someone who wants a modern design, high-end features, and Zero Gravity reclining.
If you're looking for an easy chair that spares no expense, this one is an excellent choice.
---
REFERENCES & RESOURCES