In a Nutshell:
The Tommy Bahama Backpack Cooler Chair is a stylish and fun seat to take with you on your beach trips. While it is a little heavier than other chairs, it has some excellent features and great durability for all of your outdoor needs.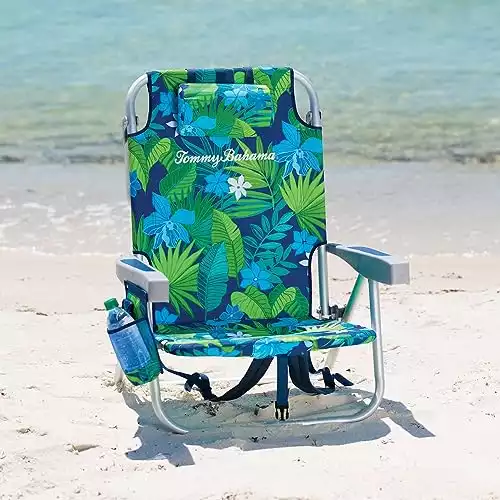 Who doesn't love going to the beach? The sunshine, the soft sands, it's all fantastic, but have you ever been to the beach without a chair? It's not quite as amazing, especially when all you have to sit on is a towel.
Thankfully, our Tommy Bahama Backpack Cooler Chair review is here to show you a potential option that will work extremely well for any beach adventure.
Our in-depth review covers not only the company behind the chair, but also the features it offers, and a breakdown of the pros and cons. Join us as we take a look at what this beach backpacking chair has to offer!
Tommy Bahama Backpack Chair Overview
Tommy Bahama is a brand that has always embraced the simple pleasures in life. They want their brand to exude the island life, where people live in the moment and enjoy everything a beachside living has to offer. It was a lifestyle that focused on the concept of never leaving the beach.
The company is based out of Seattle, Washington. Their catalog covers everything from sportswear to swimwear, and of course, furniture for the island life. There are numerous Tommy Bahama stores worldwide, along with their online store presence on Amazon.
This particular chair combines the portability of a backpacking chair, with the features you would want from a beach chair. It's an impressive combination that would make for a great companion on any trip to the beach.
Join us as we break down the features that this chair has to offer here in our Tommy Bahama Backpack Cooler Chair review.
Features of Tommy Bahama Cooler Chairs
The most impressive aspect of the Tommy Bahama line of backpack chairs is the ability to turn it into a beach lounger at a moment's notice. This is just one of many features you will find below:
Easy Transformation and Transport
You can quickly deploy the chair and fold it back up without much effort. When you collapse it into a portable shape, padded shoulder straps allow you to carry it on your back with relative ease.
There is also a rubber carrying handle that offers a different way of transporting it if you prefer. In either case, the chair comes in at seven pounds, which is fairly light, given the size and features it offers.
Durable Materials
This Tommy Bahama backpack beach chair includes an aluminum frame, steel seat, and backrest inserts. The Polyester fabric is taut and sturdy, perfect for beach weather. All of this contributes to a chair that supports up to 300 pounds.
Multiple Reclining Positions
This beach chair offers five different reclining positions that range from fully upright, to a fully functional beach lounger that lets you grab that tan you've always wanted.
Padded Straps and Carrying Handle
In its portable form, this Tommy Bahama chair can be carried like a backpack. It features padded shoulder straps and a carrying handle if you prefer to hold it while transporting the chair from one place to another.
Insulated Storage Pouch
An insulated pouch on the side of the chair allows you to store snacks, drinks, or anything else you may need on your beach excursion. It's a small, but welcome inclusion.
Cell Phone, Cup, and Towel Holders
Along with the storage pouch, the chair also features other quality-of-life options. There's an included holder for your cell phone, your cup, and even your towels. The towel rack also becomes an extra leg for the chair when you're fully reclined, so it pulls double-duty.
Tommy Bahama Backpack Chair Specifications
Pros and Cons of Tommy Bahama Backpack Chairs
The Tommy Bahama Backpack Cooler Chair with storage pouch and towel bar is a stylish and convenient option for beachside furniture. Not only does it match the aesthetic of a beachgoer, but it also offers plenty of great features that you're probably looking for in your chair.
Here is a look at the pros and cons of this beachside backpacking chair:
From the first moment we saw this Tommy Bahama beach chair, the colors jumped out at us. There are a lot of color options that allow you to choose whichever style suits your tastes. The use of materials like aluminum, steel, and polyester, also make it an extremely durable chair that won't fail you in the water and sand.
When the chair is folded up into a compact shape, you can carry it comfortably on your back, or you can opt to use the carrying handle. The inclusion of space to store drinks or snacks is nice, along with the towel bar and cup holder. At seven pounds, this chair is admittedly a little heavier than others on our list of backpacking chairs.
That being said, the ability for it to store a wide variety of things, along with the ability to transform into a beach lounger with the reclining options make it worth the extra few pounds.
Our Verdict on Our Tommy Bahama Backpack Chair
Our Tommy Bahama Backpack Cooler Chair review takes a look at one of the most recognizable beach chairs on the market. It is a very impressive option that combines a lot of great features into a single design.
While the weight is higher than we would like, there's no denying all the things that his chair does right. If you're a beach bum, this chair should absolutely be on your list.
---
REFERENCES & RESOURCES